Music
In general
Through the years I have grown to like more and more obscure music, more experimental, avant-garde or underground or whatever you'd like to call it. Some of my favorite artists are Sleepytime Gorilla Museum, Judge Smith, Tall Dwarfs, Alamaailman Vasarat and The Ex. Here you'll find a list with descriptions of some artists and bands that are of importance to me now.
My most important source for music used to be the public music-library, and I went there quite often to borrow albums which I taped at home. The most beautiful ones I later bought on vinyl. I sold all my vinyls in 1994. At one point I had a collection of around a thousand cassette tapes, but in 2006 I threw almost all of these away. All my music is now on my hard-disk or on CDs.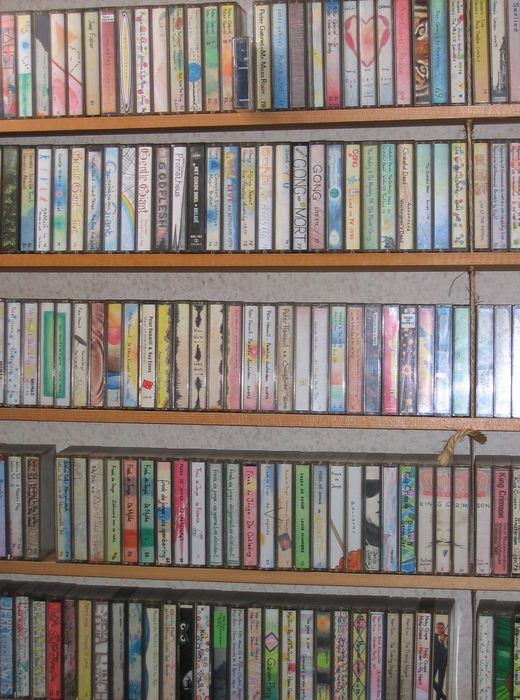 Some of my cassette tapes in May 2004.


Live-concerts
In time I've grown more interested in live performances of music and less in studio-recordings. Studio-albums to me often sound 'fake', too little alive. Live concerts facinate me because of the group effort, the theatrics, but also the setlist and the possible different instruments and musical arrangements.
Here you will find an incomplete list with live-concerts I've attended.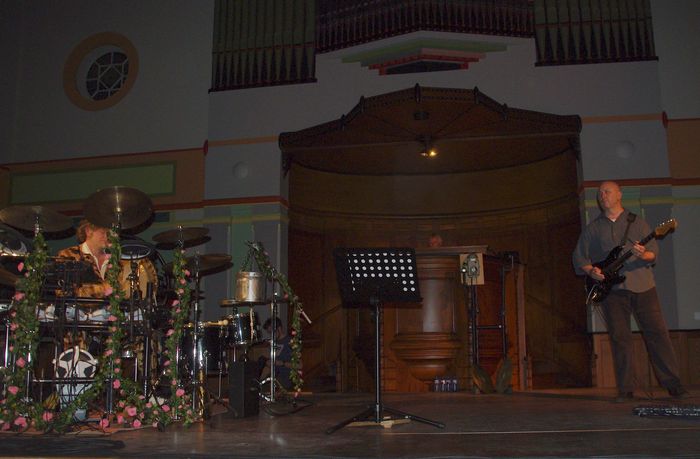 Mr Averell, Hugh Banton and John Ellis live at the Orgelpark in Amsterdam, 8 November 2008.


Grand Disco Classique
In the beginning of the nineties I used to listen a lot to the music-programme Grand Disco Classique, on Dutch radio. It was broadcast weekly by the VPRO from four until five o'clock at night, and was put together by Berry Kamer. A number of years later I had many cassette tapes with experimental music. Thanks to Grand Disco Classique I got to know music by the Tall Dwarfs and Chris Knox, Gastr Del Sol, Steve Albini, Sol Invictus, Lydia Lunch, Camerata Mediolanense and many others. I once wrote a letter to the programme, asking them where I might go and buy Chris Knox's albums, to which they answered my question to my satisfaction and remarked: we're very glad to find that we've at least got one listener!
I very much love music that's out of the ordinary. Both Grand Disco Classique and Soulseek (see below) were real revelations to me. In a common shop it was not possible to find music by for instance Chris Knox or Gastr Del Sol (nowadays it is even hard to find a music-shop at all). When I discovered the 'Nurse With Wound-list' around 2006, to my pleasure I already knew a relatively large part of the music from the list. Here you'll find a summary of the most interesting of the bands on the Nurse With Wound-list.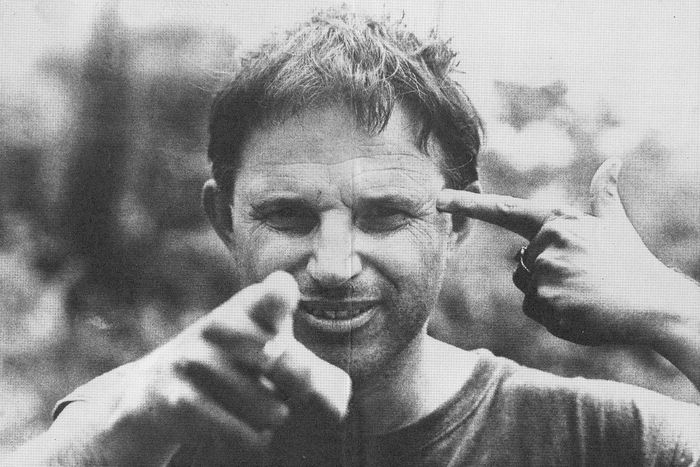 Chris Knox (photo from a magazine I scanned).


Music online
Nowadays I find new music online, for the most part through the p2p-programme SoulSeek and on the torrent-website DimeADozen. On DimeADozen's website are torrents, that point to downloads of unofficial recordings. Through this website I found dozens of very special live-recordings, mostly made by someone in the audience. Recordings like that are often called ROIO, recordings of independent origin. If a certain band or artist does not want their music to be shared, they can let DimeADozen know, so that torrents for their shows will not be accepted anymore there (a relatively small number of artists did so; you'll find their names here).


Van der Graaf Generator - The Book
In 2005 the book Van der Graaf Generator - The Book was published, a history of the band Van der Graaf Generator, written by Jim Christopulos and Phil Smart. I compiled the index for that book, which can be downloaded in pdf-format here. The same index can also be downloaded from Van der Graaf Generator, Phil Smart's website.


Pages about music
The icon

accompanying a link designates a collection of photos on Google Photos.
Concert photos
The Strange Planet in Glastonbury, 30 June 2018
Wim Egz Ensemble in Leiden, 20 May 2018
Sooner Trend in Den Dolder, 23 March 2018
Capella con Sensus in Utrecht, 9 September 2017
Wim Egz Ensemble in Utrecht, 14 May 2017
Capella con Sensus in Bilthoven, 9 April 2017
Sooner Trend in Den Dolder, 24 March 2017
Wim Egz Ensemble in Utrecht (

Klank & Kleur

), 28 May 2016
Wim Egz Ensemble in Utrecht (rehearsal), 26 May 2016
Wim Egz Ensemble in Utrecht (

Gluren Bij De Buren

), 31 January 2016
DieJazzPast in Utrecht (

Keukenklanken

), 15 November 2015
Wim Egz Ensemble in Utrecht (

Ontmoet Oost Zingt

), 11 October 2015
Wim Egz Ensemble in Utrecht (

Keep Calm and Make A Drum

), 8 March 2015
Wim Egz Ensemble in Utrecht (rehearsal), 7 March 2015
Wim Egz Ensemble in Utrecht, 14 December 2014
Laura Hendricx in Doorn, 21 February 2014
Wim Egz Ensemble in Utrecht, 23 December 2013
Wim Egz Ensemble in Amersfoort (double concert,

Orpheus is een Indiaan

), 10 November 2013
Wim Egz Ensemble in Utrecht (

Indian Requiem

), 12 October 2013
Hojotoho in Springiersbach (

Dialogues des Carmélites

), 31 August 2013
Springiersbacher Sommerkurse, 23 August 2013
Wim Egz Ensemble in Utrecht, 18 July 2013
Hojotoho in Delft (

Dialogues des Carmélites

), 18 May 2013
Wim Egz Ensemble in Harlingen, 24 February 2013
Students of Mirella Reiche sing, 22 February 2013
Students of Mirella Reiche sing, 27 January 2013
Wim Egz Ensemble in Utrecht, 24 December 2012
Wim Egz Ensemble in Utrecht, 22 December 2012
Wim Egz Ensemble in Utrecht, 17 December 2012
Klein OperaKoor Wilhelminapark in Utrecht (

Les Brigands

, performance), 23 June 2012
Klein OperaKoor Wilhelminapark in Utrecht (

Les Brigands

, rehearsal), 21 June 2012
Wim Egz Ensemble in Utrecht (

Pater Noster

), 26 May 2012
Students of Mirella Reiche sing, 27 November 2011
David Jackson and Judge Smith in Como (

The House That Cried

), 6 November 2011
Orfest in Noordeloos, 9 July 2011
Ludi Cantare in Bilthoven (double concert), 9 April 2011
Students of Mirella Reiche sing, 20 March 2011
Mr Averell in Lippenhuizen, 17 October 2010
Mr Averell in Utrecht, 12 September 2010
Judge Smith in Hall's Green (Specially Dedicated Festival), 4 September 2010
Summer Darkness in Utrecht, 14 August 2010
Ludi Cantare in Bilthoven (RIVM Choir Festival), 17 April 2010
Ludi Cantare in Bilthoven (anniversary concert), 21 March 2010
Ludi Cantare in De Bilt, 17 May 2009
Judge Smith in Bergen (

The Climber

), 9 May 2009
Mr Averell, Hugh Banton en John Ellis in Amsterdam, 8 November 2008
Ludi Cantare in Bilthoven (

Charms and Spells

), 25 October 2008
Concert reviews
Alamaailman Vasarat at Park bij de Euromast in Rotterdam, 31 May 2009 (Dunya Festival)
Mr Averell, Hugh Banton en John Ellis in the Orgelpark in Amsterdam, 8 November 2008
Sleepytime Gorilla Museum in the Bimhuis in Amsterdam, 20 April 2007
the Gong Family Unconvention in the

Melkweg

in Amsterdam, 3, 4 and 5 November 2006
Arthur Brown in the Spirit Of 66 in Verviers, 27 May 2006
Peter Hammill, Mr Averell and Van der Graaf Generator in

Theater aan het Spui, Den Haag

, 19 November 2005 (Crossing Border Festival)
Judge Smith in Cobden Club in London, 6 May 2005
Peter Hammill in Tivoli in Utrecht, 24 October 2000
Other