Alamaailman Vasarat at Dunya Festival
Live in the Park near the Euromast, 31 May 2009

Such an impressive band. Despite the fact that it's a busy weekend for us, we go to Dunya, the free music festival in the Park near the Euromast in Rotterdam, to go and see Alamaailman Vasarat perform. We have been admirers for years now but had never before seen or heard them play live.
Alamaailman Vasarat are six crazy Finns who play music with cello and brass instruments, some sort of a combination of klezmer, theatre music, punk, circus music, heavy metal and jazz, sometimes melancholic and fragile, often wild, and often very much danceable.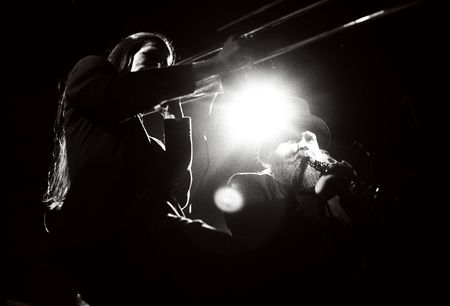 Alamaailman Vasarat, during another concert (photo by Niko Luoma, taken from the website of Alamaailman Vasarat).


The leader of the band had a contrabass saxophone (or Tubax) installed on stage, an impressive instrument to watch. But that view was possibly surpassed even by the musician, an man in a top hat, with a large belly, long beard and pony tail and wearing shorts, who does fragile dance steps on stage, sometimes on his toes. His counterpart is a tall trombone player with long hair, who paces up and down on stage wildly and looking furious. Often they do mock fights with their instruments.
The top hat tells audible but incomprehensible stories about the music. One song is about green camels in a Finnish desert with bright yellow lights. Another song is about axes, but not to cut wood with but about all those other fun things you can do with an axe. And there was a melancholy song about an old friend who was quite alright now actually.
Like the musicians' presence the music itself as well is a combination of frivolous sounds with wild and heavy sounds. The cello almost always sets the tone, heavy and impossible to ignore, with effects and sometimes distortions. And meanwhile the drummer is hitting loudly and very concentrated.
It all takes just a little over an hour, but it's worth all our trouble. We buy one of each CD they brought along, and have them signed. They don't have any T-shirts, because the guy who had them printed was drunk, and they all turned out crooked.
Such an overwhelming band, such an experience.