Stories
Books
I read much less than I would like to, and if I do read a book, it mostly is non-fiction. I think the dividing line between fiction and non-fiction is vague. I very much love descriptions of other societies than ours, that even if they're made up from a to z are presented as being 'real.' There is a list of inspiring literature on the subject of geofiction here.
Some of my favourite writers of fiction are Franz Kafka and Willem Elsschot. I have read the complete works by the both of them, and I think all is in the range from beautiful to brilliant. Lately I'm impressed by Dimitri Verhulst.
Myths and sagas fascinate me, for instance the Gilgameš-epic, the Edda, the Egyptian book of the dead, the Kalevala, Ovid's Metamorphoses, the Te-Tao Ching, and many others.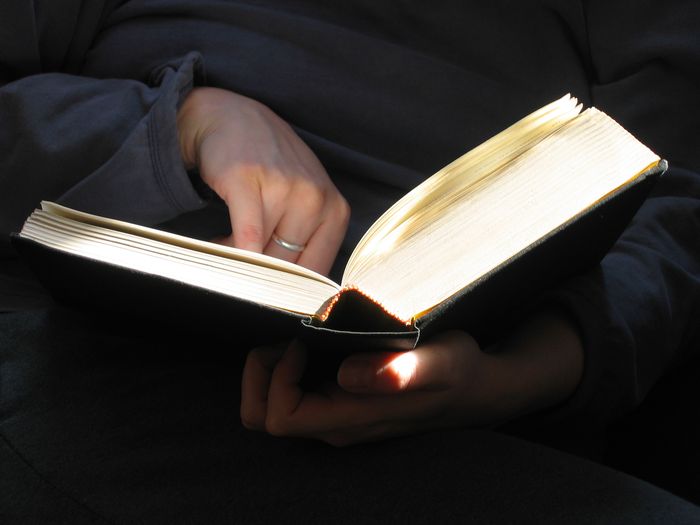 Laura reads a lot more than I do.


Graphic novels
I do not like the word 'graphic novel' very much. I think the story is still told using words, only with the aid of pictures and text-balloons. Besides, 'graphic novel' sounds quite pretentious. But I dislike the American word 'cartoons' even more (that implies that it is one big laugh, or that it is just a story about supermen), so I'll stick with 'graphic novel.' The most important thing is that readers and listeners know what I talk about.
In graphic novels I prefer to read fiction. There isn't that much non-fiction around in graphic novels, almost all written and published only recently. I for instance very much like the stories Safe Area Goražde (2000) and Palestine (2001) by Joe Sacco.
In fiction I love the first four stories about Giuseppe Bergman by Milo Manara, HP en Giuseppe Bergman (1982), Een schrijver op zoek naar zes personages (1983), Dies Irae (1984) and Dromen Misschien (1989). I think the series about Max Fridman by Vittorio Giardino is very beautiful, especially Hongaarse Rapsodie (1982). I also find the series Donald Duck very inspiring (especially the stories written by Carl Barks and those by Keno Don Rosa), and also the series Thorgal and the series about the Freak Brothers. I admire Carl Barks because of the far-fetched but still imaginable situations Donald Duck manages to get himself into, and because of the creation of Duckburg and its inhabitants. The series Thorgal by Jean Van Hamme is interesting because in it a society is portrayed in which magic has a common, everyday place, a society that doesn't keep on asking for explanations. The Freak Brothers are hilarious anyhow.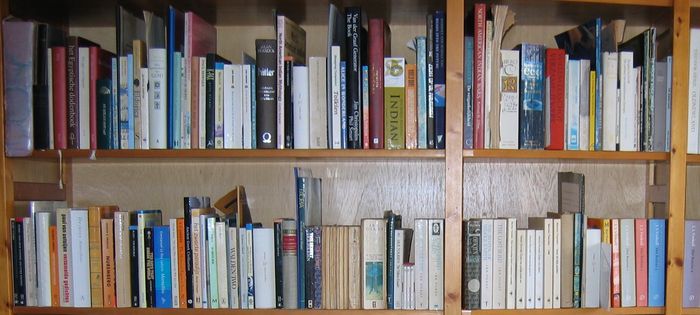 Some of my books. From when Laura and I moved in toghether our books are mixed.


Movies
I very much like movies with a story that put the viewers on the wrong track. My favorite director is Terry Gilliam, and my favorite screenwriter Charlie Kaufman. I have seen almost all films by both of them, and I thought those were all fantastically beautiful. I also love movies by the Coen brothers.
Apart from the movies by Gilliam and Kaufman I also very much like the following movies: Crash (Paul Haggis, 2004), American Beauty (Sam Mendes, 1999), Pulp Fiction (Quentin Tarantino, 1994), Happiness (Todd Solondz, 1998), Magnolia (Paul Thomas Anderson, 1999), Memento (Christopher Nolan, 2000), The Good, The Bad And The Ugly (Sergio Leone, 1966), Fight Club (David Fincher, 1999), Fargo (Joel and Ethan Coen, 1996), The Big Lebowski (Joel and Ethan Coen, 1998) and Modern Times (Charlie Chaplin, 1936).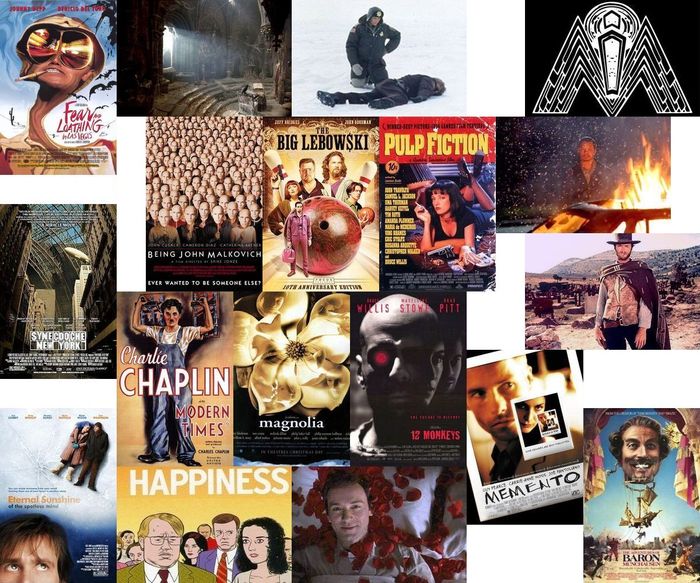 Some of the movies I like.


My own stories
The following links to stories I wrote are mainly holiday accounts. Out of respect for privacy I have sometimes renamed the people that play a part in these stories, especially so in the older holiday accounts. I renamed myself into Bo.


Holiday accounts
| | |
| --- | --- |
| | Glastonbury, June and July 2018 |
| | Mull, April and May 2018 |
| | Grandhan, March and April 2018 |
| | Portugal, August and September 2017 |
| | Slovenia and Italy, April and May 2017 |
| | Wales and England, July and August 2016 |
| | Ticino and Tuscany, August 2015 |
| | Ghent, March 2015 |
| | Auvergne and Black Forest, July and August 2014 |
| | Gaast, April and May 2014 |
| | Dordogne and Mosel, August 2013 |
| | England, April and May 2013 (holiday account) |
| | England, April and May 2013 (more photos) |
| | Italy, July 2012 |
| | Scotland, April and May 2012 (holiday account) |
| | Scotland, April and May 2012 (more photos) |
| | Zeeland, March 2012 |
| | Como, November 2011 |
| | Venice and Petriano, July and August 2011 (holiday account) |
| | Venice and Petriano, July and August 2011 (more photos) |
| | Portugal, December 2010 and January 2011 (holiday account) |
| | Portugal, December 2010 and January 2011 (more photos) |
| | Lake Garda and France, July and August 2010 |
| | France, Andorra and Spain, July and August 2009 |
| | Bergen, May 2009 |
| | Ireland, March and April 2009 |
| | England, July 2008 |
| | Enkirch, April and May 2008 |
| | France, Italy and Switzerland, August 2007 |
| | Luxembourg and Val Sinestra, May 2007 |
| | Iens, November 2006 |
| | Ardèche and Bédoin, July 2005 |
| | Morocco, July 2004 |
| | Romania and Turkey, Summer holiday 1992 |
| | Lisbon, Summer holiday 1986 |
| | Egypt, Summer holiday 1984 |
Other