Muka
The general public's unfamiliarity with the car brand Muka is largely because only so few cars were built. It took the factory in the Dutch village Lexmond a little over a hundred years to build about as much cars as a factory like Volkswagen currently builds in a single day. But Muka also very rarely advertised their products like a company nowadays should do, and relied largely on word-of-mouth. Muka used to build exclusive automobiles, and placed high priority on handicraft, tradition and quality.
From my early childhood I am fascinated by cars. It was said that "brm" was the very first word I uttered. In the family photo-album there's a photograph of me, taken when I was just a few years old, going through the newspaper. The caption for that photo reads: "Is there a 'brm' in here?" I have a longstanding fascination with the automobiles that Muka has built and with the brand's history. I started writing stories about the factory when I was little and I used to draw pictures of the cars.






Muka Ventoux prototype. I made this drawing when I was twelve. I never coloured in another drawing.


Muka was founded in 1901 as the successor to the tools factory Tireveld which, in turn, since 1853 was successor to the cabinet-maker called Tomas' Houten Meubelen (Tomas's Wooden Furniture) that had existed since 1829. Tomas's son Krelis Tireveld visited France at the end of the nineteenth century, and built his own car on the basis of the Panhard et Levassor he had bought there. From 1901 on he built the first Muka, type 3600. Until the Second World War Muka built in total several thousand automobiles, that stood out because of their technical innovations and their appealing looks. Krelis's son Karel and especially his grandson Henk were good managers but also expert designers.
After the Second World War Muka resumed as a manufacturer of hand-made automobiles. Just like before the war the factory wanted to keep as much as possible in their own hands, and they designed and built the engines, chassis and bodies for all models themselves. Over the years the market for such expensive, custom built automobiles shrank, and in the 1980s the Dutch car factory found themselves in rough economic circumstances. Eventually, in 2007, Muka was forced to close down definitively.
For a very long time now I have been collecting all information about Muka that I can find. I made drawings of most of the models that Muka built. Should you have any personal memories of Muka, or photographs of Mukas, I'd appreciate it if you would mail these to me. I hope to one day compile a register of all remaining chassis numbers. Here you'll find a description of the history of Muka (in Dutch).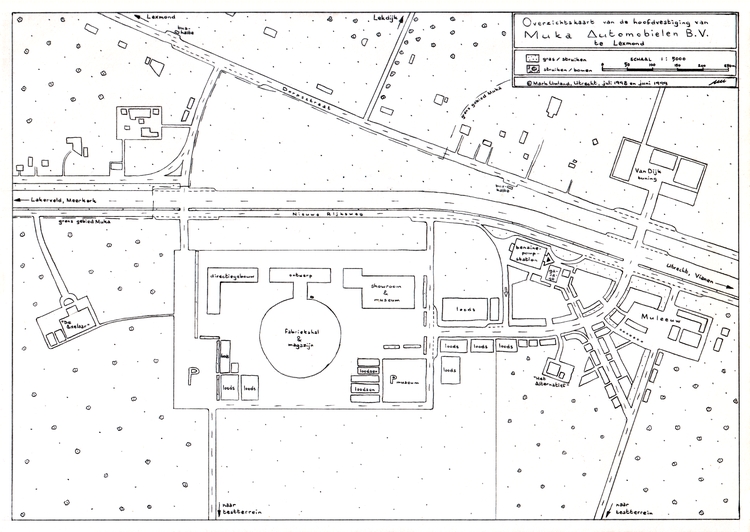 Map of the headquarters of Muka Automobielen in Lexmond, circa 1998. Click on the map for a larger version.


Apart from Muka I am also interested in some other car brands, as evidenced by the links below. Some of the photos are not on this website, but on Google Photos, indicated by a

.


Muka
Photos
Louwman Museum in The Hague, January 2020 (

100 years Alvis

)
Daf Museum in Eindhoven, September 2019
Louwman Museum in The Hague, January 2019
Schlumpf Collection in Mulhouse, October 2018
Louwman Museum in The Hague, January 2018
Louwman Museum in The Hague, February 2017
Classic Park in Boxtel, November 2016
Automuseum in Schagen, October 2016
Morgan-factory in Malvern Link, August 2016
Louwman Museum in The Hague, June 2016
Louwman Museum in The Hague, January 2015
Classic Park in Boxtel, November 2014
Musée Automobile de Reims-Champagne in Reims, August 2014
Auto und Uhrenwelt in Schramberg, August 2014
Autosammlung Steim in Schramberg, August 2014
Schlumpf Collection in Mulhouse, August 2013
Musée des 24 Heures in Le Mans, August 2013
Louwman Museum in The Hague, May 2013 (

Alfa Romeo style icons

)
National Motor Museum in Beaulieu, April 2013
Louwman Museum in The Hague, January 2013
Autoworld Brussels, August 2012
Museo dell'Automobile di Torino, August 2011
the Lingotto building (former Fiat factory) in Turin, August 2011
Louwman Museum in The Hague, October 2010
Schlumpf Collection in Mulhouse, August 2010
Other