Judge Smith
Live in Cobden Club in London, 6 May 2005

In November 2004 it was announced that a concert by Van der Graaf Generator was scheduled to take place in May 2005 in the Royal Festival Hall in London. Laura and I were very enthusiastic about it, because the band hadn't been together since the summer of 1978, and no one had expected the possibility of a reunion. Peter Hammill always said he didn't much feel like it, especially without a new album. But now a new album was announced as well, Present (April 2005).
But the announcement in December 2004 that on that very same day in the afternoon Judge Smith would be performing in a live-concert in London, made us very happy too. Judge Smith was to play in the small 'Grand Hall' of the Cobden Club (a maximum of 150 people in the audience). Together with Peter Hammill he was the founder of Van der Graaf Generator and he was the singer and first drummer (in 1967), but after having recorded their first single (People You Were Going To / Firebrand) he had quit the band and started a solo-career. Since then he had written music for theatre-plays and released a small number of his own albums. Back then we only knew his Democrazy, a collection of early demo-recordings that was released in a limited edition, and the extensive double-album Curly's Airships (2000), a so-called "songstory" about the R 101 Zeppelin airship disaster of 1930. It was announced that Judge Smith would release a new album as well.
Thanks to SoulSeek we succeeded in downloading one of Judge Smith's other albums, Dome Of Discovery (1993). We were immediately impressed by his humour, his apparent 'British-ness' and his sincerity and lack of compromises. As a demonstration here you'll find the lyrics for Carpet Tiles (but I recommend all of his website Judge Smith!). At the time I wrote this, Laura wasn't Judge's webmaster yet.
Not so very often had I gone abroad to watch a concert; I think Pink Floyd in Werchter in 1989 and the Grateful Dead in Essen in 1990 were the only occasions until 2005. But now a bus took us to France, by bus (on a train) through the tunnel and on to London. We had booked a room in a cheap hotel, for something like a day or four. What joy to be back in Britain! What a terrific country. Oh, how I feel at home there!
The afternoon of 6 May Laura and I took the subway to the neighborhood of the Cobden Club. We walked a bit and arrived way too early (as we almost always do at concerts). After having spent some time in a pub, in one of the little parks along Kensal Road we ran into four or five people drinking their tea. Once it became clear that they would be visiting the Judge Smith concert as well, one of them responded by saying: "Wow! And you've come all the way from Holland just to see the Judge...?"
"Well, to be honest," we admitted, "there's going to be another gig, a concert by Van der Graaf Generator in the Royal Festival Hall."
"Oh yes," was the answer. "I've read about them somewhere. Isn't that going to be sometime this week?" We were very surprised. We didn't know that existed; people who knew Judge Smith but had only vaguely heard about Van der Graaf Generator. But in fact that's rightly so. Judge is doing something completely different from what Van der Graaf Generator has been doing since 1967, and he deserves to be much more well-known than he is now. All announcements and reviews continuously quote behind his name: "co-founder of the famous"... but it really should read "the brilliant songwriter and performer"...
When we were in the queue, waiting for the doors to open, we felt somewhat outsiders. Fans of Van der Graaf Generator in general are very dedicated followers of the band, who often try to throw their superior factual knowledge at eachother. And each person in this line looked like a Van der Graaf Generator fan, not a Judge Smith fan. We recognised some of the faces. A large part of the audiences at Peter Hammill's concerts is made up out of the same people again and again.
Once inside all that was checked were our names with a list of reservations (we didn't have tickets, but had only had to send our names in an email). One of the organisers gave us a beautiful programme. After that we went up two floors to the 'Grand Hall', which looked wonderful. A large part of the walls was mirrors, there was nice lighting and like a theatre-hall there were large, dark curtains alongside the stage.
In the hall there was a number of leather-covered cubes, to sit on or, turned upside down, to use as small tables for your drinks. What luxury. We sat down at about four metres from the stage. I remember the bar had Finnish beer in bottles, but I thought it was a little too early for that. I also remember that I thought it was all a bit crowded and warm. All those scrutinizing looks, searching for familiar faces, that's not for me. Laura talked some to a number of people, but I hid behind my drink. Go on, start to play already!
From the moment Judge Smith entered the stage, amicably smiling, I was hooked. He is so prepossessing (or is 'charming' the correct word?). He was accompagnied by Michael Ward-Bergeman on accordion, John 'Fury' Ellis on electric guitar and René van Commenée on percussion. I knew René van Commenée as a percussionist at live-concerts and on an album by saxophone-player David Jackson (I once saw them perform live at the Willem Arntsz-huis in Utrecht) and as a percussionist on Judge Smith's album Curly's Airships. John 'Fury' Ellis was a familiar face, because he had performed with Peter Hammill for many years as a guitarist. Michael Ward-Bergeman finally was totally unknown to me, but perhaps he was the most impressive musician. Wasn't he fantastic!
Judge Smith announced that he would be playing each of the songs from his new album The Full English, together with a number of sursprises in between them. One or one and a half hour I was all bewitched, watching those four musicians. Apart from all songs on The Full English they also played some songs from the previous albums, and as an encore one song never to have been recorded on an album by Judge Smith, but recorded by Peter Hammill instead, Four Pails. Judge Smith explained why he performed so little, and how difficult it was to organise a gig because of the players' busy diaries and financial problems.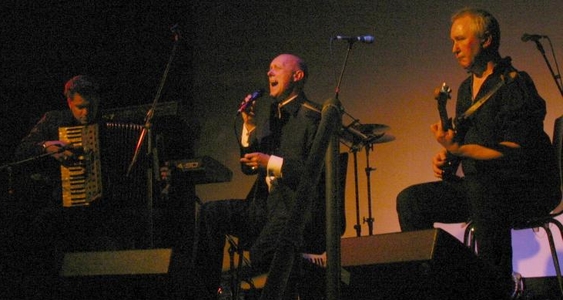 Ward-Bergeman, Smith and Ellis (photo copyright traversesmag.org).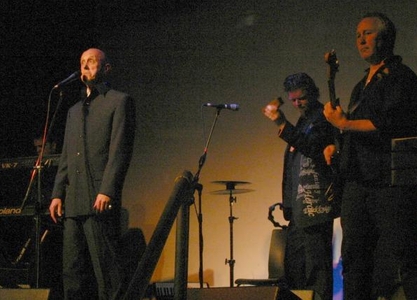 Ward-Bergeman, Smith, Van Commenée and Ellis (photo copyright traversesmag.org).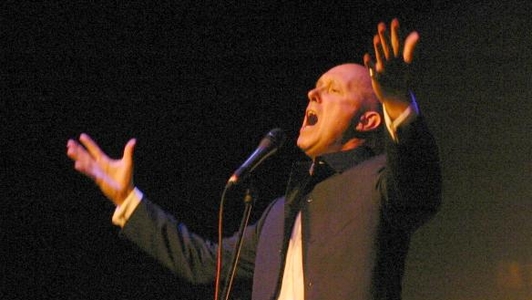 Smith (photo copyright traversesmag.org).


After the show we went and bought The Full English and Dome Of Discovery, and left the hall shortly after that. One floor down we saw the musicians standing and chatting in a large hall, carrying drinks. For a moment we considered the possibility of talking to Judge to give him our compliments and thanks, but we figured he would be too busy, and decided to leave. Looking back maybe we should have gone inside after all. Only very much later I was told that Arthur Brown had been present too at the concert. He and Judge Smith have been good friends for many years, and Brown clearly wouldn't want to have missed this special occasion.
Later that night, at the reunion-concert by Van der Graaf Generator, in the multitude of people in the Royal Festival Hall, I thought I saw the bald head of Judge Smith in the audience. It would surprise me if he hadn't been present.