Peter Hammill
Live in Tivoli in Utrecht, 24 October 2000

On Monday I wanted to not go. I just didn't feel like listening to all this old shit again, didn't feel like reliving the memories either. Carefully tucked away, and only one possibility to relive them. Oh no. It would be my sixteenth Hammill-concert. But Tuesday, the day it would be happening, I couldn't wait and was nervous as hell. Nothing with the memories, just beauty. A week or two earlier, along with Bowie's Live at the Beeb, I had bought This and None Of The Above and enjoyed those very much. During my work near Tivoli I had kept an eye on the front door as well as I could, and every now and then I had gone inside to listen at the door if the soundcheck had already started. I heard nothing, but around five o'clock Hammill came walking out of Tivoli, grey hair and a long, black coat.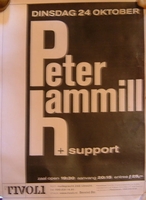 He was announced as Peter Hammill + support; doors open at 19:30, start of the support act at 20:15. I had figured it would be unlikely for him to come and play solo. He would be 52 years old in two weeks' time. That is not an age to, as I heard Flemish musician Raymond van het Groenewoud once put it, travel through the land like a troubadour. After my work I grabbed a quick bite at home, smoked some joints and built some others in advance, and then went back to Tivoli. It was still before seven o'clock, I was the first. Two girls who spoke English and arrived after me didn't ask me anything, but after having listened to their conversation for a while (a.o. "He doesn't know anything yet about his support-act..." "But he did choose it himself, did he?" "I'm not sure...") I pointed them to the stage-entrance. A little later a boy told me that the support act would have been Michael something (who had been on Dutch television the previous weekend, as someone else later told me), a Dutch last name, but that was cancelled. Hammill would be starting at eight thirty now. When the doors opened there were about twenty people present.
Once inside: shit! No chairs. The stage gave away that it would be Hammill and Gordon: a portable grand piano, an electrified acoustic guitar and pedal for the violin (Jackson can be detected because he uses pedals and also a stand for his saxophones and flutes). I put a large glass of juice behind the monitor on the rim of the stage, smoked another joint, and at precisely eight thirty the lights dimmed. But shortly after they undimmed. It took a while before two large lights at the back of the stage worked. Around five minutes past nine they entered the stage, Hammill all in white except his dark shoes, and Gordon in a white blouse, his sleeves open, and black creased pants and black shoes. It looks to me like his violin is pretty old (it apparently had its bridge recently replaced), made of dark brown, rust-brown and red-brown wood, in some places almost black.
They started off with The Siren Song, followed by A Better Time. Hammill said: "Those were The Siren Song and A Better Time, and I don't care what albums they were on... nor what other bands might ever have performed them...!" He told us that the previous time he was in Tivoli he had thought that that might have been the last time. "But, here I am again... And you're here again as well..." After Bubble someone in the audience remarked: "That was a strange Bubble just now!" To which Hammill replied, throwing a glance at the setlist: "Well, we've got all sorts of bubbles tonight, we've got your comfortable bubble coming up!" They also played Like Veronica, Unrehearsed (beautiful), Nightman (at least as beautiful), and Patient (wonderful), Nothing Comes (after which Hammill turned to Gordon and asked: "Album...?" with outstretched arm and a questioning look on his face), Last Frame (brilliant on guitar and violin), and (announced as "a Chris Judge Smith song," I bet it was a request by Stuart Gordon) Been Alone So Long. After Patient he commented about the noise that one can make by means of silence, even better than by means of noise. The audience was strikingly quiet. Back to the piano for Tango For One (sung the lyrics "this audience is restless" instead of "restive"), Faculty X (enormous!), A Way Out, and then Still Life.
Oh yes. Still Life.
Piano (keyboard) and violin. I watched without breathing. Images in my mind of all those times I sung the song myself, all the places that have been... memories of times I heard the song for the first time (the first time, the first time live, the first time by Hammill, the first time solo on a grand piano) and many aother times I have heard the song, memories of all desire and waiting and contented patience. A fast and furious version, also because of the violin. It wasn't even the oldest song he played this night (Been Alone So Long, Shingle Song, Again).
After the applause: "Thank you collectively... individually... and Tivoli!" I put out my cigarette as soon as I realised what the encore was going to be. Shingle Song, in a Fireships-ish fragile version. One does not smoke during that. Afterwards a roadie came on stage to remove the microphones and close the curtains. And I realised we would also get Again a capella. He sat on a little chair at the front of the stage. He had the lyrics all wrong (for instance "I smell your perfume just as though that were a mirror," but even many more wrong successions (he did sing "To your sad eyes turned away...") and repetitions), and near the end he waited a moment. The audience, that had been quiet until now, at his sign immediately screamed: "Oh, this will never come again!" To which he stood up, shook his head, sang: "That will come again and again and again...", let the audience laugh, and then sang with extra emphasis: "But this will never come again...!"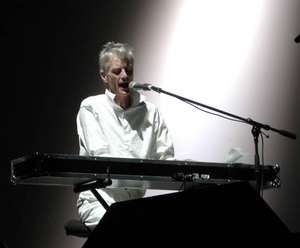 Peter Hammill in Jaffa, Israel, 30 March 2001 (unknown photographer).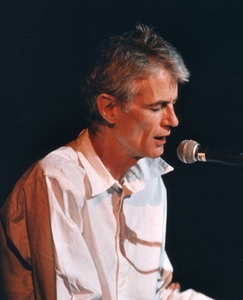 Peter Hammill in Guastalla, Italy, 4 April 2001 (unknown photographer).