Peter Hammill, Mr Averell and Van der Graaf Generator
Live in the Theater aan het Spui in Den Haag, at Crossing Border Festival, 19 November 2005

My friend Laura and I went to The Hague (Den Haag) early. From where we live it's about an hour travelling by train. We arrived around four, and then had an early diner in a small restaurant nearby. Because of my nervousness (always at the day of a concert, and especially so at the day of a VdGG-concert) we went to the doors of the Theater aan het Spui at around six. They would open at seven.
There was a drizzle, and the people on the other side of the glass door felt sorry for us and let us in early. Now we were in the entrance-tent. There were drinks here, but they needed to be payed with coins. And coins, they, errr... yes... inside! So again we waited, not in the rain anymore, for the entrance to the stages and to the counter selling coins.
I had (being nervous) extensively asked where stage two would be (the "small stage") and ran towards it once let in. To my surprise there were musical instruments on stage in the hall, so I asked to be sure. Oh, yes, Peter Hammill would perform here, the person behind the mixing-desk confirmed me. It was a small hall of about hundred, no more than two hundred people, and the first three rows were filled with small tables and chairs. Fantastic! I was in the middle of the front row, and sat back, legs stretched, no more than two metres from the central microphone. We went out to fetch coins and then drinks and waited for Hammill to take to the stage.
It is good to see how much he fits in there, a festival of madly strange and madly brilliant poets. I had seen him perform at this same festival ten years earlier (in fact, if my memory serves me well it was the same hall too!) and knew from several interviews he really liked the Crossing Border Festival. In one of the Crossing Border folders-papers there were tips from performing artists (Michel Faber on VdGG: "the enormous band that at last is being received with the respect they always deserved in the first place. Progrock? They're more close to Pere Ubu"), and I translate the quote from Peter Hammill from Dutch: "I am interested in Sinéad O'Connor/Sly & Robbie, Värttinä, Michel Faber, Mr Averell, Salif Keita, Michel Houellebecq, John Parish, Mercury Rev and Helen Simpson. With all of these I am not quite sure what to expect. But isn't that the spirit of Crossing Border? Where you probably will find something totally unexpected? So don't take this list too seriously."
At seven there was a short introduction by someone from the festival, and then Peter Hammill walked onstage, dressed in a dark blue blouse. He assured the audience he was only going to read his poems, all of which were song lyrics. He held notes in his hand and stood behind a microphone and a music sheet stand to put the notes on. I don't remember the 'setlist,' but I do remember he opened with The Siren Song, and also read Curtains, Fogwalking of course (amazing! at the end he was whispering the lyrics to a totally quiet hall), Unrehearsed (yes!), Bareknuckle Trade, In a Bottle, and Still Life. And he also read... In Babelsberg! He introduced it by saying Berlin was - besides London - the one city he knew best. Although he wouldn't want to boast about that. He didn't want to boast about any knowledge about any city. In fact, he didn't want to boast about any knowledge apart from his having none at all! And he added something along the lines of: "This is one song we won't play later tonight, although... well, we're not sure about the setlist yet. In fact... I'm not sure about the setlist of what I'm doing now!" (although Laura understood that Hammill said: "All I'm sure of is the setlist of what I'm reading now.")
It's good to hear the lyrics being read. It gives the listener new angles of interpretation, there's new emphasis, accents, rhyme, rhythm, and sometimes even whole new meanings. It all sounds so much different, almost like you hear the lyrics for the first time...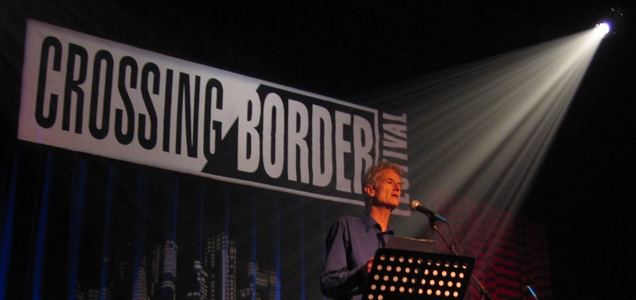 Peter Hammill reading in Den Haag, 19 November 2005 (photographer unknown).


Well, afterwards we had some hours to ourselves and ended up in the central hall where Mr Averell had just started his performance. I was amazed. I was thrilled. I sat there, mouth wide open, enjoying his crazy performance. I have hardly any words to describe what happened. I know I am prone to exaggerate (on many occasions I have a habit of doing so), but I assure you I don't right now. There isn't much I can compare them to, except for Judge Smith (suggested to me by Laura). Yes, they do have the same theatrical appearance, they're telling stories to their rapt audience, and the fun they're having doing so drips off from the stage and into the listeners, if you know what I mean. There was René van Commenée himself, front stage, singing, telling, being crazy, sometimes playing the accordion, there was a vibraphone-player, there was a cellist (enjoying himself very much), and there was a guitarist, sometimes two (one of whom was Tammo Heikens, you may know from his cooperation on Curly's Airships by Judge Smith). All lyrics were in English. Centre stage, apart from the microphone for the singer, was a telephone on a stand next to it. During one song Van Commenée walked to the telephone and started talking through it, a hilarious moment. An other song was about chocolate (Bitter Need), and Van Commenée confessed to being an addict (lyrics something along the line of: "I want cocoa solids forty-five percent at least, no! fifty-five percent, no! sixty-five percent!").
And, as was to be expected, at some point in the performance, Van Commenée switched to English and introduced... mister David Jackson! Who then with obvious delight played one song with Mr Averell (Helter Skelter, a song about the Chernobyl-disaster of 1986) and improvised one or two more. It reminded me of the one time I was lucky enough to watch a concert by David Jackson, accompagnied by René van Commenée on percussion (it was in 1992). Now the roles had switched. What fun!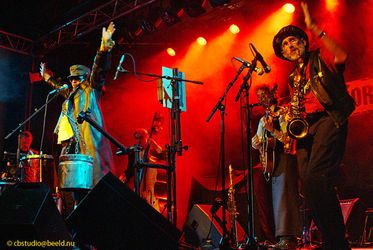 Mr Averell in Den Haag (with David Jackson), 19 November 2005 (photo copyright beeld.nu).


After the concert we had some time off. So we went to the stand where they sold albums, just next to the stage. I bought an album by Mr Averell called Out Of My Mind and got a free chocolate-bar with it, with a picture of Van Commenée on it and the words Bitter Sweet. "Collect them all!" Seeing him behind the stand I couldn't resist telling him how much I had enjoyed the concert. Also behind the stand was David Jackson, doing his share of work, talking excitedly to anyone who would talk to him. Only twenty minutes later we saw him in one of the many hallways of the theatre, pushing a large flight-case.
It was now only eight thirty. Three more hours to go before seeing Van der Graaf Generator. We missed the concert by Salif Keita, but we did see Boubacar Traoré. A wonderful experience. He is a very prominent and influential musician from Mali (along with for instance Habib Koité, Ali Farka Touré and Salif Keita), and he sings worksongs about the poor who, day in day out, toil to earn their living. He is a performer since the early sixties (!). All he did was stand there, guitar around his neck, accompagnied by a gourd-playing young man.
Well. It's become a long story. When we entered the large hall (stage one) Mercury Rev was still playing their last songs. They seem to me to be like a cross between Pink Floyd and R.E.M. or so. It was absolutely no problem to go to the front of the stage after Mercury Rev had left, and we took position in the second row, just in front of Banton's organ (left as seen from the hall). We saw the stage being built up, and again David Jackson was there, adjustig some tape, a sheet of paper, the microphones. Only now, being so close to the stage, I read the word "Aquarian" on Evans' bass-drum.
First there was a Dutch novelist, Tommy Wieringa, who read three short stories, seven minutes in total. He confessed to not knowing what this Graaf-band was all about, and got away with it. He read a story about being on a nearly deserted train-platform with just one other person, and hearing the voice from the speaker announce: "Careful! There may be pickpockets about!" To which he concluded to himself: so that must be me, and-or him! There's no-one else here! "That," as was his final line, "is the way fear works."
Then Michel Faber took to the stage, a copy of the gatefold-sleeve of The Least We Can Do Is Wave To Each Other in hand, to introduce the band he had so long been an admiring fan of, as he proudly admitted. He started in Dutch (he was born in Den Haag) but soon switched to English, and read us some information he had found on the internet about the Van der Graaf Generator-device. Amongst other things I learned the electrostatic energy was especially dangerous when sucked into a fan. Yep! And walking off the stage Faber was greeted by the four, walking onto the stage.
They opened with Lemmings (an enormous set-opener!), then Scorched Earth, then Every Bloody Emperor. For the first time I got tears in my eyes listening to Every Bloody Emperor. Being up front is a completely different experience. Previously I had seen them in the Royal Festival Hall, London, rear stalls, row B, and in the Melkweg, Amsterdam, almost wholly in the back of the hall. But now, only a metre away from Banton's feverish hands and feet, I was wholly sucked in to the machine and had the feeling my hair was standing up. Of course, I was just head-banging to the music!
I am not quite sure anymore about the running order of the set. But they played Still Life. And The Sleepwalkers. And Man-Erg. What a joy to see Evans busy during Man-Erg! My guess is that in reality he is the central musician of the band. He's the one cueing the others, he's the one counting off the bars, he's the one recollecting the others at the end of the chaotic pieces. And, speaking of which, there were some chaotic parts in the set! Heavens! What noise! I hadn't seen and heard them so 'loose' before. This is most certainly not a band ready to quit. This is a band starting to really enjoy themselves, a band daring to let loose the practice and rehearsals, and just stand there, on the stage, showing to have some serious fun! Sure, there were mistakes. And there were improvisations. And also mistakes masked as improvisations and improvisations masked as mistakes etcetera, etcetera. It was a room full with fans loaded with electrostatic energy! I am thinking of buying (or building!) myself a Van der Graaf Generator!
And then, after Man-Erg, we clapped and cheered, and they bowed, and Hammill walked to the front of the stage and said something like: "Well, the traditional way of doing this is - we exit stage left, you rage like hell and try to shout us back, and then some minutes later we return and do an encore. But let's don't, shall we...? So we will just play one more song, and then we're off." And so I got a chance to see Banton dance, dance with his feet on the pedals to the beat of the encore, which was Darkness. What a night!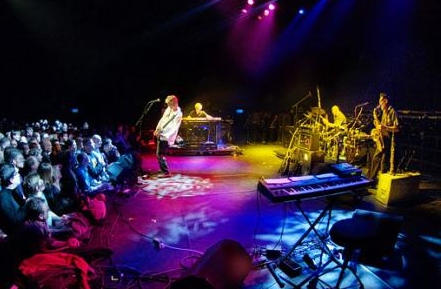 Van der Graaf Generator in Den Haag, 19 November 2005 (photographer unknown).