England 2008
Normans Bay
We recognise the road to Eastbourne from when we were here six months ago. But now the weather is beautifully sunny. Hotel Oban at the seafront in Eastbourne is nice and luxurious, and our room has a view of the sea. We eat lamb and seabass in the restaurant of the hotel, and we go to sleep at eight thirty.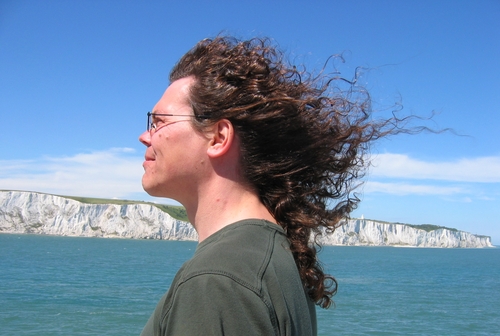 Dover. Click on the photos for enlargement.


We were invited by Judge Smith, the musician whose websites Laura manages, to come celebrate his sixtieth birthday. The party starts at half past twelve in The Grand Hotel, a five minutes walk from our hotel. In the morning we are a bit nervous, well, especially I am. It feels like going to a concert, it feels like we're already missing out on a lot.
We stroll along the boulevard, past stands where fudge and miniature giraffes and more similar things are being sold, and then we go to The Grand. On the terrace is a sign saying "Residents only," and we ask if it is okay, being non-residents, to go sit there. But of course it is! We get royal treatment. I am having a lager and Laura drinks tea, and there's chips and olives and more to go with it. Elderly gentlemen are carrying musical instruments to the terrace, and are putting up a drumkit, but we can see they are not a part of the party.

The party starts in the garden of the hotel, and there's a friendly reception. The weather is impressively sunny. After that we have lunch in a hall at five large tables. Judge brought presents for all guests. We talk to a lot of people, some of whom we already knew, some not, and others only by name. We notice how Judge bragged about us, because almost everybody approaches us using words of admiration. After lunch there's some music, not just by Judge himself. David Shaw-Parker sings On Again! On Again! by Jake Thackray and accompagnies himself on the guitar, Judge sings a new song and Carpet Tiles, with John Ellis on guitar, David Jackson plays a piece from Twinkle on soprano saxophone, and Arthur Brown sings Jerusalem a capella. Afterwards we stay to chat. Judge wants to see us some more in a few days' time, and we make an appointment.
When it's over and we've left, we feel a bit empty and deserted, a kind of an alcoholless hang-over. The next morning we move to camping Normans Bay.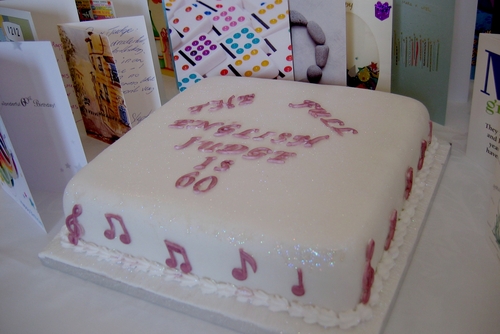 Judge's birthday cake.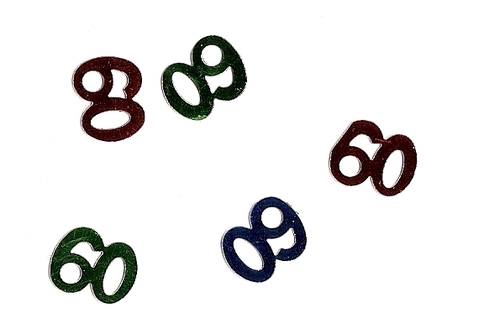 Scanned party decorations.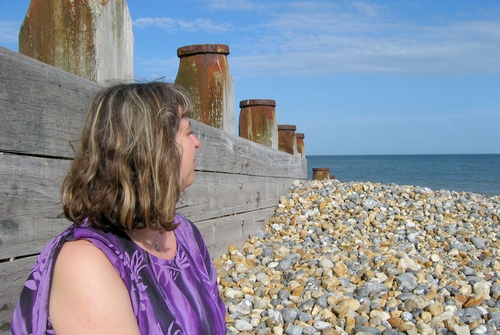 Laura at the beach in Eastbourne.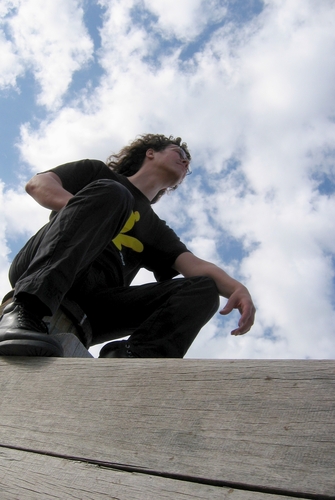 Myself at the beach in Eastbourne.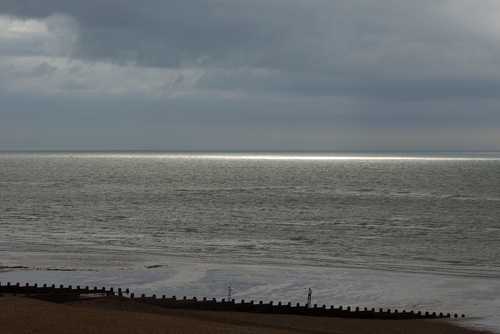 Sunlight reflecting on the sea (view from our hotel-room).


Today it's raining. The camping is at the end of a dead end by the sea. It is enormously windy here. The camping-boss directs us to a more or less sheltered spot for our tent. Nevertheless we are forced (for the first time since we have this tent) to use all ropes, and still we regularly awaken with a start by the sound of the tent in de wind. The sea is no more than about fifty metres from our tent, there's only the path, a dike and the stony beach in between. The waves are fierce.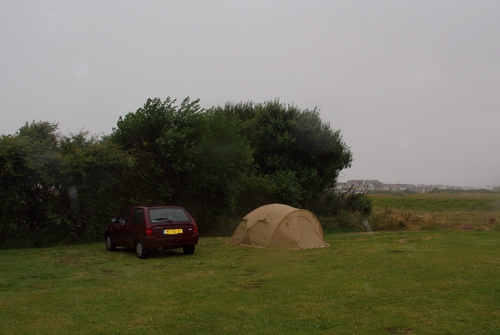 Our tent at the camping in Normans Bay.


Normans Bay is the spot where according to legend the Normans first set foot on land in 1066 to conquer Engeland. Here and there we see signs by the side of the road, saying: "Welcome to 1066 country." We drive to Pevensey Bay, which is close by, and in a pub we eat lamb with tea for just six pounds a person. Whoever said England was expensive? Laura gets sleepy and goes into the tent while I use my new camera to take pictures on the beach.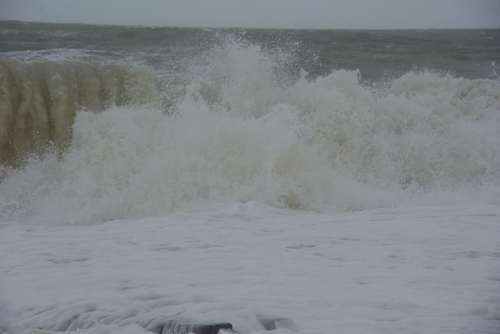 The sea near our camping.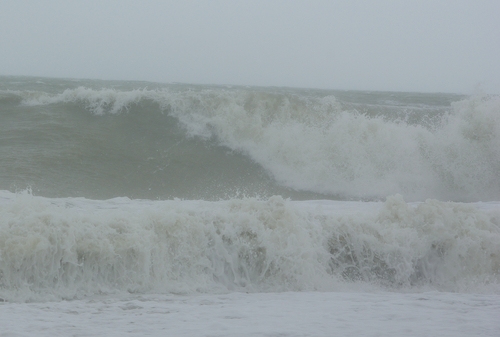 Again the sea near our camping.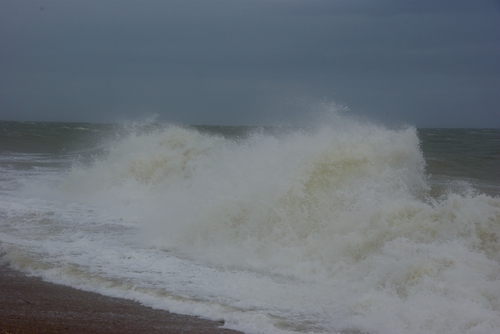 And again.


The people here are so delightfully polite. They make eye-contact when passing in the street, they wish each other a good morning in the hotel, even when they're complete strangers, and they wait patiently in queue for their turn. What joy! Most Dutch people are rude and badly raised. And noisy. In the hotel in Eastbourne a group of ladies was having a lot of fun at the breakfast-table, but every time their laughter seemed to get too loud, one of them remarked: "Let's try to tone it down a bit again, shall we now?" Traffic is wonderful too here. People calmly wait for you to turn your car, or even signal with their lights: please go, I will wait for you. Fantastic.
It rains almost the whole day, but in the evening it stops. Of course there still is a lot of wind. We go to sleep around seven already. We are so tired. Laura lends our shampoo to other campers, but we don't find it back at the place we agreed upon. Oh well, not each and every one of the British is polite. Can't be. Besides, it may have been a tourist...!

We wake up around seven. Laura reads and I sleep some more, until nine. The weather is better than it was yesterday, less rain and less wind. Close to Pevensey Castle Laura finds a nice tea-room. It's quiet and spacious and light. I drink a cafetière of strong coffee and Laura a tea. She eats a piece of rose-pie (!) and I eat scrambled eggs with mushrooms. Afterwards we go and see Judge. We talk about the party, and we discuss the latest news and the websites. We watch and drink a pot of Chinese flowering tea.
Late in the afternoon we say goodbye, and agree to get together again next week. Laura and I go to Eastbourne. We dine very good but also very much at an Indian restaurant in the city centre. Laura drinks red wine, the salt lassi makes me very thirsty. I'm not used to this much salt in Dutch Indian restaurants. We go back to the camping.
We call Laura's soft and soothing toys gremlins, because we feel they look like gremlins. Actually, they're cats' toys, and we bought them in a pet-shop. But tonight she lost both the gremlins she took with her from the Netherlands. We suspect they fell out of her shirt during a nightly walk to the toilets. What a pity. The people who 'borrowed' our shampoo, have left. What a pity. We sleep from eleven until six. The tent handles the wind very well.

The next morning Laura succeeds in finding both her gremlins back in the grass. We wash them and lay them out to dry on a towel on the car's windshield. The shampoo-thieves have returned. We recognise our shampoo next to their deserted tent, and we steal our property back. The shampoo we bought in the camping-shop, smelled horrible. I sleep an extra two hours in the morning, and after that we go to see Pevensey Castle.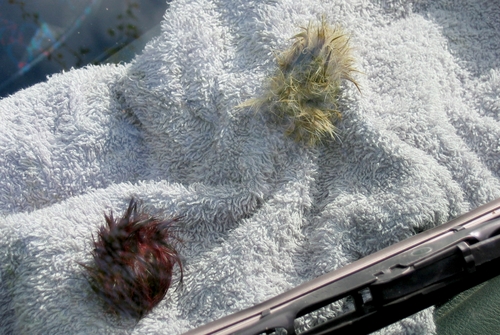 Both the adventurous gremlins drying in the sun on a towel on the windscreen.


We walk around Pevensey Castle for a few hours. It's beautiful. From the third century CE it was a Roman fort, it became a castle during the Middle Ages, and during the second world war it was fortified against a German invasion. The sun shines and now and then there's rain. We have lunch in the same tea-room where yesterday we had breakfast.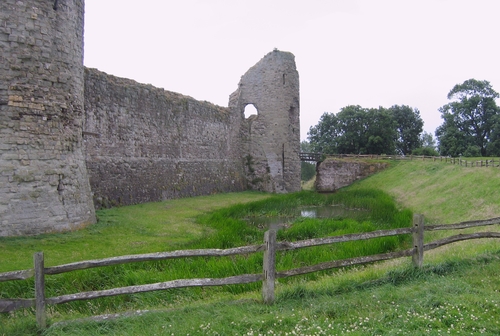 Pevensey Castle with moat.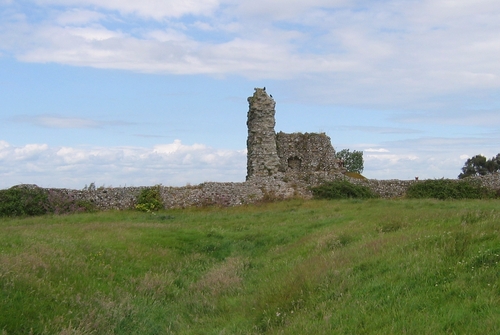 The outer wall of Pevensey Castle.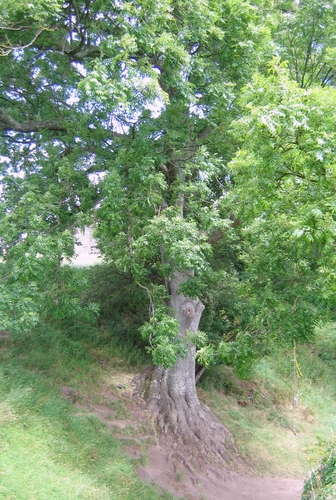 A tree near Pevensey Castle.


We drive back, go and see the sea for a short while and continue our idleness at the camping. In the evening we go to Pevensey Bay to eat fish and chips, at first a cod each, and afterwards a haddock for me. The place is white and cheerless, but the lady behind the counter is friendly. I also eat a pickled onion (we don't have those in the Netherlands, at least, not so big). In the seven-eleven the salesman asks whether I come from Yemen. I am baffled, so I just answer: "No, from the Netherlands. And you?" No, he's from Sri Lanka. Oh well. We go to sleep around nine o'clock, and although Laura awakens the next morning at six, I sleep until eleven.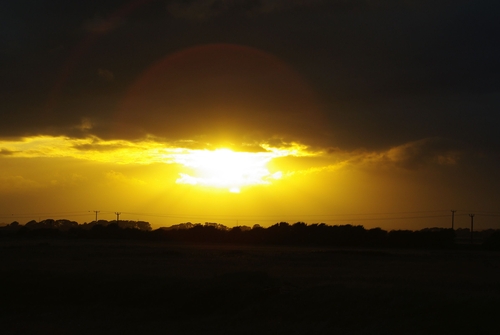 Sunset near the camping.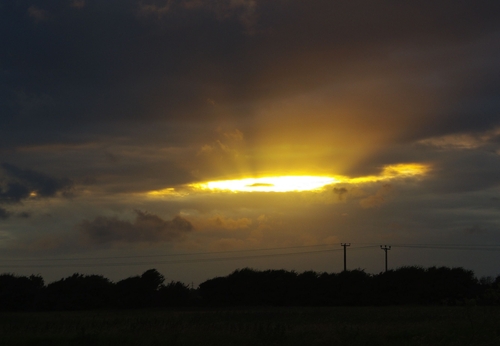 Sunset at the camping.


The New Forest
There's heavy rain in the morning, and it doesn't look like it'll be sunny any time soon again. Grey. Laura buys sandwiches and the camping-people predict many more days of rain. We had planned to stay another night, but the rain makes us give up. We decide to go find ourselves a bed and breakfast. We pack quite quickly, despite the rain.
We drive in the direction of Southampton, to The New Forest. Two of the guests at Judge's party recommended it to us. We pass cattle grid. It's true, horses indeed roam around freely here, in very beautiful surroundings of woods, heath and meadows. At a stylish hotel, the Beaulieu Hotel, we decide to stay the night. There's no village, just the hotel on the road-side. We get a large room, with a bath and shower, and a view of wild, grazing horses. I have a bath with a cup of tea. Laura reads and I go outside.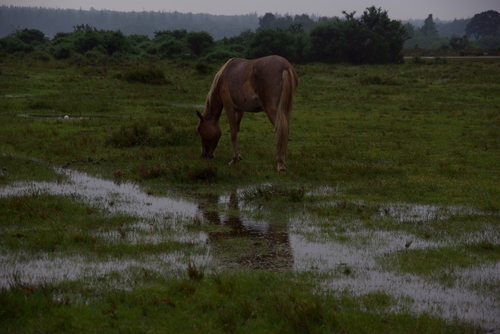 The weather is wet and grey.


After diner we order a desert-wine, which is on the wine-card, but it appears to be something difficult and unusual. The waiter answers: "Ah, port?" And the waiter who now gets called, tells us we can only get desert-wine per bottle. But eventually we succeed. The British sure have strange table-manners... We leave the next morning. We like the luxury, but it's too expensive for us here.

The weather is beautiful, considering English standards, dry with now and then even a bit of sunshine. In various places we get out of the car to go and look at some horses. We drive through Beaulieu en some more villages that look like open air museums, and finally all the way to Lepe, where we are surprised by the sudden view of the sea. On the other side we see the isle of Wight. We feed the gulls with a quiche that we kept too long.
Early in the afternoon we find a B&B in Langley, a suburb of Southampton. It's a small room for 70 pound. In the dining-room are pictures with memories of the Titanic. Afterwards we drive to Beaulieu again and stroll around the streets. We see a small chocolate-factory and a car-garage with among other things an old Rolls-Royce. Horses walk just outside the village.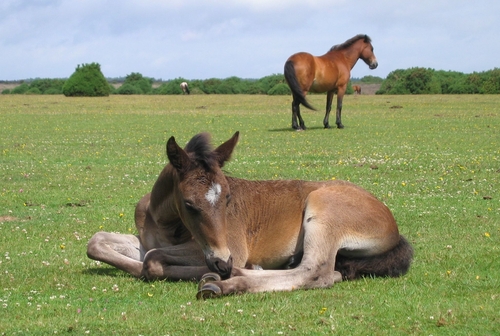 A foal.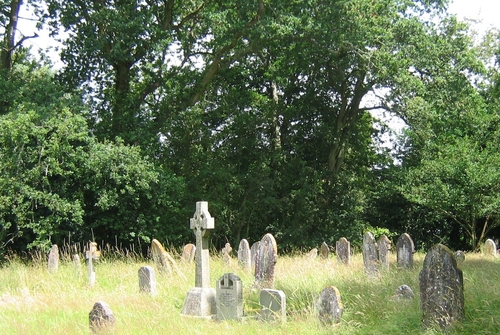 Churchyard.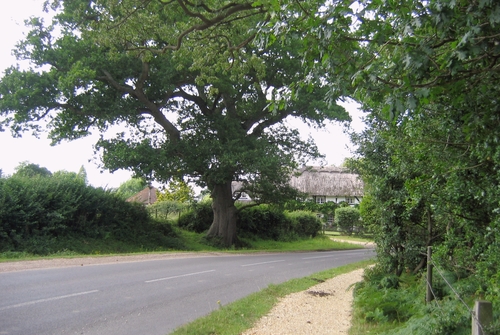 A tree near Beaulieu.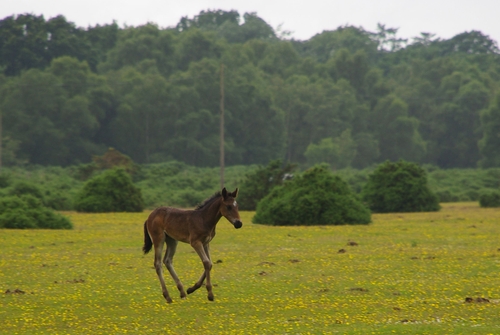 There are many foals.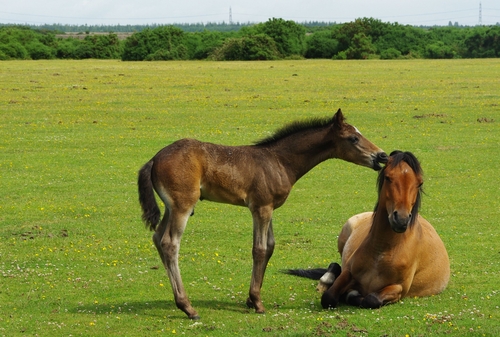 The horse whisperer.


On the way back we go into a garage for petrol, and afterwards all of a sudden I find myself on the right hand side of the road and get stuck after a few metres. Pff... what a hassle, all this driving on the wrong side of the road. But everybody stays polite. Nobody sounds the horn. In the Netherlands many of the other drivers would hold up their middle finger to me. A fine country. We try to find a B&B for a normal price, like around 30 instead of 70 pounds a night.
We end up in a dark pub/B&B, but there's no vacancies. It's time to figure out where we want to go from here. It's too wet for us to want to stay in a tent. A tent is alright as long as you get to walk around or lie in the grass. Also, we don't want to stay in a hotel if that's 100 pounds a night. We want a camping with a log cabin, or a B&B with a reasonable price. But we don't succeed in finding either. Maybe on Wight, or maybe our landlords Steve and Marie know some place.

One thing they sure know, is how to make an excellent breakfast, including fresh fruit, a rich Full English Breakfast. Marie searches the internet for us to find us a youth hostel. There is one in Burley, in the middle of the New Forest. We say goodbye and drive our faithful Citroën AX into ponyland again, accross the cattle grid.
Almost immediately we see a small group of ponies with a very small foal. After some trepidation it comes nearer and lets itself be touched. A bit further we meet five donkeys, one of which is a white foal. The foal also likes to be touched. What a nice place this is. In some places we pull the car over really once every five minutes.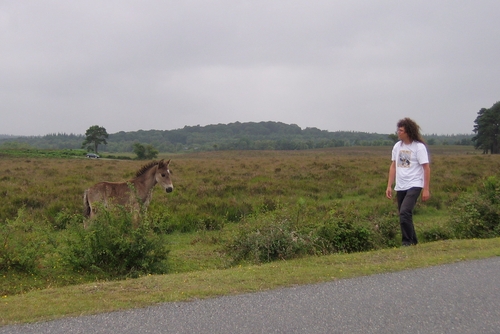 A foal and I (I'm wearing my Judge Smith T-shirt).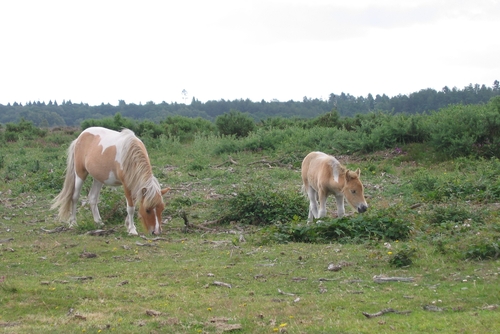 Pony foal.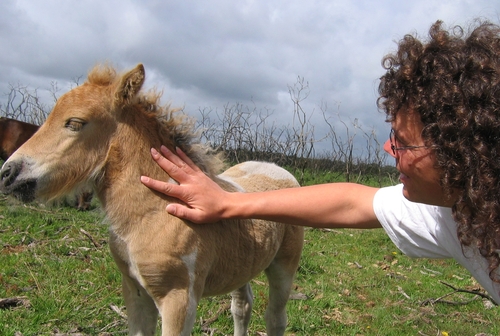 And it lets itself be touched too!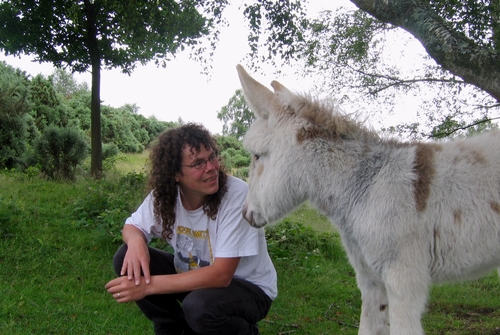 Donkey foal and me.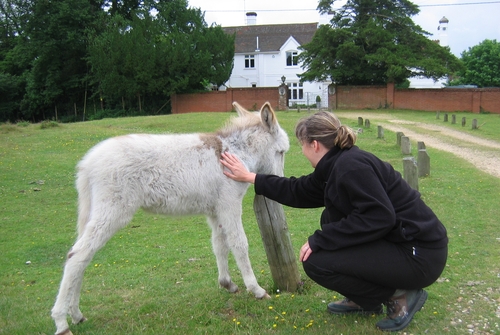 Donkey foal and Laura.


Burley appears to be a village with many kitschy new-age-witch-shops selling glittering plastic dragons and the likes. Judge and wikipedia later inform us that the history of Burley is full of witches and witchcraft. Laura buys a glittering ring.
The youth hostel is quite difficult to find. We ask for directions at the golf-club and later on with a man who is cutting his hedge. Once inside, someone who is cleaning up tells us the hostel will not open until five o'clock. She expects however that there will be room for us. It looks like all they have is large single sex sleeping rooms and rooms for four persons. On the grass next to the hostel there's large tents and tipis for hire, but it looks like we can camp there with our own tent as well.
We go to Burley again, have a cream tea at the Inn and inform about possibilities to ride a horse. We are directed to Burley Manor Stables. There we agree to join a group-ride for beginners tomorrow morning. Laura used to take a few years of lessons in horse-riding, twenty years ago. I never rode a horse before in my life.
We get to set up our tent at the youth hostel and stay for three nights. There is breakfast and diner if we want to. It is not luxuous but it is friendly.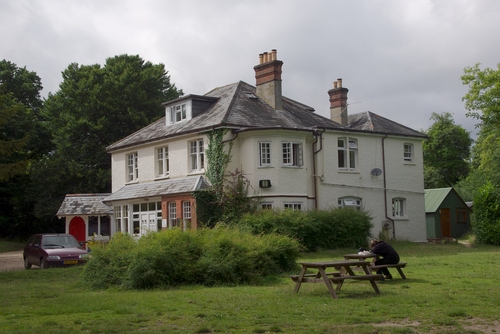 The youth hostel.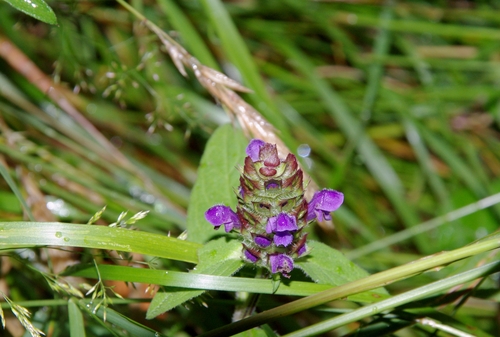 A flower.


The loud and active kids from the tipis wake us the next morning around six already. There's a lot of them. We have breakfast at eight, and around ten o'clock we drive in the direction of Burley Manor Stables, slowly because this is ponyland. In the village two donkeys stand asleep, each at the door of a (still closed) shop. The locals walk past them, almost without noticing.
When walking towards the stables, we see a small squirrel on the garbage dump, really near by. It sits still to let itself be looked at for a while. I get to ride Kenny, and Laura's horse is called Domino. We sign the liability-forms, put on caps, and get help mounting the horse. Laura is two horses in front of me (I mean there's one in between us). The horses keep trying to eat leaves, and we're supposed to prevent that. Kenny is a good horse, only listens when I pull fairly strongly at the reins, enjoys itself and looks around a lot, and hurries Merlyn a bit, the horse in front of us. We go through a beautiful area (there is no other sort of area here), some parts in a trot. We also pass some wild horses. After an hour we return. That was good!
We have lunch on a terrace in a yard, and after that we enter ponyland again. At the cricket-field near the golf-club we find the four donkeys and the foal again.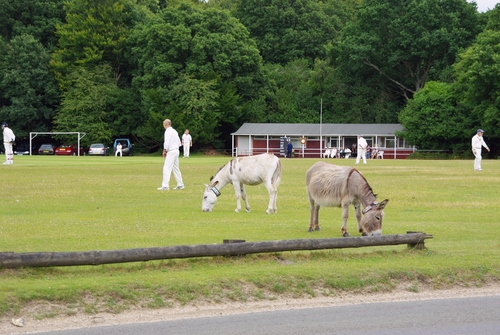 Far fielders at cricket.


In a supermarket in Lyndhurst, yet another touristic village with again those same magician-gift-shops, we buy among other things Guinness and Mackeson, and in Burley we buy a Guinness-coffee-mug. At the parking-lot a foal is lying on the floor with its mother standing next to it.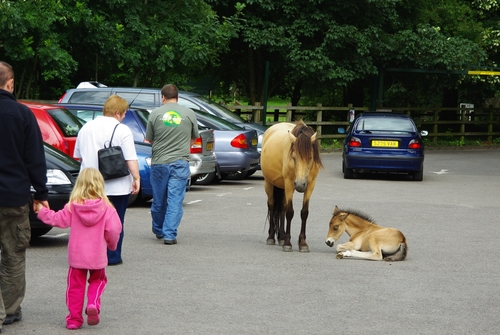 At the parking-lot in Burley.


Once we're back at the camping Laura continues to read Maeve Binchy, and I go and take pictures in the wood. There's quite a lot of squirrels around the youth hostel, and sometimes horses will come up to the fence (there's cattle grid at the entrance of the youth hostel).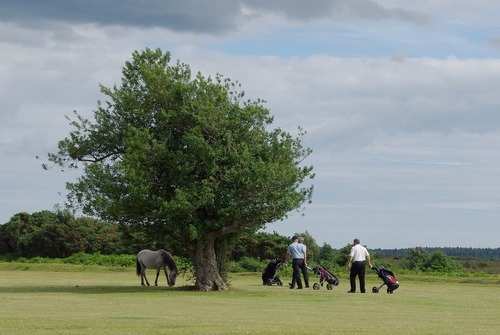 Fore! A horse on the golf-course.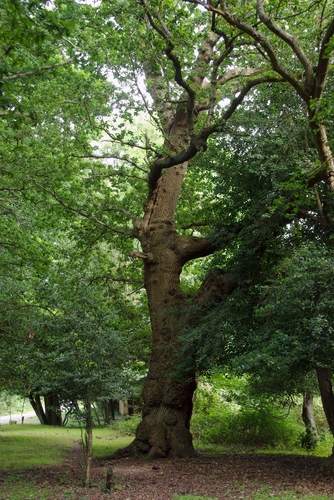 A tree.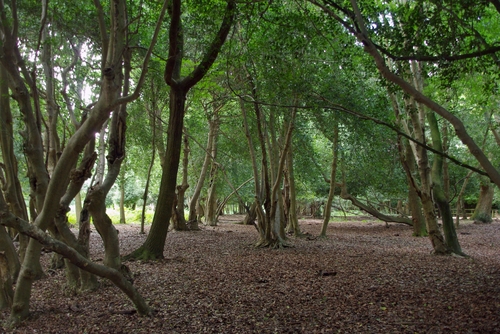 The forest around the youth hostel.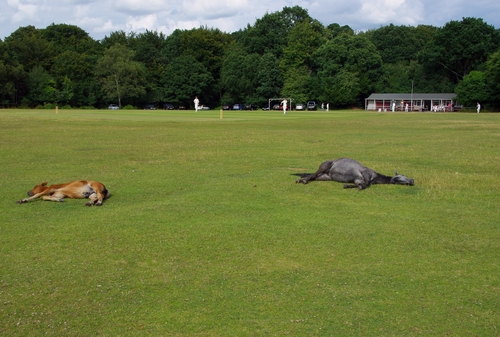 Cricket far fielders tired of playing.


The next day is less crowded and noisy. In the morning the families are packing. We wake up at seven-thirty, and I make coffee on our portable stove. Laura engages in a fight with the youth hostel's washing machine and loses. But she succeeds in having the hostel-people do our laundry in their own machine. That one is not broken.
Again we go into ponyland for a little while. On the road to Burley one of the five donkeys is walking by itself. Hm. That's not good. Donkeys don't like being alone, I know. The image of Eeyore is correct. Donkeys get to be like that after years of solitude. We see the other four donkeys, including the foal, in Burley at the parking-lot. We get out of the car. From a distance we can hear the fifth, lone donkey bray. These four hear it too. The mother and leader of the group immediately starts to bray very loudly and for a long time. They trot towards each other, and greet each other very cordially. The five of them walk towards the cricket-field, and we drive back.
Laura goes to sleep and read, and I return to the cricket-field. It's a busy place. There's lots of horses, a lot of foals too, and also the five donkeys are there. When I return, Laura has already hung the laundry out to dry on a clothesline and on tables.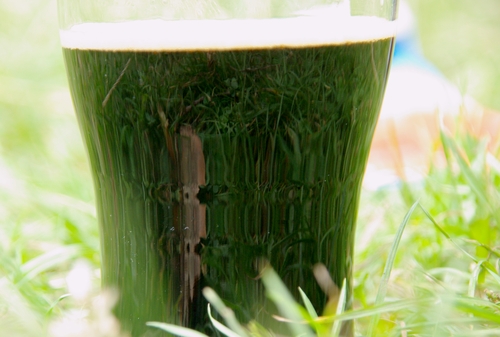 Reflection in a glass of Guinness.


In Burley we have a three-course-lunch. After that we drive around in the area, going nowhere, but something is going on in Ringwood, a fair or a game of soccer or some other disastrous event. There's traffic diversions everywhere we go and it is not easy to stay away from the motorway. But there are many beautiful cars on the road (it is a Sunday and the weather is good), among others an old Austin Seven and a Bentley from the thirties. One more time we have diner in the youth hostel. We need to leave tomorrow. There's no space left for us after tonight. We eat a lot. No wonder we both have heavy dreams.
In my dream we participate in a television game show for newly weds. The broadcasting company is owned by a cheap supermarket, one that appears to be quite normal, but underhand also sells nazi and pornographic pamphlets. In Laura's dream we get lost in a suburb and can't find the way out. Clear evidence that we're losing the rebellious parts of ourselves and are getting to be civilised. :-)


Llama Park
We pack and we leave ponyland. Laura leads us through beautiful surroundings in Hampshire, West Sussex and East Sussex to llamaland. We knew all along we wanted to go there, Ashdown Forest Llama Park. We arrive at around twelve o'clock. First we have lunch on the terrace, and then we enter. In the stables there are four groups of llama's and a few alpaca's, and outside in the meadows there are many more. The surroundings are wonderfully spacious, rustic, quiet and green. We get to see a white alpaca that's one day old.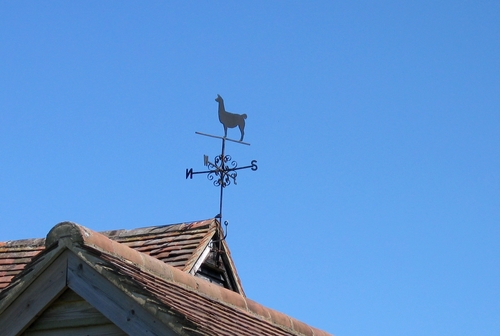 Lama-wind vane.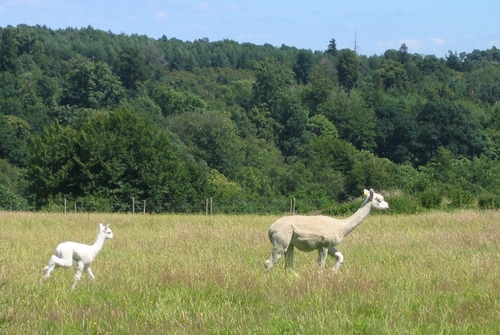 Baby alpaca.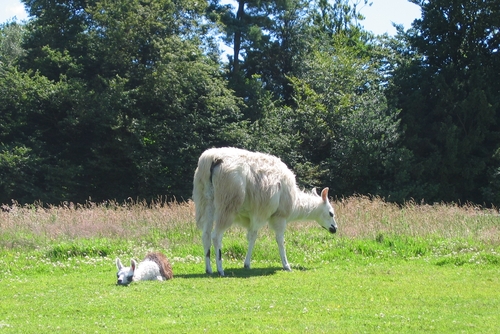 Llama with cria.


In the stables attendants are training the llama's. They make them get used to a halter and a leading string. I always thought that llama's prefer not to be touched, and I ask about it. She answers: "Llama's are a bit like cats. If they want to, they'll come to you." She adds that llama's are often shy and don't like their heads to be touched, and that it often takes a long time to gain their trust. Now and then we get to touch some of the llama's. In a meadow is Sooty, an alpaca that was an orphan from an early age and because of that was raised with a bottle. He comes towards us and curiously yet carefully sniffs at us.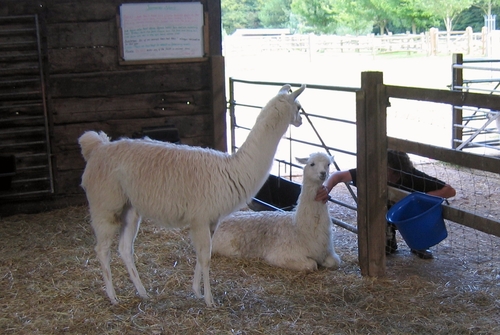 It's not so difficult to touch a llama. They will let you know themselves if they want it.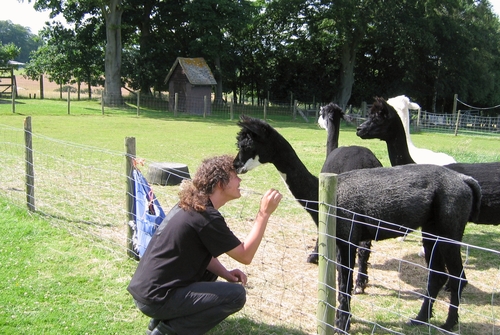 Sooty.


There are also three reindeers in a meadow. Funny animals. They make this strange clickety-clop-sound when they walk, and they're much smaller than I had imagined. Again and again we return to the stable with the llama's. In the shop we buy a soft stuffed llama (made of alpaca-wool), a shawl made of alpaca-wool and two small wallets. In a touristic book about music in Sussex they sell here, Judge is mentioned.
We leave late in the afternoon, and using a leaflet we go find a B&B. Everything is fully booked, and each time we get sent to new addresses. One of the houses is a true palace. We ring the bell, and an old yet vital man opens the door for us.
"Ah! There you are!" he says. We look surprised. "Weren't there three of you?" Eeh... He understands and shouts to some-one out of sight: "We can't take in two more, can we?"
I try to say goodbye but we have no choice but to go in and get new directions. No getting away. We are seated on the couch, I am given a pen and a piece of paper, and he dictates directions. "Any questions?" he asks in a commanding voice after having repeated it all. "No? Well, there couldn't be, because I was a soldier for thirty years!" And proudly he tells us about his son and/or daughter in Iraq and/or Afghanistan. His directions send us to Piltdown Man Pub. We don't dare to not obey.
Piltdown Man Pub is just outside the village Piltdown (yes, where Piltdown Man was found). Piltdown Man Pub appears to be a decaying chunk of sadness, common too, but in a friendly and even cute manner. There is a large children's playground with nobody in it, there are wooden couches on the terrace that are rotting, and inside we find photocopied announcements that the prices for their drinks will not go up this summer. We eat there. They don't have a vacancy. A man arrives in a Mercedes convertible, and meets some-one there who apparently is his mistress. I play for a while in the inflatable "Kiddie Kastle." We go.
We decide to drive on to camping Normans Bay, not far from Judge with whom we have a date set in a few days time. It has become crowded here. We get a spot all the way in the back, put our tent there and then it's dark.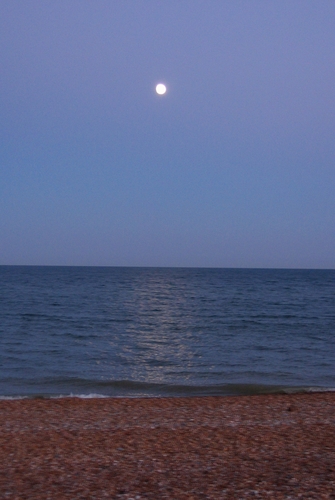 Moon over sea.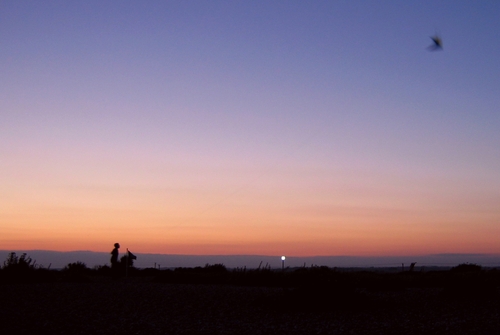 A kite on the beach.


The next morning we wake up early and drive almost straight-away to Eastbourne. Everything is still closed (it's before nine o'clock), but we manage to find an Italian coffee-shop that's already opened, Costa. After that we drive to the Bentley Wildfowl and Motor Museum.
That is one crazy place. There is a small musuem with cars, bikes and bicycles, there are a lot of ducks, swans, geese and flamingos, there is a miniature railway (only in operation on some days), rebuilt neolithical houses, piglets and more strangeness. It's very sunny. We talk some time with a 77-year old man who works in the car-museum. Among other cars there's a beautiful Minerva, an Alldays and Onions from 1909, a Lagonda Rapide and an AC from 1922.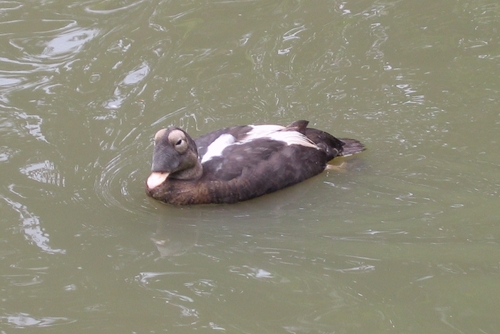 Strange birds...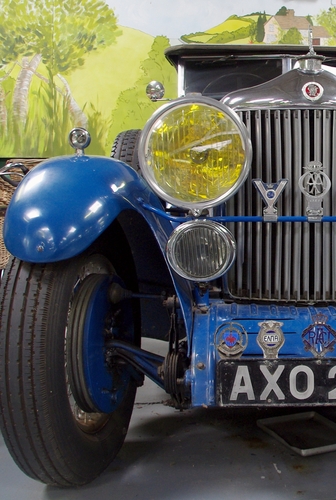 ...and old cars (this is the Minerva, an AK 32/34 HP from 1928 with coachwork by Elkington from Chiswick).


We get up early, have another breakfast at Costa's, and arrive at ten o'clock at the llama park again, the time they open. We spend another three hours there. One more alpaca-baby was born, last night. At two we're at Judge's again. We listen to a lot of music and in the evening we eat in an Italian restaurant in Eastbourne.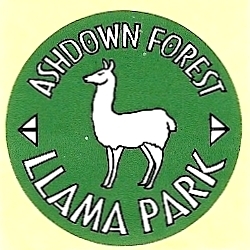 Ashdown Forest Llama Park ticket of entry (a little sticker).


The next morning we succeed in getting an earlier boat. Only now Laura notices that instead of her own passport by accident she brought the passport of a friend. Nobody noticed.