Holiday 2011
We leave on Tuesday 12 July at ten to ten in the morning and we drive through Arnhem, Duisburg, Köln. Around Dortmund we get lost a little but we manage to find the motorway back soon. I drive all day. Later in the afternoon it gets too hot in the car with the top down. Laura falls asleep next to me now and again. Near Freiburg we leave the road and head southeast. It's beautiful mountain road. At a hotel we ask for directions to a tankstelle, which is four kilometres further. We drive back to the hotel and ask them for a room.
The hotel is christian and has advertisements for God here and there. In the windowsill of the dining room there are black musicians made of modelling clay. The room is beautiful, with an extra bedroom. There is a large balcony with a view of the mountain. We hear sheep bleat and cows moo and cow bells tinkle. We have only just arrived when the thunder starts. It is loud. There is a lot of rain, and even some large hail stones.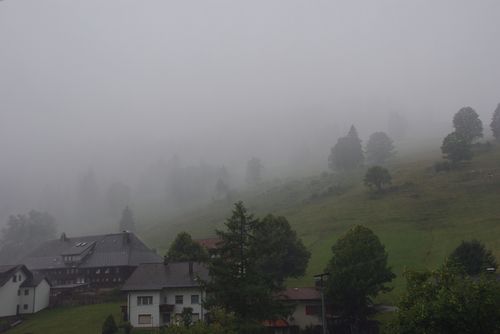 A photo of the rain, taken from our balcony. Click on a photo for enlargement.


Laura has pork with the local speciality brägel (a sort of rösti but with just potato), and I have veal with warm morellos. After diner we sit for a while under the shelter on the porch with beer and ice and coffee with brandy. Further away is a regular customer with a large cigar. For a while we doubt if the cat in the meadow in the distance is a rock in reality. All night long we hear the sound of the stream next to the hotel.

In the morning the sky is grey and it looks rainy, and clouds hang low over the mountain. Laura drives to Zürich first. It is crowded there, and the motorway is difficult to find. Afterwards we continue to San Bernardino. I drive from here while Laura sleeps. It is still raining, but in the vicinity of Milan the weather gets better. It is 30 degrees. Laura leads us to Valpolicella, to the east of Lake Garda, and we find a hotel where the youngest of the guests apart from ourselves are 80 years. We both dine with risotto and meat. Church bells ring twice every hour, all night long.

We get up early and have breakfast with prepacked biscuits with jam and other sweets and lots of coffee. There are only sweet sandwich fillings, nothing savoury. We check out and are smart enough to pack everything we will need in Venice in one backpack. I drive on the motorway to Venice, and we park at the airport.
We soon manage to find the bus, which takes us in about 45 minutes to the city. On the bridge to the city we get a wonderful view of the water and the city. Twenty-five years ago I already was in Venice for one day (here you'll find a story in Dutch), and we brought the map I bought then and there. Of course nothing ever changes in Venice. We go to a taxi and ask how much it is to take us to our hotel. Sixty euros. Hm. We decide to walk.
Our hotel is in a small alley far outside the city centre. The city is overwhelmingly beautiful. It is very hot though. It is a quater to one and our room is already done. It is on the ground floor. We immediately walk back into town.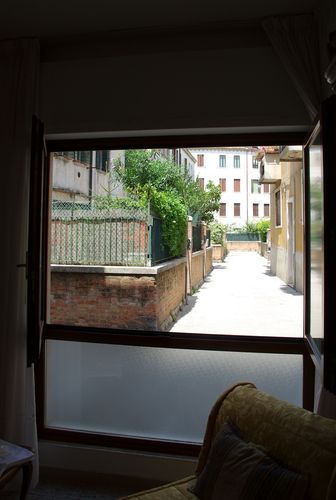 View from our hotel room.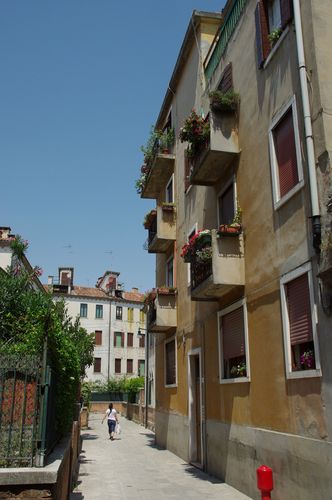 Street scene.


We have lunch in a beautiful garden alongside a canal, in the shadow of a grape, and we drink a bottle of prosecco with it. After lunch we stroll the streets, alleys and squares towards the sea. We are on Fondamenta Nuova near a gas station, with a view of the cemetary San Michele. The assistant in the gasstation sells bottles of water to us for fifty cents.
Next we walk to the San Marco square and we drink lemon juice and bitter lemon in Florian's (around nine euros per glass!). It is very crowded on the square, not much fun. It's very hot too. Sweat is dripping from my forehead. We continue our walk and see many shops and the Rialto but we don't visit it. Much too crowded again. I buy a fan.
We walk back and have diner in the same restaurant with another bottle of prosecco. The sparrows are bold. So wonderful here. There is very little music in the public area in Venice, and the amount of rest outside the city centre is conspicuous. And most of all: there are no noises from cars or mopeds. This is the ideal city, all this quiet. Beautiful, confusing city, where you don't find your way by means of the roads but by going from bridge to bridge.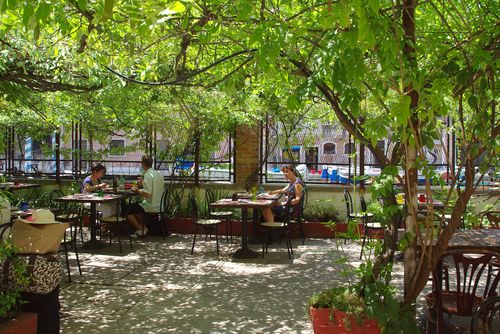 Laura on the terrace.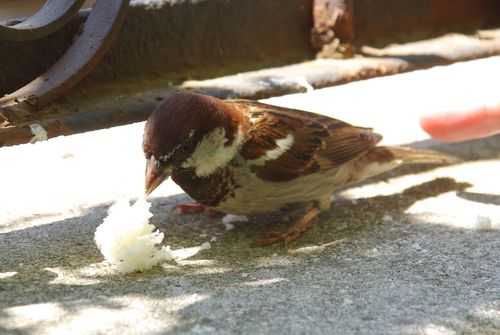 Sparrow.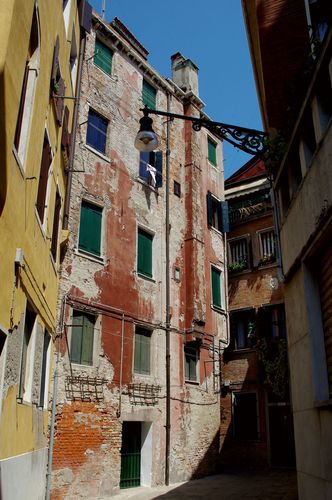 Street scene.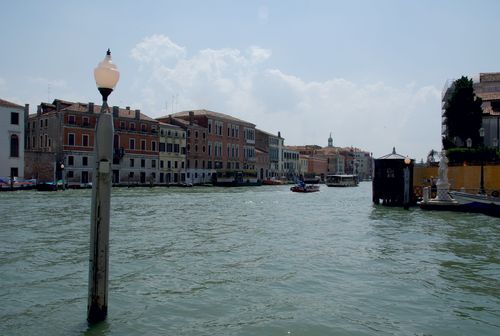 Street scene.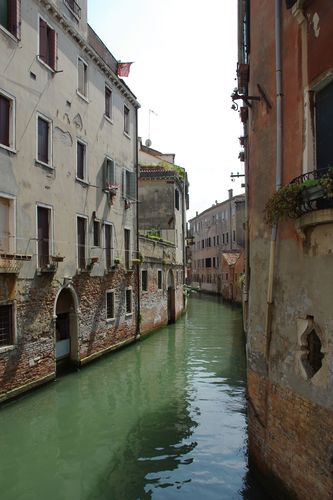 Canal.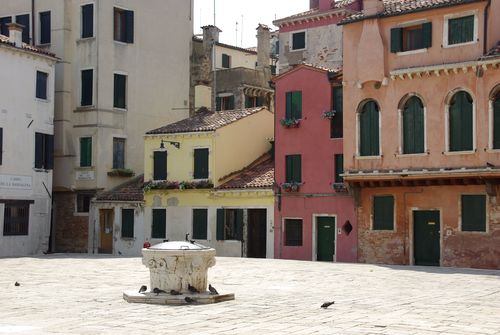 Square.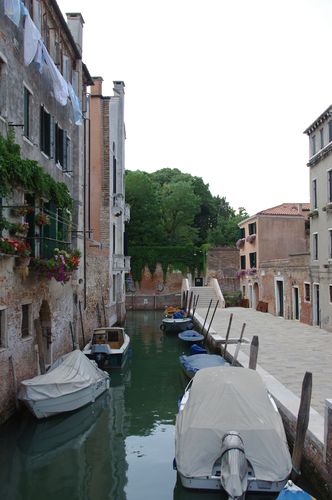 Canal and quay.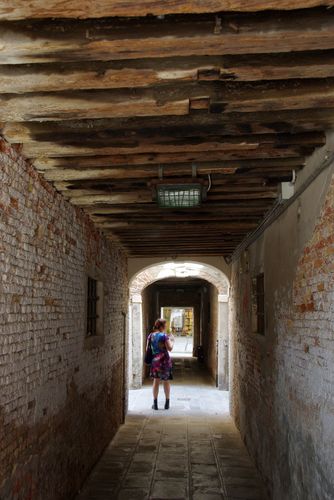 Street scene.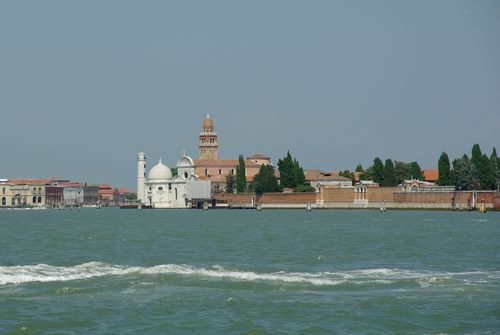 View of cemetary-island San Michele.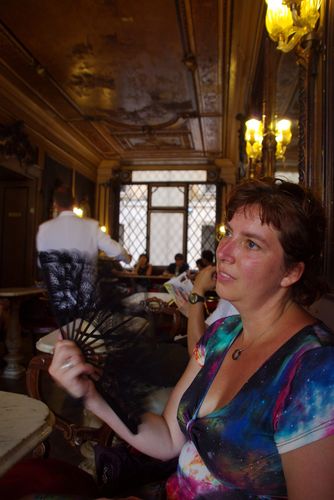 Laura in the heat in Florian's.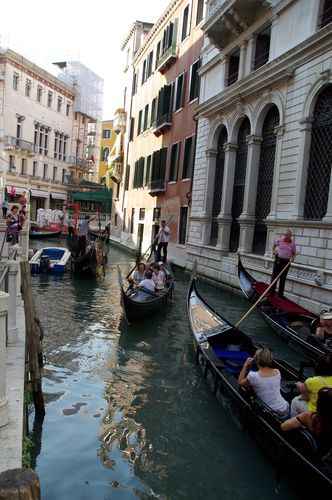 Gondola congestion (Laura is on the left).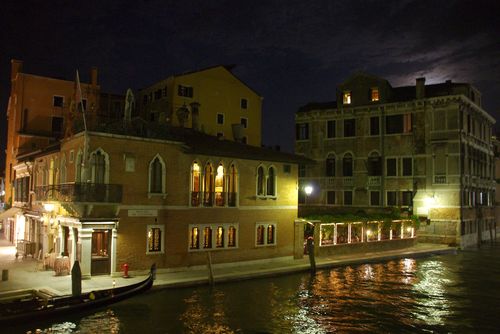 Our restaurant at night.


Friday we have breakfast in the little courtyard next to our hotel room. We follow the sign "synagogue" we discovered yesterday and find ourselves in the Jewish district. We discover a beautiful, quiet square with a synagogue that is a museum as well. There is also a wall of rememberance for the ghetto. In a shop there's a chess game for sale made of Venetian glass where Sephardi Jews play against Ashkenazi Jews. Searching for a stamp we stroll along a canal and end up at the sea, again with a gas station.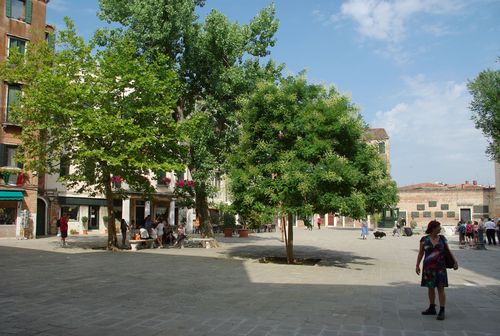 Square in the Jewish district.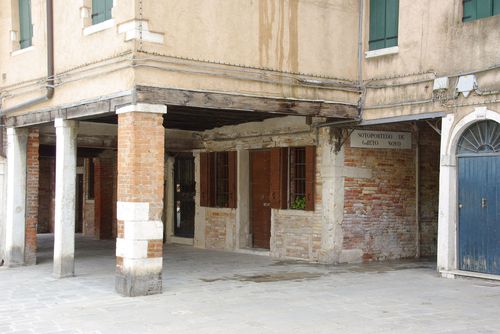 Square in the Jewish district.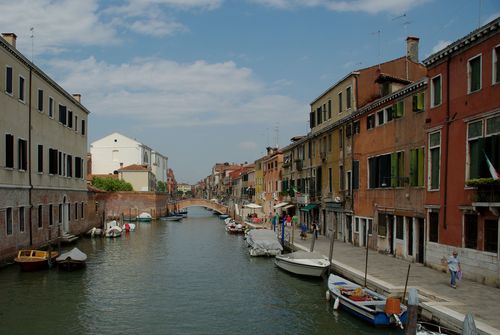 Water.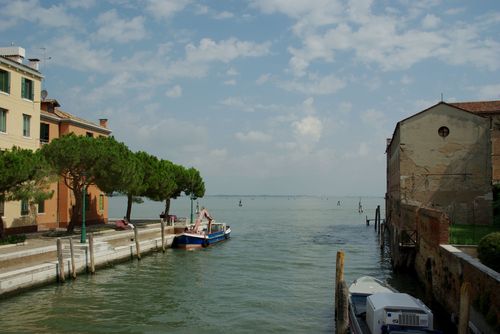 View of the sea.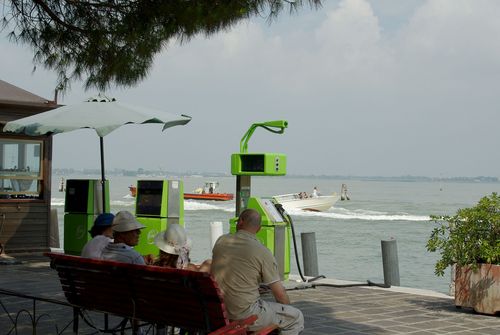 Gas station.


We take bus 51, which goes around the old city (and for a while through the Canal Grande) and then crosses to the Lido. "Finish," says the person who moors the boat at each stop, and so we get off. There are cars here. And many luxurious villas with sometimes beautiful gardens, and many beach-shops. We cross the island to the beach and return. We have lunch on a terrace with a rocking sofa. We take bus 2 back, through the Canal Grande, and get off near our hotel. Later in the afternoon we find a nice terrace where we start off with white wine and where we dine later in the evening, Laura with grilled salmon and I anglerfish.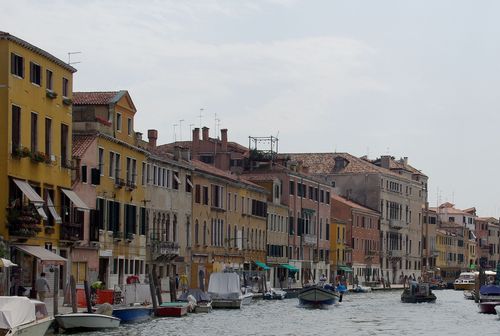 Canal (as seen from the boat).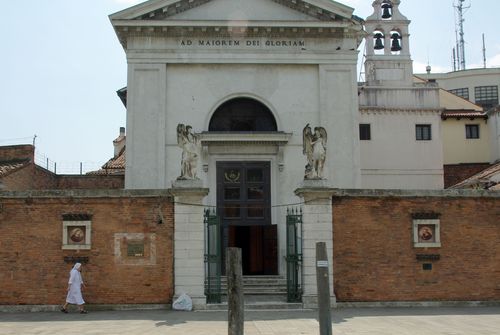 Church with nun.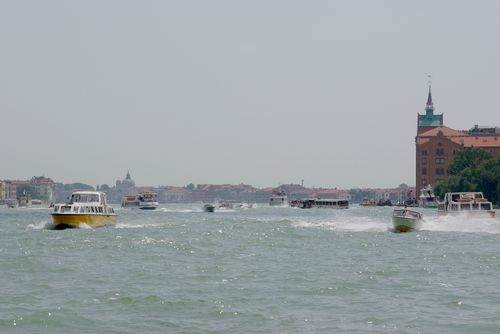 On the water.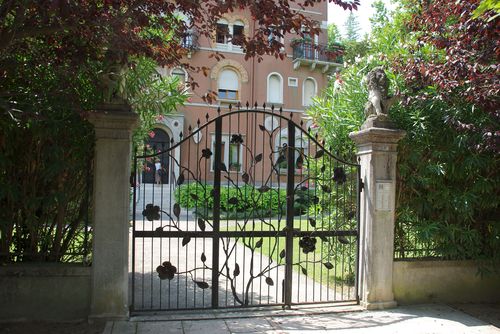 House at the Lido.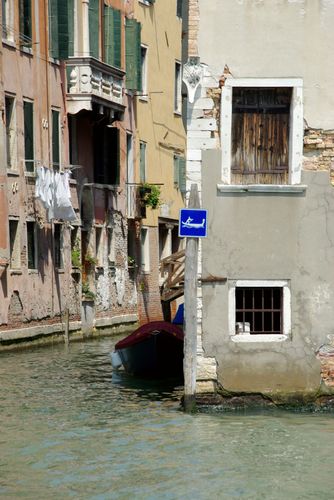 Canal for gondolas.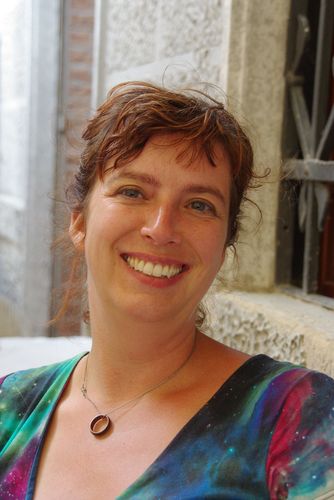 Laura.


We leave already on Saturday. We walk to the boat, that leaves at 10:18. We are inside, and it takes about forty minutes to get to the coast. Our car has faithfully been waiting for us. We drive to the house we rented, in Petriano in the Marche, and around one o'clock we have pizza for lunch in a roadside hotel. We have a beautiful route, a single carriageway along the sea through the Po Delta. Laura does the shopping at a supermarket, and phones the landlady that we might be a little late. But we have an easy time finding it and we arrive on time, at six o'clock.
The house is remote and large, with arable land around it, and we drive towards it along a small mountain ridge with a wonderful view to both sides. The landlady, Claretta, comes to greet us with a basket full of home grown vegetables. Our apartment is on the second floor and it is more luxurious and larger than we had expected. There are two balconies. Our landlady and landlord themselves also live on the second floor; the house looks like a farm on the first floor (sheds and so on). Immediately after us another Dutch family arrives, and they go and live in the apartment above us.
Before diner we drink wine in the rocking sofa in the garden. We have pasta bolognese on our balcony, surrounded by clouds of anti-mosquito-incense and an anti-mosquito-candle. The cupboard for the dishes is above the sink so we don't need to dry the dishes. After diner we meet the old Alsatian dog Lili. There are also chickens, turkeys and guinea fowl.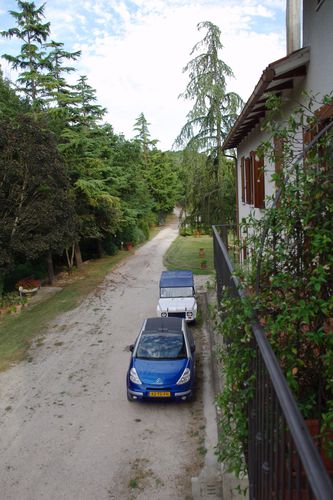 View from the balcony in Petriano of our car and a visiting Méhari.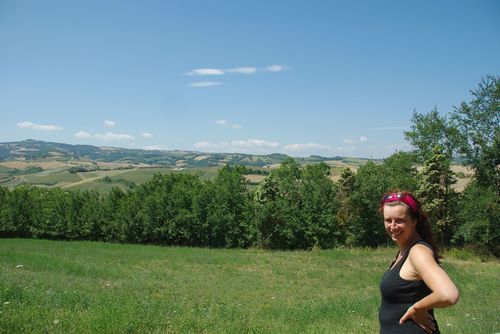 View.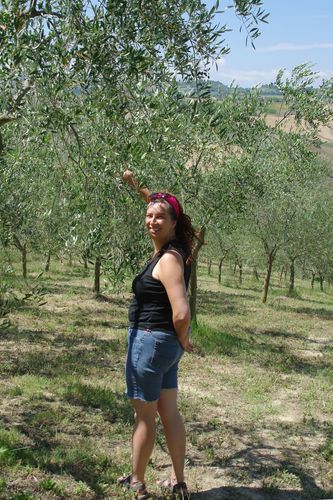 Laura examines the olives.


On Sunday I wake up later. Laura is reading in the garden, and Lili keeps watch next to her. Laura talks for a while with the other Dutch people who live above us in Claretta's house. We walk to explore our surroundings. There are meadows with flowers, a small playground, a pond with geese and a view that is breathtaking. Next to Claretta's house are the vegetable gardens that belong to the farm, with onions, beans, tomatoes in a hotbed, cucumbers, courgettes, pumpkins, melons, grapes, figs, olives.
We drive to the village Petriano. It is situated on a hill and is pictureque. The church in the centre is on top of the hill. We see no restaurants or shops. We decide to go find a restaurant in the next village, Gallo, but we don't succeed there either. It also is a much less charming village.
So we drive on to Urbino, about 14 kilometres further. The centre is wonderful and old. It is a walled city, with some gates, and it is well maintained. We have lunch with ice for dessert. Many streets go steeply up and down again. We immediately notice it is a city with a university. In a delicacy shop we buy wine, foldable wine-coolers to put in the freezer and good chocolate spread. We can come pick it up in an hour or so. Now first another icecream. And another one, in a large, biological ice-salon for yoghurt-ice. Laura has "warm" chocolate mousse icecream, much less cold than other ice.
We drive back home and go read on our bed. Around half past seven Laura makes a salad with Claretta's cucumbers and tomatoes, and she warms up yesterday's diner. Claretta and her husband (he only speaks Italian, but Claretta speaks English) bring us, as promised yesterday, a new table and two chairs to put on our balcony. We have diner on the balcony, and Lily is on watch below us.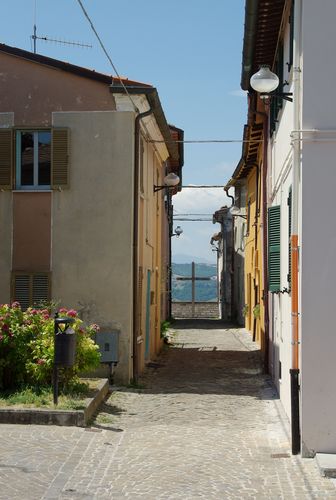 Petriano.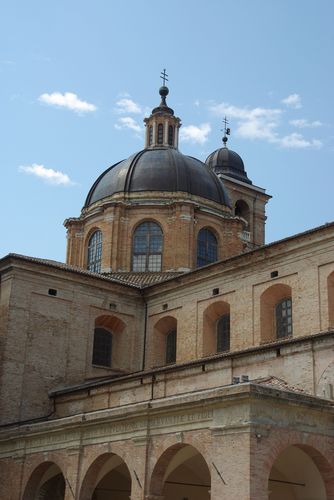 Urbino.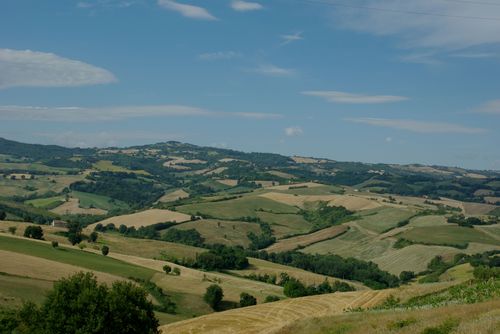 View.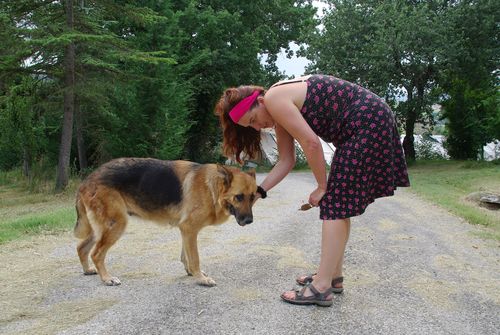 Laura and the old dog Lili.


On Monday we wake up around half past eight. It's colder than the previous days. In the morning we even get a little rain. We stay inside (and on the balcony) all day. We read and do our laundry. I finish reading Jona Lendering's book about Alexander the Great, and I start in a book about Carthage and the Punic Wars. It is wonderfully quiet around Claretta's house, an oasis of rest amidst this busy, chaotic country.

The day after, in the morning Laura finishes reading her first ebook on her iPad. Because we're out of breakfast, we decide to go and find a pub in Pesaro. Afterwards we would like to see the beach.
As soon as we're back in the more crowded parts of this world, the traffic here makes us quite worked up and tense. People's driving style here is furious and unpredictable, and instructions are often incomprehensible. Hardly anybody observes the speed limit, and sometimes that limit is downright absurd (30 kilometres in a place where everybody does 90 for instance). Often signs are posted too near to the exit or are even wholly absent, or you see the same sign in two out of five exits on a roundabout, or there is a large sign with an advertisement for a supermarket (eight minutes ahead) but after various roundabouts there is not a single further sign. In any case there are way too many advertisements along the road.
In short: we don't succeed in finding the beach in Pesaro, not even a parking. And no pub at all. After a few times trying we are in more luck in the next coastal village, Fano. In a lunchroom we order coffee with sandwiches and we eat it on the terrace on the other side of the street (with of course popmusic from the eighties from speakers on the terrace).
Afterwards we find a nice South-American shop in an old church. I buy myself a blouse, and Laura a rucksack in the shape of a bear and a wallet. We also buy llama dolls we can put on our fingers. To get to the beach we need to walk a long way through a dull neigborhood with blocks of flats, so we decide to not do it. We pass the gate of an old citadel, but we're not allowed to enter.
On the road to Urbino we find a supermarket that is opened even on Sunday. But it is a normal Tuesday now, and so of course it is closed between twelve and two. A bit further on is a smaller supermarket that's open. We drive home and have lunch.
Around four we have a walk in the surrounding area. We follow the road of our house a bit further downwards. It's really beautiful here, and remarkably silent. Around us are fields with grain, vegetables, grapes and olives. At the bottom of the hill we turn around. Behind a fence around a house about five little dogs bark at us. There is a sign on the fence that reads "beware of the dog and its owner" and it has a drawing of a gun.
So when a man in that garden comes towards us and starts to call things in unintelligible Italian, we presume we're being chased away. But on second glance he seems friendly, and we think we understand the words "cane piccolo" or something. And yes, we're indeed being invited to have a look at their puppies. The man is around seventy years, and there's also a woman and two young people around twenty years. And they have three puppies. One is brown, and two are white with black spots.
We look and cuddle with the pups and talk some. It's mostly the man who talks, in Italian with some words of German interspersed. The other three speak nothing but Italian, even the two young people. Sometimes we understand just a little bit of what he says. He ask us if we want to buy a puppy, but we really can't.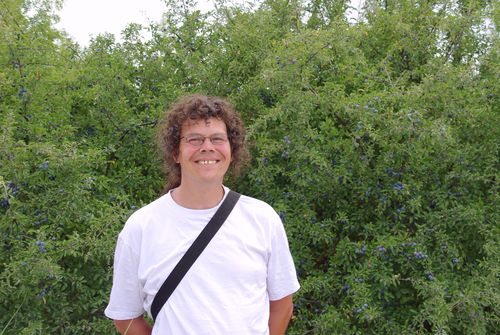 Me (photo by Laura).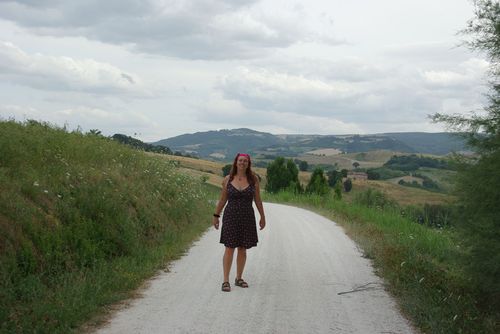 Laura.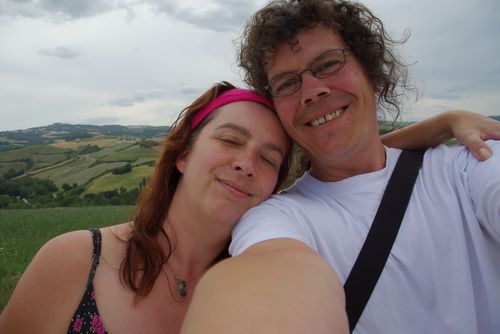 Us two together.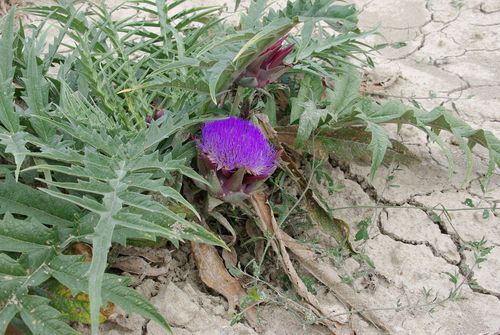 Artichoke.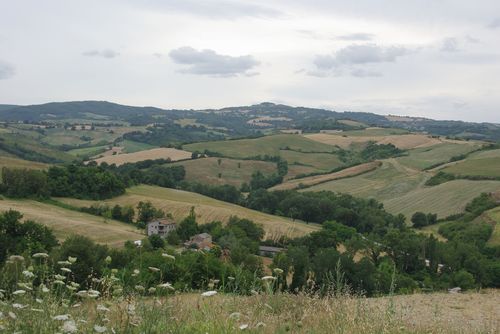 View.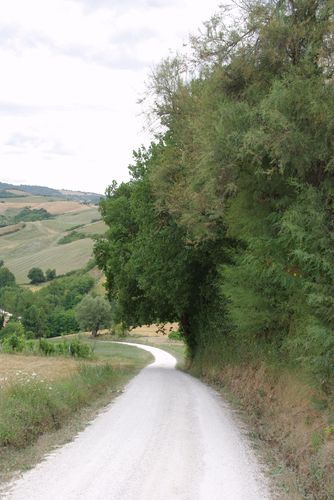 Road.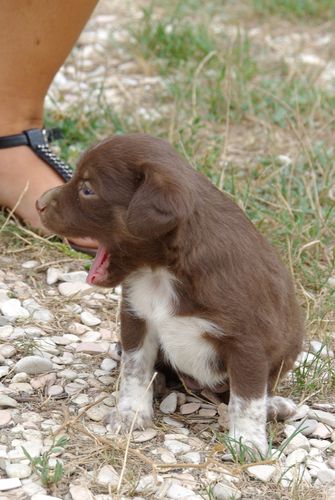 Puppy.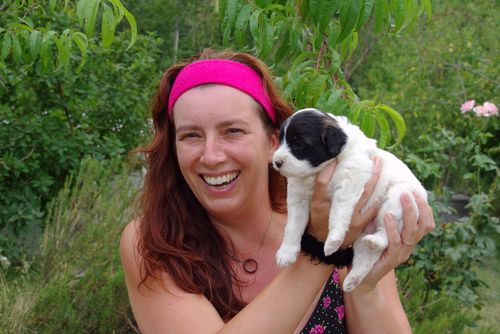 Puppy.


On Wednesday we get up early. Last night was cold, but when we walk to the car after breakfast it's much warmer already. We drive through Urbino on a quiet, hilly road that gets more and more steep as we get nearer to San Marino. A few times we stop at beautiful spots.
Our car (we bought it last year) is to our satisfaction. In the mountains it has hardly any problems (less than the AX), and the open roof is wonderful. In the course of our holidays we learn that on the motorway it is also nice to have the roof closed and the airconditioning on.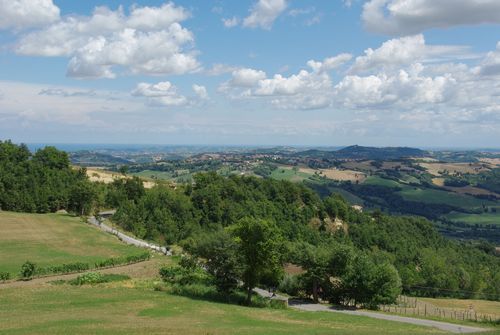 View.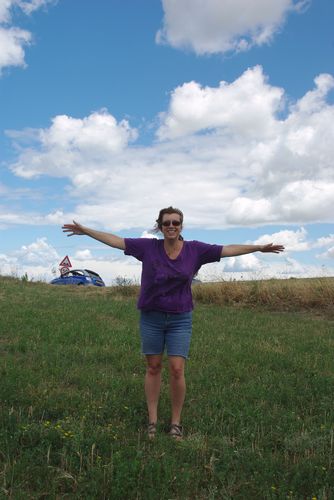 Laura.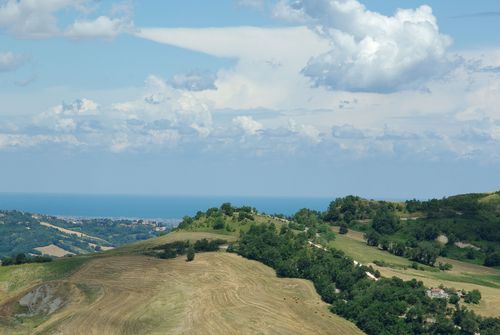 Sea.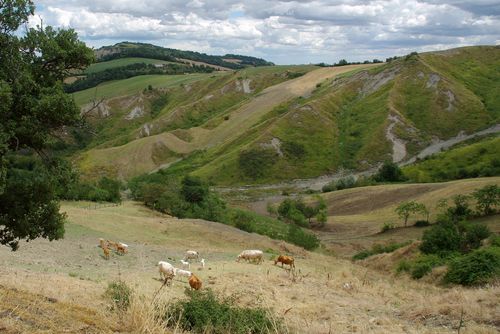 Cows.


We arrive in the capital San Marino at a quarter to two. We walk through the gate into the city, and after a walk through this touristic but beautiful old city we find a terrace to have lunch. The food is vile, and it isn't what we ordered. The waitress makes excuses to us for her boss's age with the words "my boss, he old".
We walk on and right around the next corner we find a shop with mock-up cars. There are many old marques, Lancia, Alfa Romeo, Talbot, Rolls-Royce, and Laura manages to find a Citroën Pluriel Charleston on a scale of 1:18. We buy it.
We continue our walk through the shopping streets to the towers. The view is beautiful. The towers are on top of a very steep mountain, and below us we see hills and further away the sea. Because we've seen enough tourists now we descend via a narrow, steep path through the forest. We visit the supermarket in Urbino. They don't understand what we mean by canned ravioli, and try to explain to us that ravioli is really pasta (in the Netherlands canned ravioli is quite common as a simple to prepare meal). We get home around nine, and eat the lasagna from the supermarket.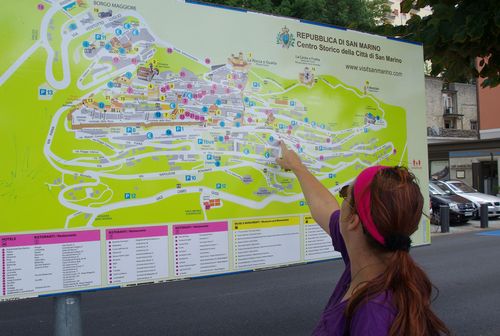 Laura and San Marino's touristic map.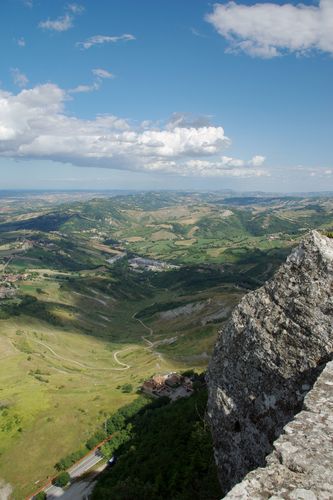 Depth next to the citadel.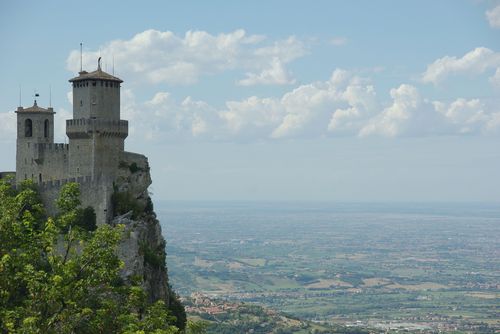 One of the three citadels of San Marino.


On Thursday we get up early to visit the thermal baths near us, on the same road our house is on. It's quite a strange affair. We ask them if it is okay to swim here, and they respond by asking us to fill out a form with questions about our physical health. After that a secretary in a white coat (there is an old matrix printer with fanfold paper on her desk!) gives us a treatment plan, which is to swim in their baths. Someone walks us to the changing rooms, and we need to carry plastic covers around our feet and hair. It looks more like a hospital than the luxuous swimming paradise we had expected.
It is a small pool, not deeper than about 130 centimetres, with two additional smaller pools, one colder and one warmer than the larger pool. There is a friendly rheumatic man who is from Sicily and who speaks a bit German. At ten o'clock a gymnastics class starts in the bath, and we leave. In the afternoon we read in the house, and we sleep. For diner we have rice with vegetables and different kinds of fish.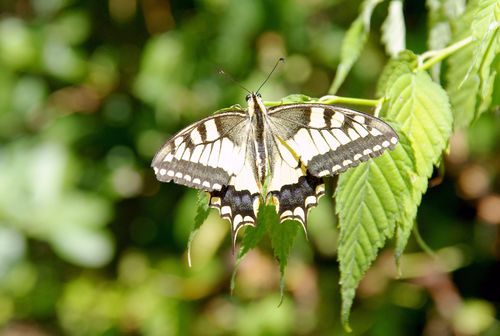 Butterfly in the garden.


The next morning I wake up very early. I am sullen and stay that way all day. Laura has a small headache. We go to the tourist information in Urbino to find hiking trips in the surroundings. They give us many folders but we feel too sluggish and decide to stay in Urbino today. We visit the museum in the duke's palace, and we see paintings from the fourteenth to seventeenth century, tapestry and wooden mosaics.
We have lunch on a beautiful terrace, but it doesn't taste very good. I am anyhow not that fond of Italian cooking. I think it is not subtle enough and not varied enough. Typically it is a pasta or risotto as a starter, followed by meat or fish (often grilled) with spinach. The alternative is pizza. And I don't like a sweet and small breakfast either, nor warm lunches. I do like icecream, and we eat a lot of that. I only have yoghurt or lemon ice. Afterwards we go back into the museum, and we see Roman inscriptions. Laura drives the long way home, through Isola del Piano (translated by us as the piano island) and an adventurous, small road with a gradient up to 20%. In the evening we have salmon for diner and I read Cat's Cradle by Kurt Vonnegut.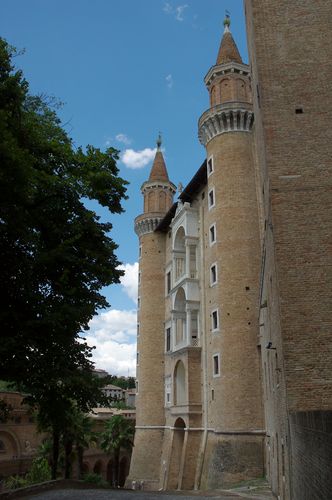 The duke's palace in Urbino.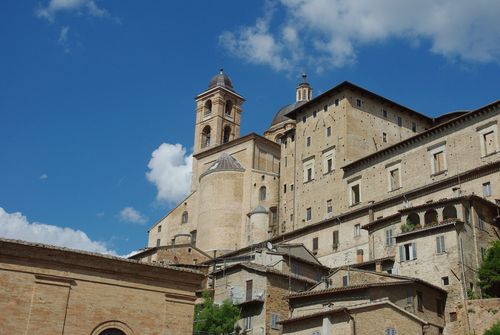 Urbino.


On Saturday morning we drive to the baker in Gallo, where we buy bread and pear juice among other things. Today we want to drive around in the surroundings. The weather is back to its normal 25 to 30 degrees again, after a few days of a mere 20 degrees. We follow a small road in the surroundings of Palazzo del Piano and Monti della Cesana.
We have lunch in Urbino in a cheap restaurant for students. The waitress walks on Docs. In the city is a biking event. There is a finish of a bike race, and there are tents with very modern racing bikes. It strikes us that there is hardly any music or a sound system. Around the corner we find a small market with traditional produce, like sheep cheese, honey and truffles. We have a chat with some of the sellers.
When we get home the Dutch people who lived in the apartment above us appear to have left. No new persons arrive. We write postcards, but the one we bought for Hans in Venice is lost.

On Sunday it rains all day on and off. We decide to stay in and read. I read The Red House Mystery by A.A. Milne. We eat the leftovers of the fish stew from Thursday. Claretta and her husband drop by in the afternoon and bring us another basket of food: tomatoes, cucumbers, onions, potatoes, courgettes and courgette flowers, much more even than last week.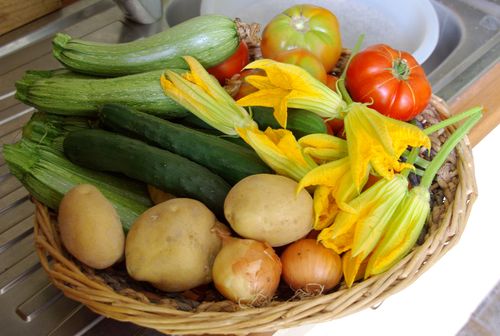 A basket full of vegetables as a present.


On Monday we leave around nine thirty. We plan to drive via Barbara to the Frasassi Caves, near Genga. First we put the postcards in the mail in Petriano (and we find the postcard to Hans back). After that it takes us two and a half hours to get to Fossombrone, which is at one third of the total distance. It appears the map is wrong, and also a lot of signs are conflicting or absent. Yellow roads all of a sudden turn into mountainous dirt roads. From Fossombrone we take the orange road, the Via Flaminia.
We find directions to the Furlo Pass, a gorge between high mountains, and we drive there. The signs are correct this time. It is very beautiful. A blue-green river with steep rocks and a narrow road. There are few tourists (a small group aside). We walk for a while along the road and the river. We drive on the Via Flaminia, pass through another beautiful gorge, and arrive at Sassoferrato around two in the afternoon. We call it Sassafras. We have a notably good tasting lunch with pasta. We decide to not go to Barbara after all and to go straight to the caves from here.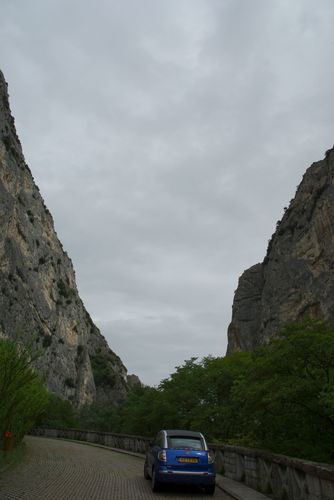 The Furlo Pass is a steep gorge.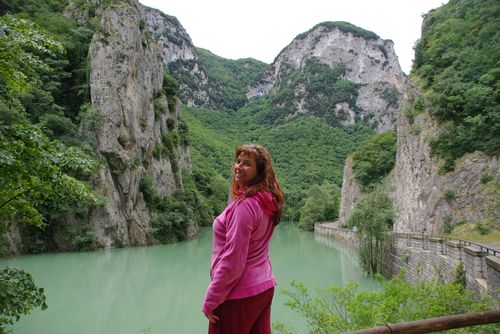 Laura in front of the "no fishing" sign so it doesn't spoil the view.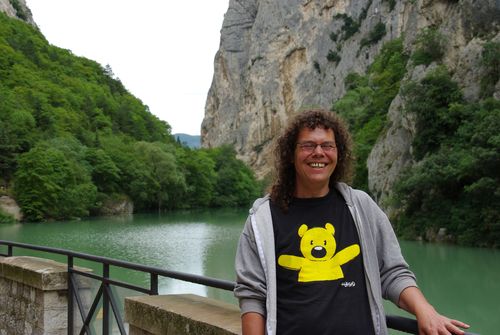 I'm having fun in the Furlo Pass.


Around three o'clock we arrive at the large parking for a visit to the caves. There are many shops with touristic kitsch, and the caves are a few kilometres further onwards. Tourists get transported by busses. You are only allowed inside the caves in groups, in a guided tour. We follow a group with a guide who speaks Italian. She hands out a lot of information every time she stands still and she shouts loudly. Then everybody quickly walks on to the next stop. Many stalagmites have names. We stay behind and take photos but the guide doesn't allow us to do so. I don't understand why.
We stay behind some more and find ourselves in a group with a guide who speaks Russian. This guide has no problems with us taking photos, and in the rear of the group many people do so (some even use flash). The caves are very large and high (there are rooms up to 200 metres high, apparently), and they are often beautifully illuminated. The stalagmites and stalactites have beautiful, strange shapes, which is an impressive sight. The air is much less damp than we had imagined. The tour takes about one and a half hour. Afterwards the bus drives us back. We buy bread, cheese and wine for tomorrow at the shops.
On the way back we take the fast toll road. This time we arrive back in Gallo one and a half hours later. A few days ago the Dutch people in the apartment above us had told us about a restaurant in this village, and we have an extensive diner there. It is a nice restaurant, Locanda Da Ciacci, with roosters everywhere (the village is called Gallo), made out of stone, plastic, glass, clay, wood, metal, and pictures of roosters. The waitress at each course names some meals we get to choose from. The antipasti invite us to the table: three dishes abundant with cheese, ham, salami, artichoke, melon and more, and a basket of bread. After that we have pasta, after that meat, and as desert zuppa inglese for Laura (translates as English soup, and it's a hotchpotch of cake with alcoholic beverages, custard and chocolate). I drink a bottle of white wine, so Laura drives home. The diner cost us a total sum of 50 euros for the two of us, seemingly a standard price, regardless of our orders.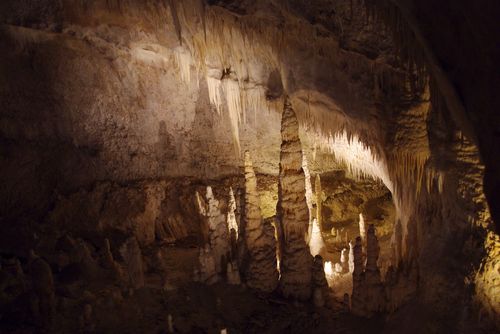 Stalagmites and stalactites in the caves.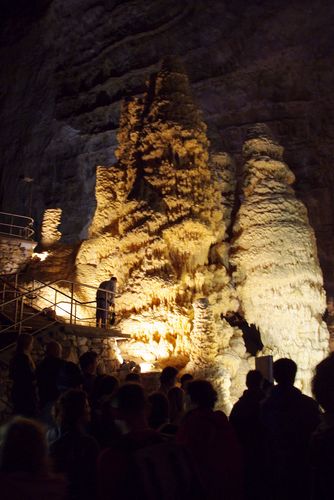 Some are very large.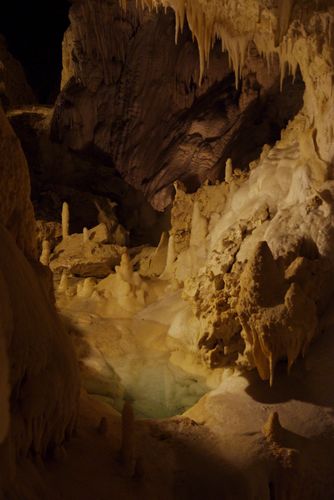 There aren't that many little lakes like these in the caves.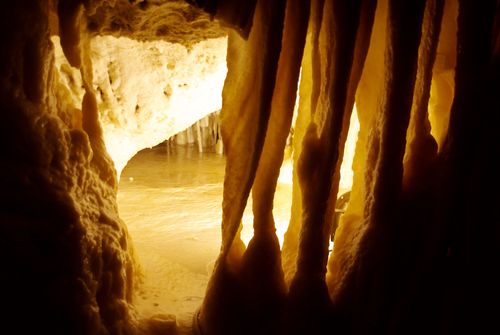 Strange shapes.


On Tuesday we go for a walk. We drive around for a while and then find a place to park the car, under a tree next to a plot of land. First we get our bearings, so we will be able to find the car back. We climb the mountain, first along a dead end street that leads us to three houses. We walk for a while on the main road and then head towards Santa Maria in Calafria. Behind a fence in a garden is a small kitten we play with for a while. The owner warns us not to take it with us.
A couple of houses further on we see another kitten, and soon the mother cat and a brother or sister kitten emerge from the house. The mother hisses, so we don't touch any of the cats. We walk on and end up at the road again. Along the road is a cemetary, and we go have a look. The coffins are in a wall inside a building, stacked about five rows high and ten rows wide. Like on a chess board their places are designated with letters and numbers.
A bit further onwards along the road we meet yet another cat. This one miaows to us to get caressed. After a while we walk on and turn towards a play area where we meet that same cat again. We have a small break on a bench with the cat in between us. Afterwards we walk past the thermal baths and past our house, and then we follow the same path we drove this morning by car. It is steep and warm. Far away we see rain falling.
Suddenly very near to us a deer crosses the road. We halt for a while because of the surprise. A bit further on we halt near a small river. Around a quarter to four we return to the car, tired and lunchless. Near the car a farmer is busy ploughing the land. We return home, have lunch and read until seven. Laura prepares Claretta's vegetables. We drink prosecco with it.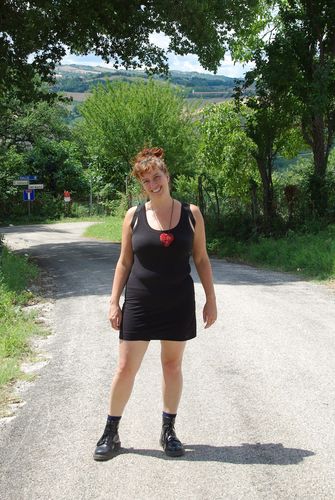 Laura.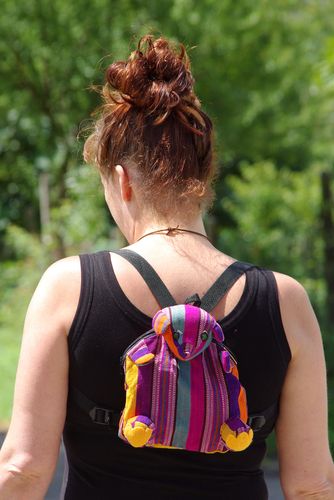 The little rucksack Laura bought in the South-American shop in Fano.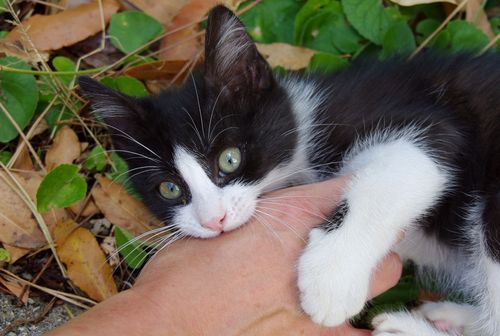 Kitten number 1.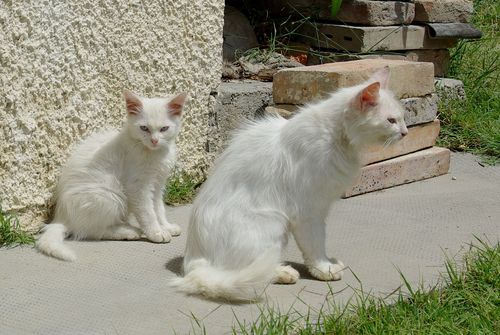 Kitten number 2 (with mother).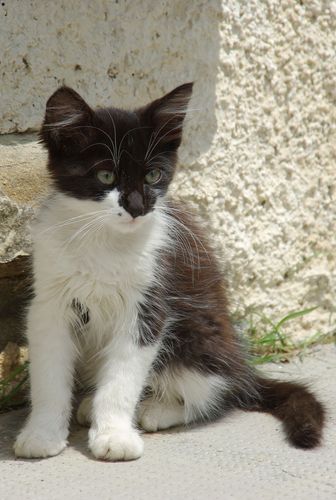 Kitten number 3.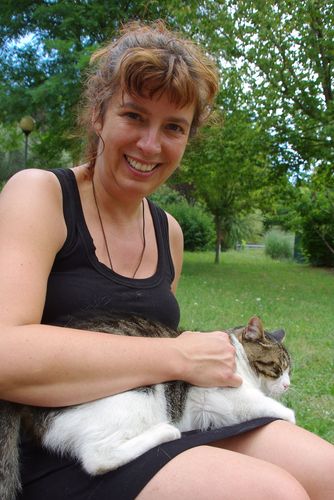 Laura with a cat on her lap.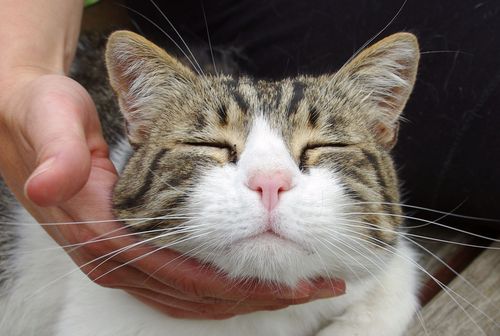 The cat very much likes to be caressed.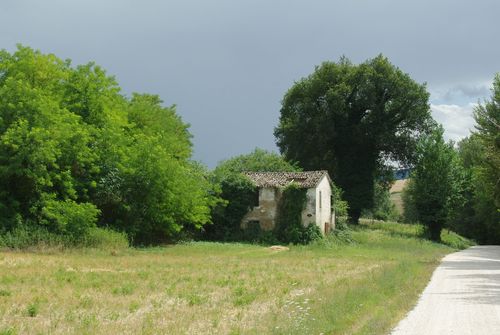 Overgrown house.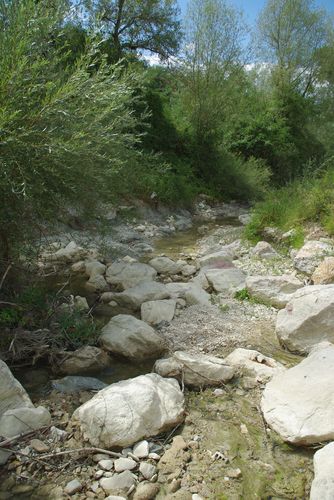 Small river.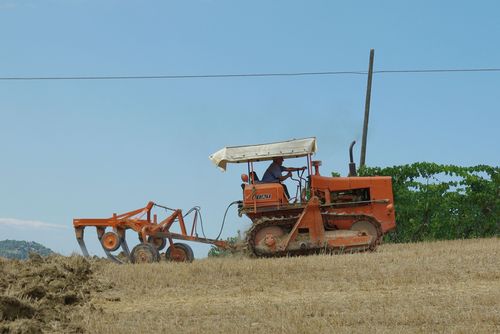 Farmer with plough.


Wednesday morning Laura does the household: laundry, dishes and food. I get up later. At breakfast we make our plans for the next days. We want to visit Laura's aunt in Milan and the Alfa Romeo-museum in Arese. We drive to Urbino for the Internet cafe. On the road to it we see three happy pigs in a field of corn.
Apart from a steep road and steps up there is also an elevator leading from the parking to the inner city, and we take it. We end up quite near to the Internet cafe. We find out that the museum isn't open in weekends, and so we decide to add a day in Siena to our schedule. We make reservations for a hotel there and print out the route. The weather is beautiful (26 degrees), and we have lunch in the courtyard of a restaurant in the city centre. There we text Laura's aunt.
We have ice cream and Laura drives us to Urbania, the duke's former country retreat. It starts to rain, and so we decide not to get out. There is a supermarket, and we go shopping. We drive back and it keeps on raining. Unfortunately Laura's aunt texts us she won't be home this weekend. We read until seven o'clock, eat leftovers, and then read some more. I begin in Enduring Love by Ian McEwan, the first chapters of which are so haunting that I need to read something else first before I go to sleep.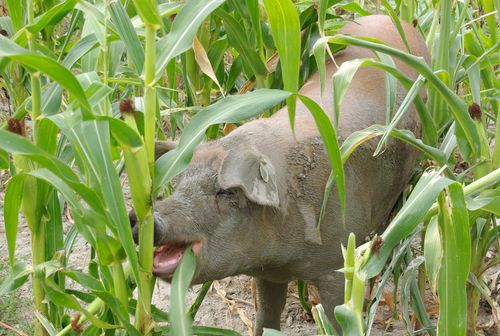 Happy pig in a field of corn.


The next day we take it easy and we leave at around a quarter past eleven to visit an old monastery, Fonte Avellana, in the south of our province. Here it is a lot more mountainous and there are more forests than there are around Petriano. We have lunch in a roadside restaurant. At three o'clock there is a tour that will take about half an hour. It is just in Italian, but we're given a sheet of paper with a summary in English. Monks still live in the monastery and we are not allowed to go in the residential area. There are about fifteen people in our group. It is impressive and simple, with thick walls of natural gray stones. Parts of the monastery date from the tenth century, and the monastery is mentioned in Dante's Divine Comedy.
Afterwards we go and lie in a mountain meadow with mint plants next to the monastery. In the evening we eat rice at home with European flounder. I finish reading my book.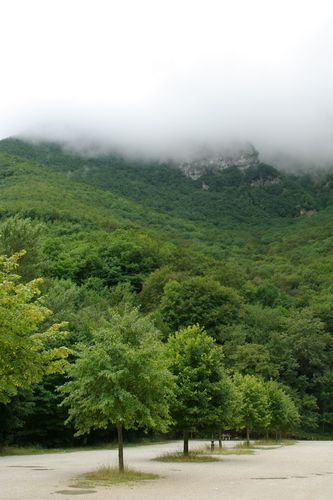 Parking near the monastery.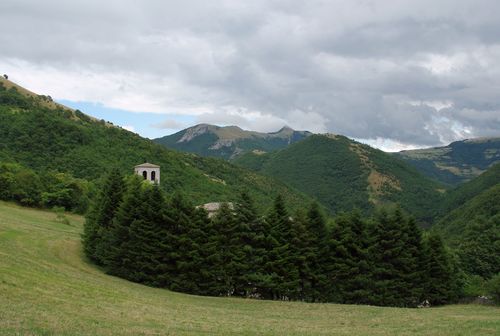 The monastery, hidden behind trees.


Friday is our last day in the apartment. We take out the garbage and the glass and so, and we put the postcard to Hans in the mail at the post office in Petriano. Through Monteguiduccio we drive to Cairo. En route we halt at a strange church with a parking spot. It's really quiet here, but every now and then a car passes. We notice that the cars are all Dutch, and they all take the same side road in both directions. Curiously we follow them, only to find a camping site full of Dutch people. Startled, we quickly drive away again.
We continue via Villa Grande, Candelara, Santa Veneranda and Pesaro, where twice we take the wrong way, to Casteldimezzo, on the coast. There indeed is half a castle, or perhaps not more than one quarter. It's a high, steep coastline with lots of trees and shrubs. We have lunch in a restaurant nearby, with a view of the sea. Unfortunately when we have only just started our lunch in the garden of a house nearby a noisy machine starts.
We take the high, winding coastal road back to Pesaro, and from there the quickest way home. Along the way we are stopped by two sunglasses with policemen behind them. They check our papers and let us continue our way. In the evening we dine again in the rooster-restaurant in Gallo, and at home we already pack some of our stuff.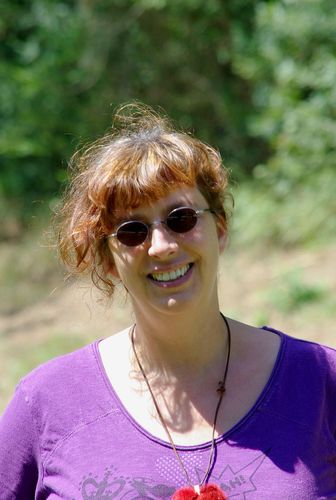 Laura.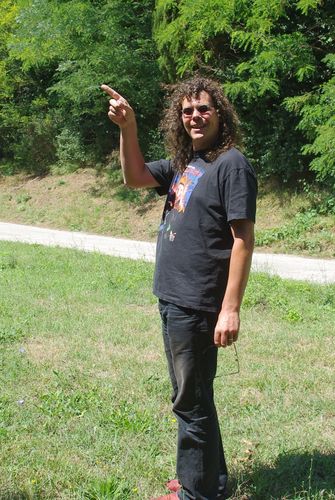 Me.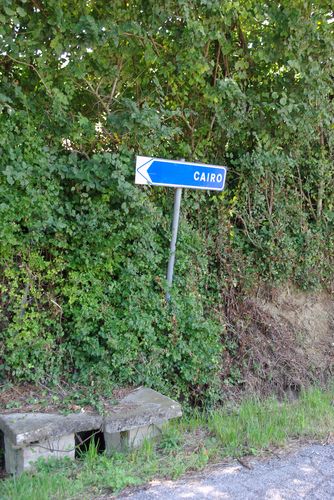 Sign to the village Cairo.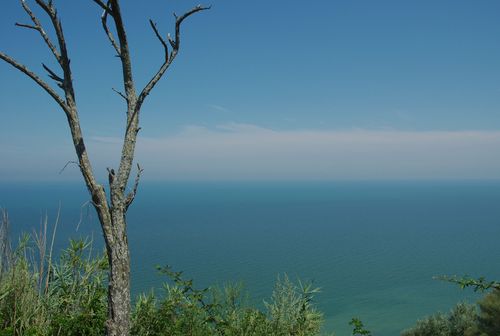 Sea.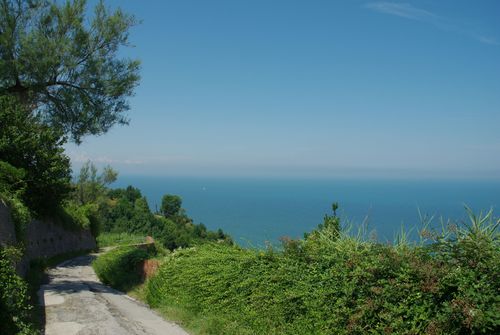 Steep road down to the sea.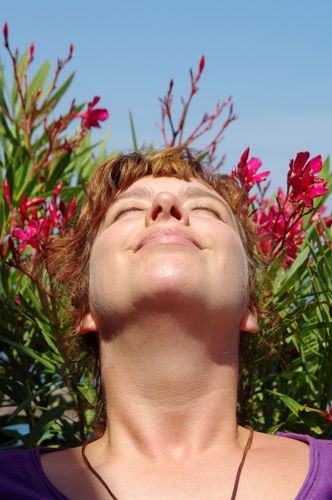 Laura.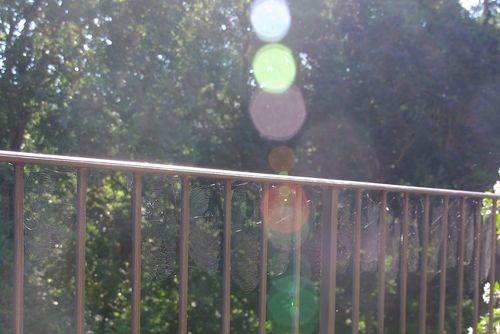 Natural protection against mosquitos on our balcony.


On Saturday morning we say goodbye to Claretta, write at the last moment something in her guest book, and leave around half past nine. At about one o'clock we eat sandwiches at a gas station. One more time we drive through the Furla Pass, a small detour. We go via Perugia and Lake Trasimeno to Siena, and we arrive there around half past one.
Our printed Google Map only leads us up to the car park on the edge of the old town. We park and walk the last stretch to the hotel. It appears to be not far. From the outside it is a nondescript building, but it is a fourteenth-century monastery with a beautiful courtyard with a cloister and a tower. We have a nice, large room.
We walk into town, past the cathedral and Piazza del Campo, and sit a while on a terrace in a back-alley where Laura talks with an American who lives in the region. To me it is a somewhat depressing city, tall buildings with narrow streets, much more impersonal and less picturesque than Venice, but much more gaudy and possibly even more touristic. We walk downhill and find an escalator back into town.
The hotel has free wifi, so we use Laura's iPhone to look for an alternative for tomorrow. We decide to go visit the Fiat-museum in Turin, which is open on Sundays. We walk back into the city and find a restaurant with a terrace. It has remarkably creative dishes on the menu, and it appears to be good. Bresaola with ginger for example. Laura has a headache and goes to bed immediately after dinner. The way back through the city is nice, because it is now much more quiet. We enjoy the music on the courtyard of the music school. The galleries have beautifully painted ceilings.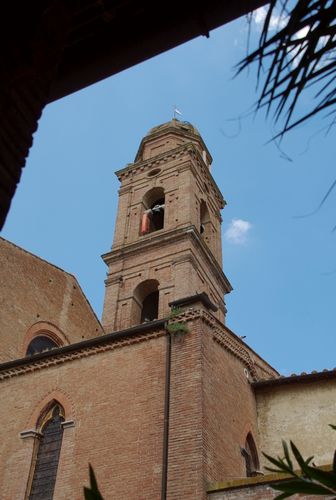 In the courtyard of our hotel.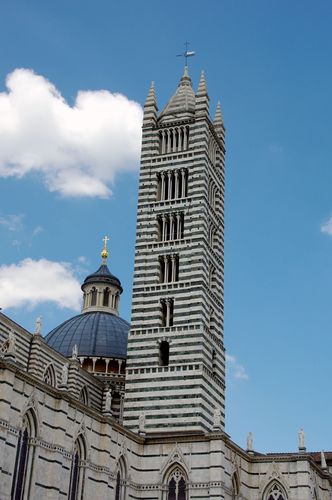 Siena.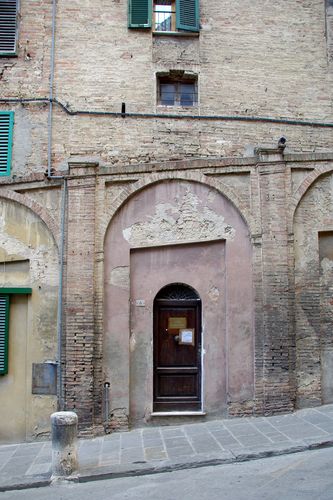 Siena.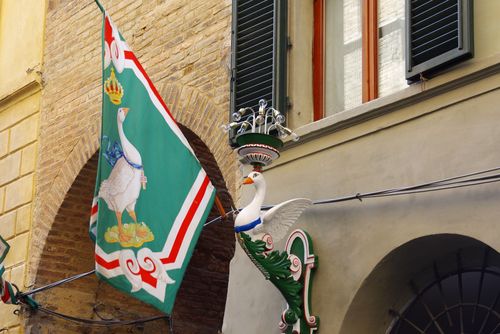 Apparently Siena has a thing with geese.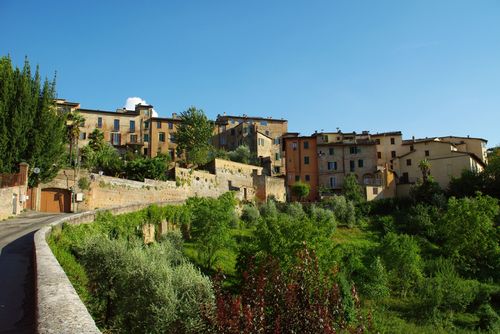 Siena.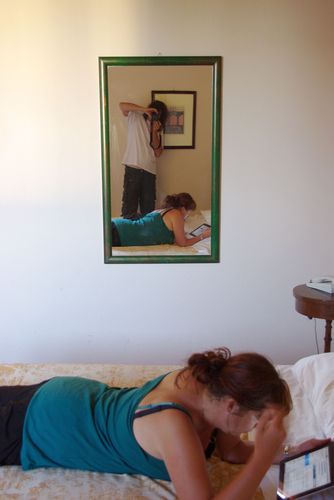 In our hotel room.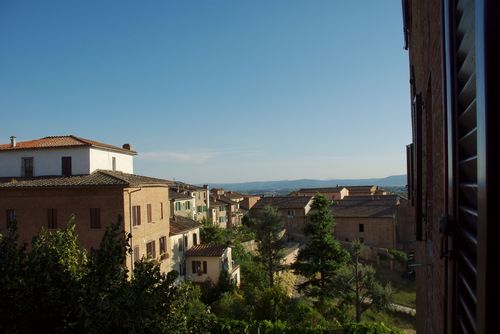 View from our hotel room.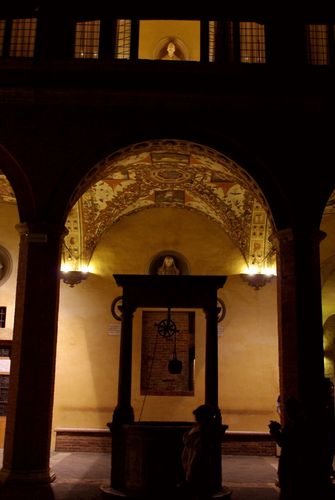 Music school at night.


On Sunday we have breakfast in the courtyard of the hotel. It sounds like a group of drummers passes. Yesterday we saw two boys with drums. There is some hassle with the parking machine that swallows our money, but someone comes to help us and lets us exit although we have only paid 20 of the 30 euros. He apologizes on behalf of the machine.
We spend the afternoon break in the Autogrill near Parma. What a terrible racket. If someone has a heart attack here, surely no one will notice it. In Turin we park at the sign that says "hotel", but it is not easy to find the hotel (with bags in our hands and 29 degrees). One NH is closed and we wander through a mall. Eventually Laura manages to find another NH nearby, while I'm waiting with the bags in the shade. The hotel appears to be in the old Fiat factory, the Lingotto building, with the test track on the roof. It is no more than ten minutes walk from the museum. How nice to sleep there.
Around five o'clock we enter the museum. We're expected to start on the top floor. Every time we go down the escalators, there is someone to give us directions for that floor (in Italian). When the museum closes at seven, we have only just seen one floor. It's a nice collection, with a Diatto, a very nice Delage, some Italas, a beautiful old Panhard et Levassor, a Cisitalia and a room with oblique hanging chassis. Here you'll find photos of the museum.
We're looking for a restaurant and walk through long, straight streets lined with high blocks. There are many bars. It's a city of laborers and we're joking about work. Much of the city is rebuilt after the second world war. In the restaurant we see nobody drink wine. We drink beer too. People don't make a lot of fuss here. The food is delicious. As we walk back, it's still 25 degrees. The hotel is nicely luxurious.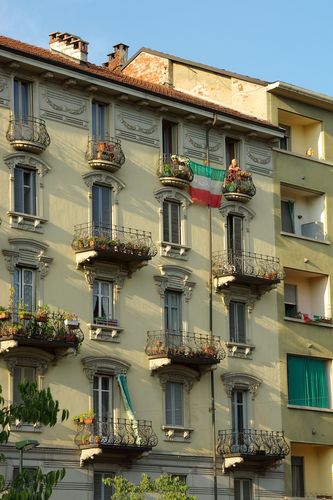 Turin.


On Monday we go back to see the rest of the museum. During breakfast Laura buys half an hour of wifi to view the route home. After breakfast we first go to the roof. We check out and the hotel receptionist gives us the key. We walk through the mall to the elevator that brings us to the roof. There is a circuit with oblique (Brooklands) curves and there is a helipad. It looks impressive to me. We also have a beautiful view over the city (that has surprisingly few high-rise buildings). Here you'll find photos of the Lingotto building.
Around a quarter past ten we are back at the museum, and we finish at around half past twelve. We have a sandwich in the lunch room of the museum. Then we get our luggage at the hotel and we leave around half past two. First we drive through the city for a long time.
At the Gotthard Tunnel there is a traffic congestion that is slowly moving. It is six o'clock already. On the south side of Lake Lucerne we find a village with a hotel, Emmetten. Hotel Seeblick is on a beautiful location but is expensive, crowded (because of a party) and the restaurant is closed (reserved for partygoers). We try a small hotel in the village below, where two rabbits walk in a field outside, but the woman has only a small room without water. So it is hotel The Angel. It's good. We have diner in the hotel and go to bed. Tonight there's a party with fireworks because it is independence day for Switzerland, which is 720 years old. In total we drove 4682 kilometres this holiday.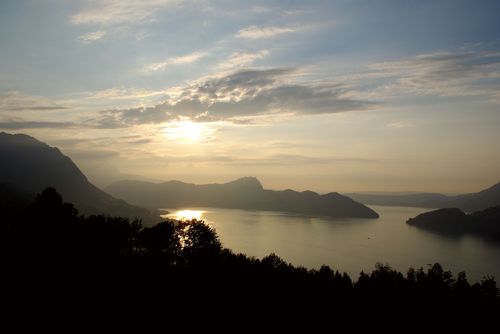 Lake Lucerne.


Here you'll find even more photos of this holiday.