A dead end village
Again we need to disappear from sight for a week. It is November 2006. The internet provides us with a house where we can do that, in Iens (pronounced as: 'Eens') in Friesland (in the north of the Netherlands). Two years ago we found a house in Zelhem in a similar way, and we liked it very much. In the morning we pack, and we drive the car Laura's mother lent us northward. It is beautiful fall-weather, not cold, and with leaves in numerous colours. Our directions say we need to park in a parking lot near the small harbour. There we need to phone our skipper, who will take us to the house by boat. The house cannot be reached by road.
Iens appears to be a small village, somewhere in between Franeker and Sneek. After the motorway the country becomes more deserted and open, with only here and there a farm. After a while from a distance we see a village we suspect will be Iens. A road sign tells us to go left, but that road is a dead end. That's a good start. A dead end village.
With high expectations we drive there. It is very small indeed. After twenty metres the asphalt ends and the stones begin, leading us up the terp (an artificial dwelling hill) to the church. There are maybe twenty houses here. The church has a two-coloured wall, for the most part yellow but red at the back side of the nave. Maybe it was built in a later period. We indeed need no further directions. The dead end is the parking lot (with maybe space for ten cars) alongside a large ditch or small canal. The skipper is already present and waits patiently while we carry our bags from the car. Without saying much he brings us in a boat with an outboard motor to the house, which is two canals further. I always feel at home when I'm on water. From afar the dog barks a welcome to us.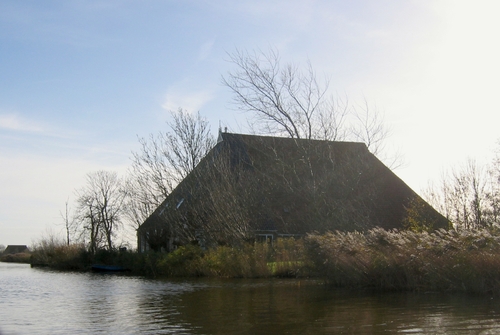 Sinteklazepleats. Click on the photos for enlargement.


The farm is called Sinteklazepleats. Around it is a small piece of grassy land, and around that is water on all sides. Our house is a part of this farm, one large room with a kitchen, and an attic where two beds and a closet are. In the grass around the farm two tame rabbits hop around, one white with red eyes and one black and white. In order to protect the brown mushrooms (larger and more numerous than I have ever seen before) we decide not to walk on the grass but only on the narrow path from the boat to the front door. A little while later we meet a purring cat. Outside our front door there is a pile of rotting wood. We're not sure if it perhaps is intentional.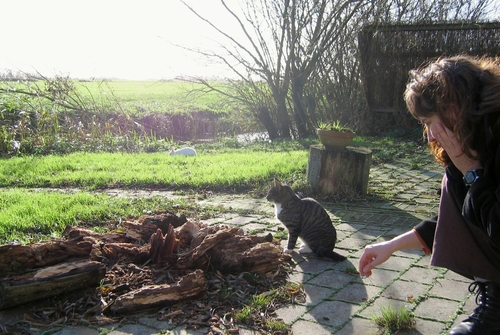 Cat and rabbit.


I have brought some of my stories with me to work on, but the cd they're on cannot be viewed on my laptop, so I'm writing this story instead. Only one channel on the television works a little bit (and some regional channels). That's good for us. Around four we row our boat back to Iens, and go by car to Wommels, the nearest town, to buy toilet-paper and a flash-light. The centre of Wommels is a beautiful, large grassy field, with houses around it. I row back in the dark, against the wind. It's not easy, but I very much like to row. Laura makes us soup. We act like the city-people we are, looking at the many stars we can see here, and we go to bed early.
Serving soup using a mug instead of a ladle is not so difficult, but cutting plastic packages with a bread-knife is really not handy at all. On Saturday we visit that now distant part of the world where people live, to buy scissors. In the morning the cat is on a bench outside our house, enjoying the sun. We caress her for a while and take some pictures. After that we row to the other side of the canal and then walk to the car, using the footpath between the meadows. But we're smart enough to forget the car-keys, so we need to go back again. First we admire the church. The bells are sounding, but we don't understand why. On the roof of the church is a striking star. We walk around the churchyard, but we can't get into the church. In our second attempt we row the whole distance to the car again.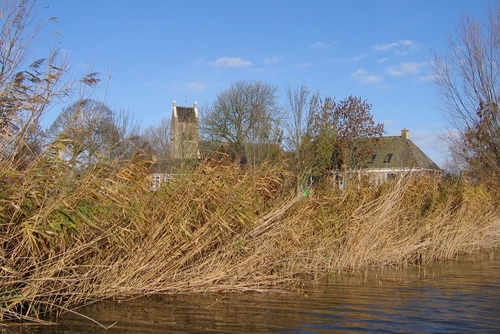 Iens.


We decide to go to Franeker. There we buy cheese on the market and a pair of scissors at the bookstore. The bread later on will appear to be hardly edible but we bought some very nice bread made with fromage frais. We eat pancakes on the square in Franeker, but as soon as Santa Claus and a large parade come by, we leave again. We drive around in the car and see among others the villages Baard, Wieuwert, Hinnaart en Jorwert. Hinnaart is special. It is no more than a bell tower on a grave yard surrounded by approximately ten houses. A sign tells us that there used to be a church here until around 1870. After its demolition the graves are in the open air.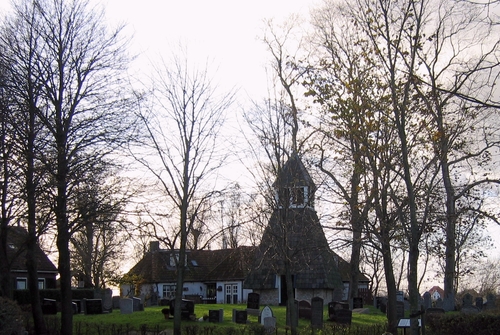 Hinnaart.


When we return, I miss the cat. But as soon as I've opened the door and called out for her, she comes running towards us. She has been purring on the couch next to us since, and now that I'm writing this she's on my lap. She loves marzipan.
On Sunday we do nothing. Laura reads a book and a half, and I read stories on my laptop to be used on my website. Just like yesterday we go to bed early, around eight thirty already, and we sleep for around twelve hours. In the night there's a strong wind. We sleep well here. We guess that at home in Utrecht we are used to doing so many things at the same time that we just can't find the time to sleep too.
On Monday there still is a strong wind, and every now and then there's rain too. We hardly need to row to get to the other side. Today we go to Sneek, mainly because we hope to find a pharmacy and edible bread. We find the farmacist in Oostereind already, but nevertheless we drive on to Sneek. It is not interesting at all. Nothing is as beautiful as Iens. We spend some time drinking hot chocolate milk, and then we go back. We do buy a fleece vest and some socks, and we search many shops in sportswear and sewing tools for something we didn't even know the Dutch name for, a device to hold ropes together. When we get back home it appears we have a new neighbour, who lives in the other apartment "semi-permanently," and who at ten thirty in the evening makes very loud music, or something resembling music.
On Tuesday we wake up at eight thirty. The weather is beautiful, and so we decide to go row some. But one we're 'at sea' it starts to rain heavily, and quickly we turn around and go drink tea on the bed. After a while we hear the cat meowing, and we let her in. But she doesn't want to come upstairs, and she doesn't like the bed that much. She stays and sits on the stairs, in the last rays of sunshine. We hear her meow for a while next to the door before we understand that she doesn't want to go outside but just wants the door to be open. The weather is nice enough, and the rest of the day she comes and goes as she pleases. We eat pasta with a sauce with pine nuts and onions, and in the evening I read to Laura the beginning of Lijmen (translated as Soft Soap) by Willem Elsschot. Courageously she goes and ask the neighbour to turn the music down a bit, which he does.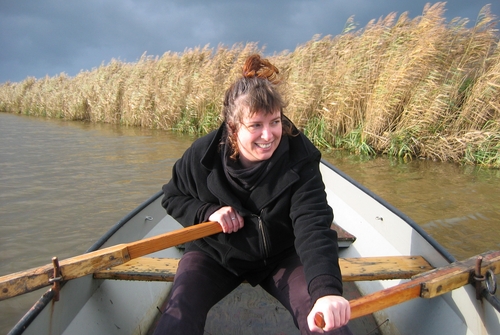 Laura rowing.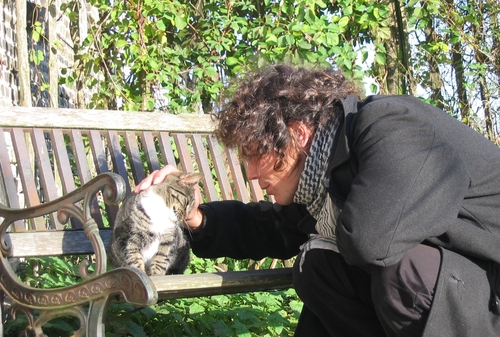 Laura has called the cat Poekie (pronounce as: 'Poo-kee').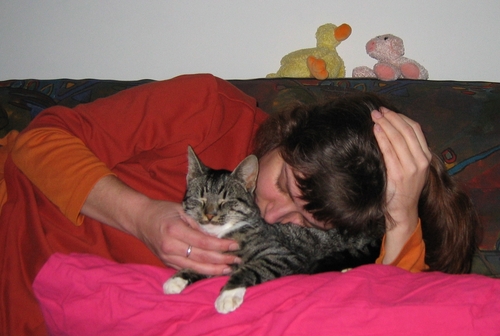 Laura with Poekie on the couch.


In the morning for a short while I have a headache. Laura isn't feeling too good either. Yet we leave the house. Today we drive to Stavoren, and we see Rode Klif (known because of the Battle of Warns) and Hindeloopen. In the afternoon we return home already, after a short visit to Wommels for groceries. Today is the day of the general elections, but we never succeeded in changing our place to vote or letting someone else vote for us. And so we can't participate. Democracy works solely on account of the people with organised minds. We sleep from four until seven, afterwards I read Laura the rest of Lijmen, we eat a bit, and then sleep some more, from ten until nine thirty. Oh, how we sleep.
Although our farmer owns a construction company, we keep calling him a farmer. Unless he is on the water, in which case he is our skipper. It is Thursday now, our last day here. It rains and there's a strong wind, so we decide to stay in. We become homesick, better described as: internet-sick and television-sick. We think about leaving early. We put on a cd by Arthur Brown, and the cat walks in again. Okay, we stay. No, we don't. Laura again turns out to be the more courageous one of us both, and she calls the skipper. He sounds a bit surprised, but he's okay with us leaving early. We broke a candle holder but have replaced it by a pair of scissors. He can't come and bring us to shore, so we have to row ourselves. We pack and leave.