Holiday 2010
Friday 23 July we both have a day off from work and we pack. I feel a bit drowsy. It is my first day off after some very busy weeks at work. Laura is smarter about it. She visits the hair-dresser in the morning to indulge herself, and she returns rested and happy. Just before we leave we drive our fully packed car to the Citroën-garage to have our windscreen wiper replaced.
We drive away at half past three. But we've forgotten to take our maps. All we have is the itinerary by Google from our home to our hotel in Italy, and maps of France, the North of Italy, the Netherlands and Noord-Beveland.
In Germany we are in a huge traffic jam for a while. Several people get out of their car. I take some photos. A Dutch woman next to us is heading for the French Riviera and loves to chat. We eat some of our travel supplies and the remainder of the bread we took along, and around ten o'clock we find a motel along the motorway in Bad Camberg. It's raining cats and dogs. We eat awfully tasting fries and go to sleep at a quarter to midnight.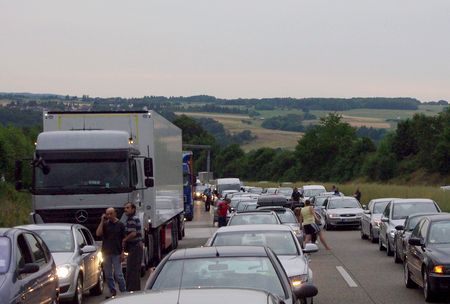 In a traffic jam in Germany. Click on the photos for enlargement.


After breakfast on Saturday Laura buys me a seal-mug. It rains almost the whole day, sometimes quite heavy. Poor visibility. We pass Munich on our way to the Brenner Pass. For luch we have the sandwiches we made this morning and later we buy more at an Autogrill.
The Alps are beautiful. Almost immediately when we enter Italy the weather is clearing up. There is even some sunshine. Laura leads us to a beautiful, small lake, but the village Molveno near that lake appears to be filled with hotels. It's around half past seven.
We park near a hotel and we ask for a room. Fully booked. All parking spaces in the village are full too so we walk. The lake is very beautiful. This must be a place for skiing in the winter and surfing and sailing in the summer. We go and visit about eight hotels. Even the only camping of the village is fully booked.
We decide to follow the advice of someone in one of the hotels and drive to a village nearby, called Andalo. There, around half past nine we manage to find hotel La Roccia, which has a room available. The card-key for our room doesn't work, so we're given the master key of the hotel. We dine in pizzeria La Romantica with pasta, meat and ice cream, with the radio playing very loudly. We are the only foreign tourists here. The view from our hotel room is wonderful. We go to sleep around eleven o'clock.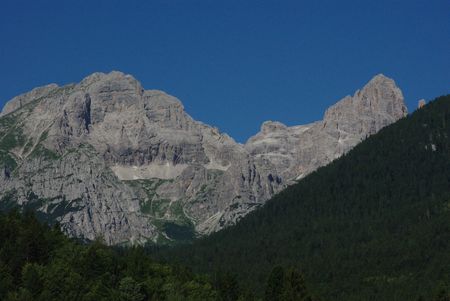 View from our hotel room.


We drive our car from the underground parking and leave around ten the following morning. We follow small and silent winding roads through Tione and Fiavè to Riva at Lake Garda, and then we follow the shore to Limone sul Garda, where we have booked a room in a hotel (which is not our habit of doing in the summer holidays). Limone seemed extra fun to us because I very much like citrus fruit, and the town is said to be full of citrus trees. We arrive at the hotel at one o'clock but our room is not ready yet.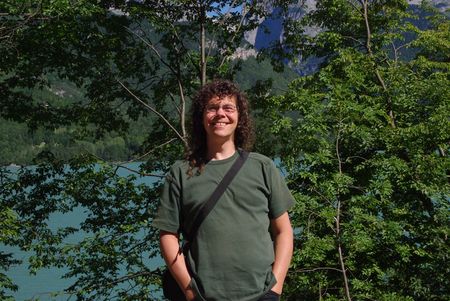 I pose in front of a lake on the way (photo by Laura).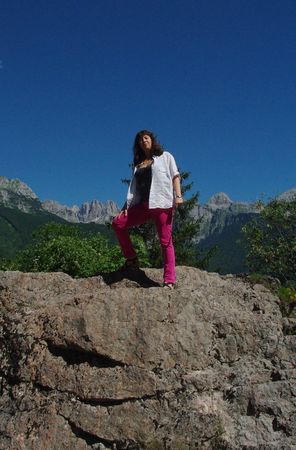 Laura on top of a rock.


We drive back to the village and walk downwards to the boulevard. There we have lunch, Laura pasta with fruits de mer and I a fruits de mer salad. We drink pure lemon juice, served with a small jug of water. The view of the lake and the mountains is beautiful, but it's all very touristic here. I buy a pair of halflong shorts.
At three o'clock they let us into our room. The hotel is somewhat broken down. The room has no window, just a glass door, but luckily that door is the outside door. There is no hallway. We swim in the pool, and afterwards we sleep until seven. The food is not very tasty. It is very much aimed at German tourists, who are the majority of the guests. We drink half a litre white wine. There's a full moon and we both have vivid dreams. We sleep well.

Immediately after breakfast on Monday we go to the beach next to the camping, near our hotel. We rent beach chairs and a sunshade and lie and read there until around five. We have lunch with sandwiches from the beachbar. I read De Weetmuts and Het Vergeetboekje by Marten Toonder (from the Oliver B. Bumble series). We're very tired and we go to sleep immediately after diner, around seven o'clock.
We lie awake between nine and ten because of the noise made by our neighbours playing football. They also wake us the next morning at eight. They spread a scent of perfume and cigarette-smoke. The eyebrows of the woman neighbour are almost on top of her head.

Laura has an early breakfast, and I have a late breakfast. Afterwards we drive around the lake. First we visit the village bakery. It appears to not be a baker's shop but a bakery for all the hotels in the village, which means for everybody. There is no counter, really just a large hall with large bags of bread. Our three buns are weighed on a scale that's about one and a half metres high.
Somewhere a truck is stuck inside a tunnel and we're in queue for a while. We have a lunch with ice cream at four o'clock in Torri del Benaco. In the northwest the rocks form a steep shore to the lake, so the road is mostly inside tunnels there. In the southwest and south the world is flat. In the northeast there are sloping mountains on the shore of the lake and there's more space for the road. The eastern and southern sides of the lake are filled with hotels and surfing schools and amusement parks and tourists. Traffic jams for full parking lots make Sirmione inaccessible. My mood is not very good because all this touristic hassle and cheap entertainment depresses me. Twice I have a short headache.
We have lunch at one o'clock on a meadow between villas surrounded by walls and electric fences. We go to bed early.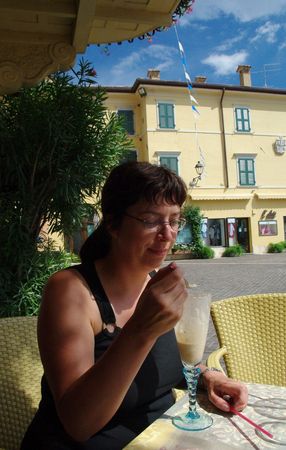 Laura drinks an iced coffee.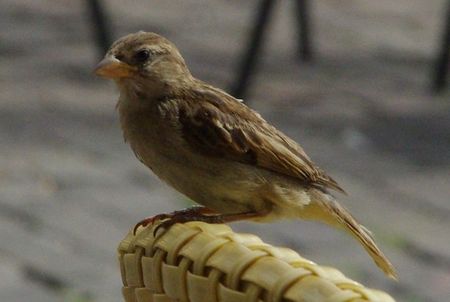 A sparrow on a chair.


Wednesday is a day of sleep. In the morning Laura goes to the swimming pool and finds a bat in the water. She persuades a German to use a dip net to save the bat from the water, and to put it underneath a shrub to dry. I read De Doffe Doffer, De Zwelbast and De Slijtmijt. In the evening Laura eats a fish.

Thursday starts cloudy. Together we walk to the beach at the lake, but when the rain starts we hide under a tree. When the rain gets too intense, we go to the beachbar and we sit underneath a roof. They don't serve tea, so we drink iced tea. We eat some toasted sandwiches. The service is markedly grouchy (that's not because of the weather; they were grouchy yesterday too). As soon as the rain gets less heavy we return to the hotel.
We sit on the terrace in front of our room, lie in bed, sleep and read some. At five o'clock we drink a limoncello on the terrace of the hotel, and we eat at six. In the evening we admire the beautiful rainbows on the other side of the lake. The little girl who is in the room next to us thinks it is very interesting but we don't get to see her parents. I read Het Boze Oog and De Grauwe Razer.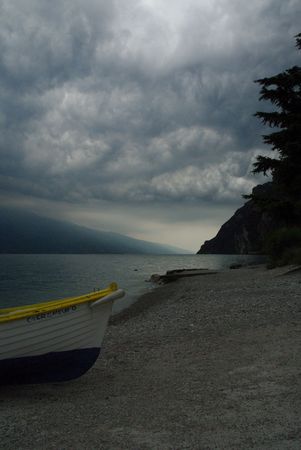 The beach, with thunder clouds.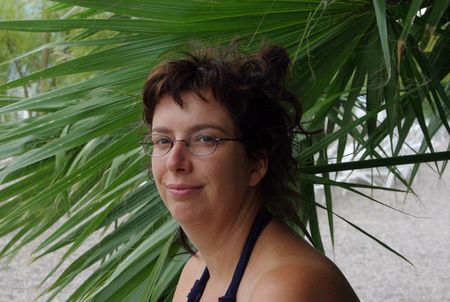 Laura underneath a tree in the rain.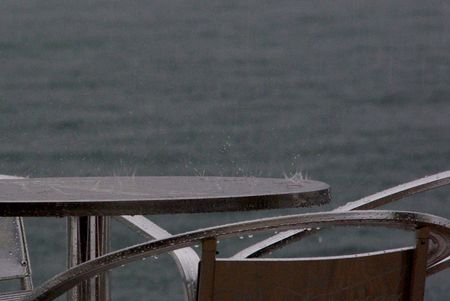 Drops of rain on a table on the terrace.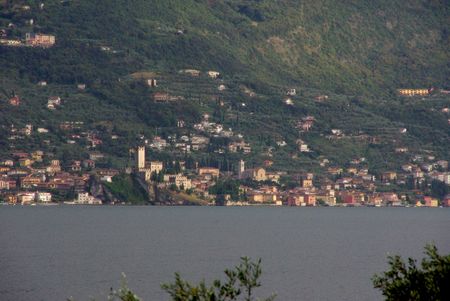 The village on the other side of the lake.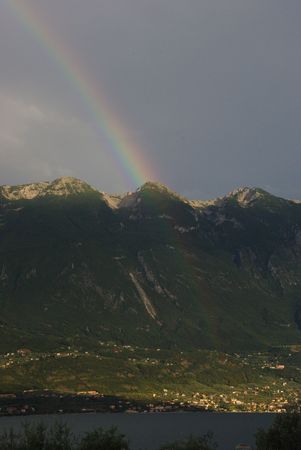 Rainbow.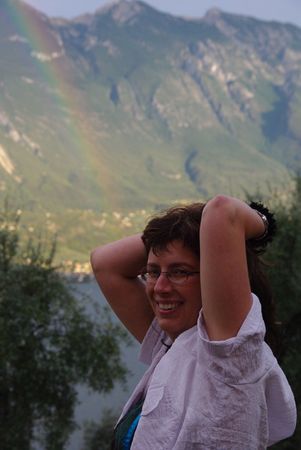 Rainbow and Laura.


Immediately after breakfast on Friday we start our walk. We go via the monastery up the mountain, along a beautiful, steep and rocky mountain path. On the way we meet English people. The mother pushes the children to go on, and laughingly states she doesn't accept any wimps in her family. We have some beautiful, impressive views. At the end I do not dare go any further. There are abysses on both sides of the footpath with no grip. We turn around.
We want to walk back via a different path from the one we came on, but that proves to be difficult. We climb a fence and walk through an olive orchard with donkeys and one young in a nearly dry riverbed. But at the end we can't go any further and we need to turn around. We walk off the edge of the map, and ask for directions at a hotel. The woman has no idea but she sells us cheap lemonade (she has no water).
At a quarter past three we have lunch in our hotel room. We sleep some, swim for half an hour in the pool and go to eat after that.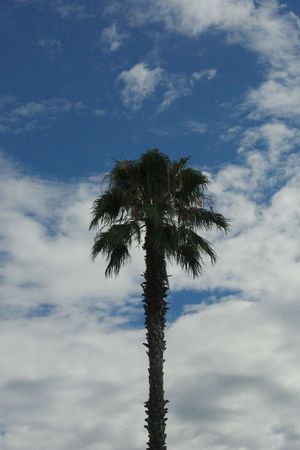 Palm tree.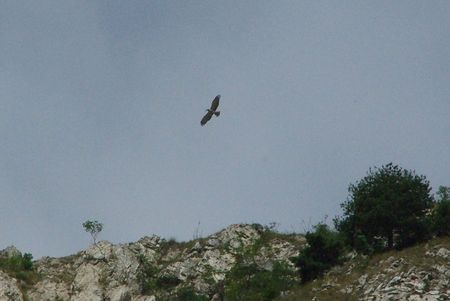 Bird of prey.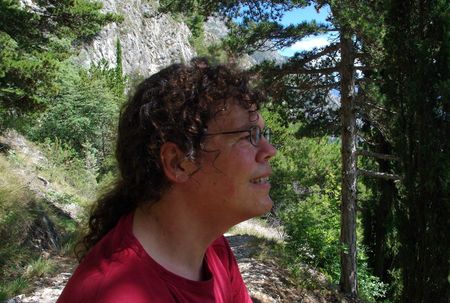 Me (photo by Laura).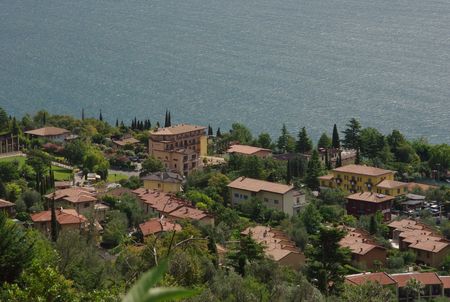 View of the village Limone.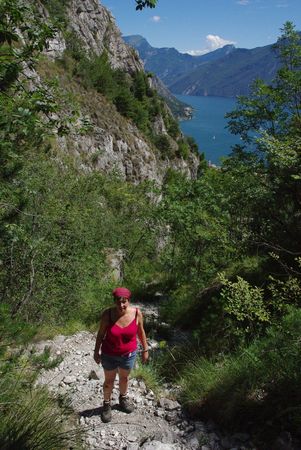 Laura climbs.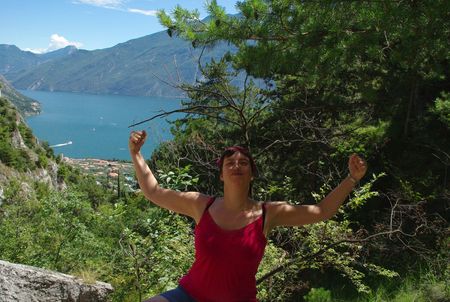 Laura appropriately proud.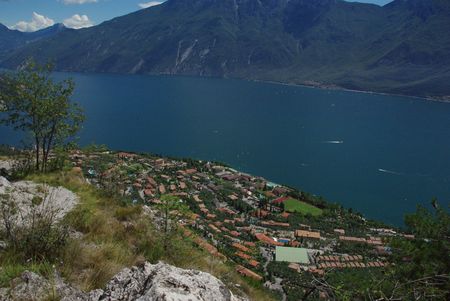 Another view of Limone.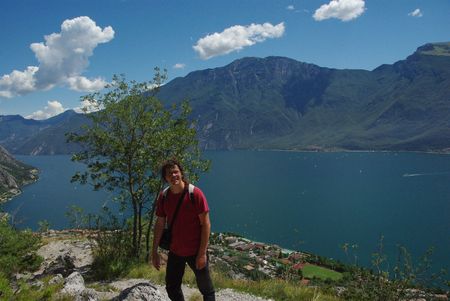 I am afraid of the height, on top of the mountain (photo by Laura).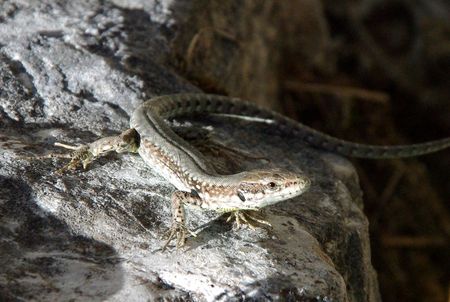 Lizard.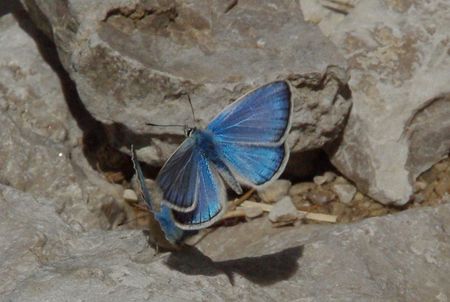 Two butterflies.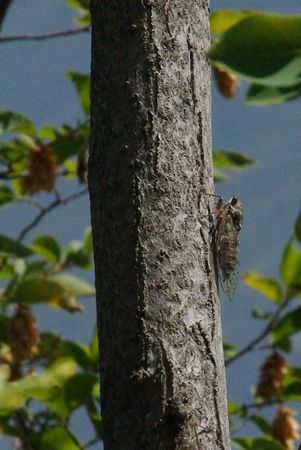 A cicada.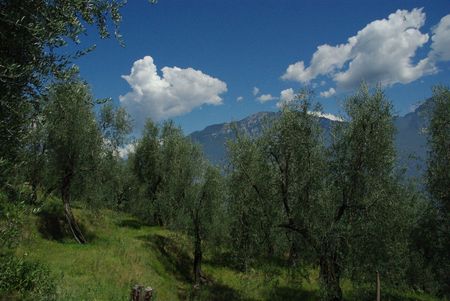 Olive orchard.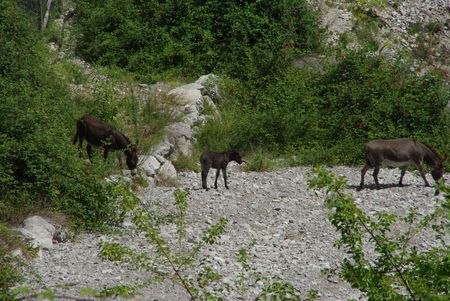 Donkeys.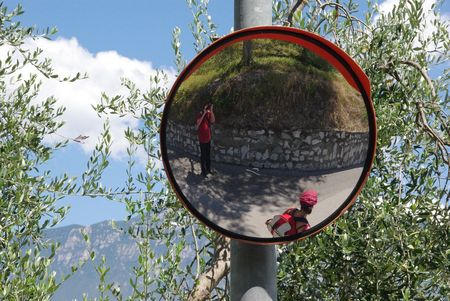 Laura and I reflected in a mirror along the road.


On Saturday we go to the village by car to buy presents. We try to find a pendant in the shape of a lemon for Laura's sister but we don't succeed. We do find another beautiful pendant. We visit a nursery garden with all sorts of citrus fruits. In the winter people put sheets of glass in the wooden frame-work around the nursery garden, making it a large greenhouse. We buy an orange-like tree with fruits for Laura's aunt, a calamondin, and we buy limoncino and grappa for ourselves and for friends.
We have ice-cream on a terrace underneath an orange tree. Laura has ice cream with fresh strawberries, and I have lemon ice cream. We have lunch on the same terrace we were on the first day. Laura has pasta and I have pizza, and for dessert Laura has Lumumba ice cream (with rum) and I have lemon ice cream again. We again drink real lemon juice with it. Laura buys herself a new pair of sunglasses.
We wait for a while for the departure of a round-trip boat, but there are not enough customers, and the owner tells us he will not sail for another two hours. Too bad. We decide to go bike with the swan. From the very first day on we have spotted a pedal boat on the lake in the shape of a swan. We return in the direction of the hotel, and go to the spot where the swan is. But it appears to have a day "urlaub" (holiday), as I'm told, and so we swim in the neighbourhood of the swan.
After diner in the hotel we pay for all the drinks we have put on our bill. The staff wrote our drinks down on small pieces of paper and gave us carbon copies. Apparently it was later typed into a computer, because the payment was not that old-fashioned. Our tip presents the staff with large problems. She needs to go ask the manager. Well, yes, it's possible, as long as we tip in cash. Okay then.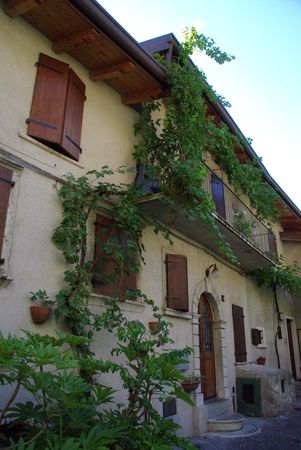 A house in Limone.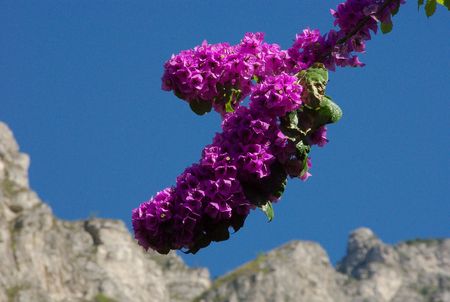 Flowers.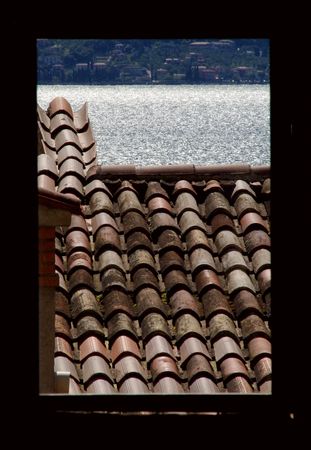 View of a roof and the lake through a window in the nursery garden.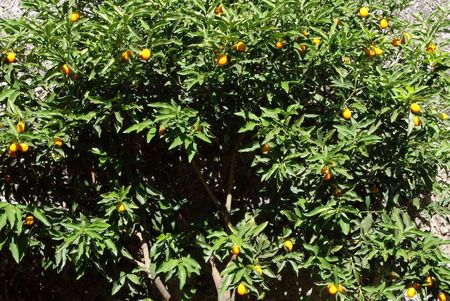 A plant with citrus fruits.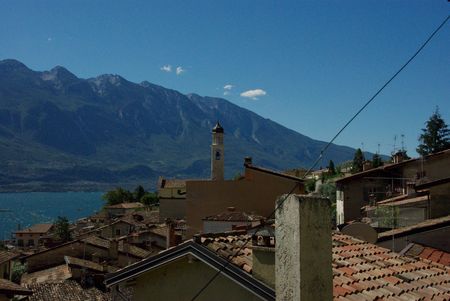 View of the roofs in Limone from the nursery garden.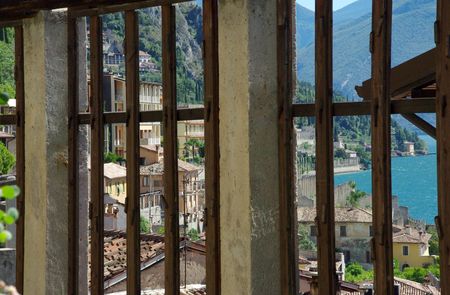 The greenhouse is several metres high. This is a view of Limone from the greenhouse.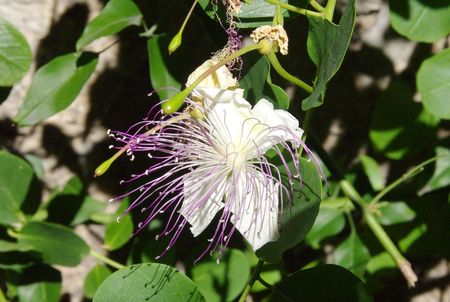 Flower.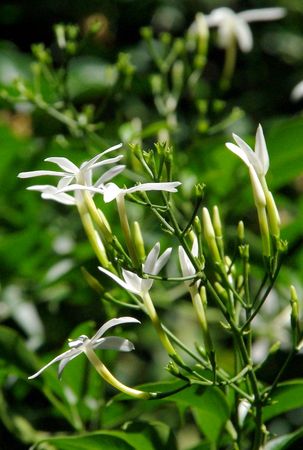 Flowers.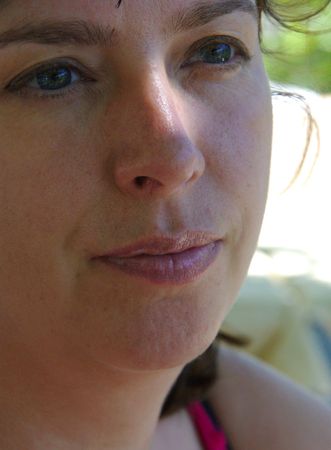 Laura.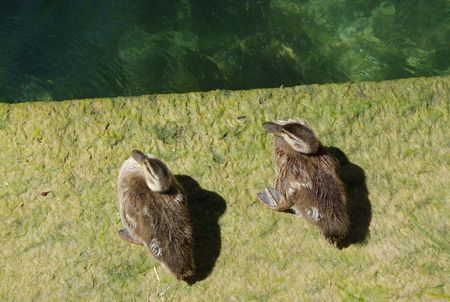 Two ducklings.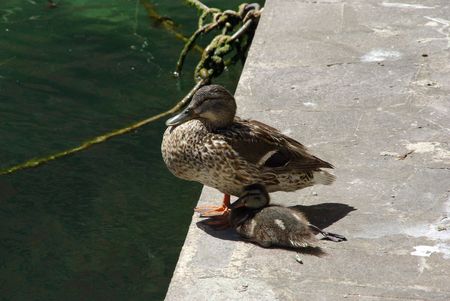 A duckling in the shadow underneath the mother duck.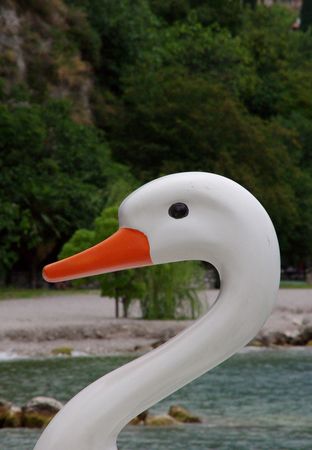 The swan.


We leave after breakfast, around half past nine, and drive to Laura's aunt, who lives in Magenta. Just before Milan we have some trouble finding a quiet place to lunch. There is a woman who screams to us to move our car from her private road. We do so. She brought some screaming kids and dogs with her as well. We don't see her again. Just after two o'clock we arrive at Laura's aunt.
She is happy to see us, very welcoming, and is surprised about the gifts. We sit on the terrace the whole afternoon and evening, and we have a cold diner with rice salad and green beans and chicken. Before diner we walk the dog, who pulls fiercely at his leash. We sleep very well.

We have breakfast on the terrace and the three of us walk through Magenta and the market. We're given lots of provisions and other gifts, and we say goodbye. But in the traffic jam near Novara we find out that we have forgotten the sun lotion and Laura's smartphone. We turn around to get the things.
After that we drive via Aosta into the rain to the Mont Blanc Tunnel (before the Mont Blanc Tunnel there are many tunnels as well). Near Aosta we have lunch on a parking along the motorway. From Aosta on the rain comes pouring down continuously. We drive through the tunnel into France, and then we drive in the direction of Lake Geneva.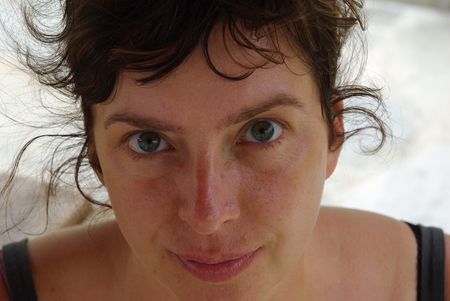 Laura.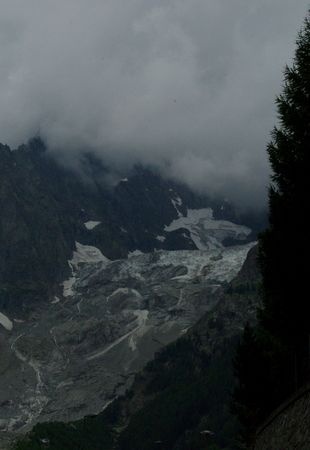 A glacier near the entrance of Mont Blanc Tunnel.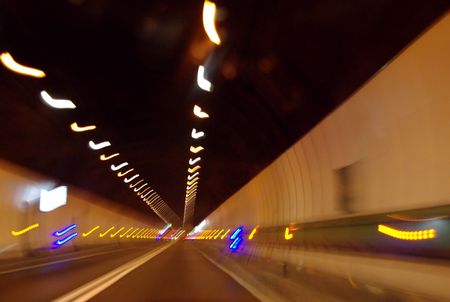 Inside Mont Blanc Tunnel.


On the map Morzine and Avoriaz look like they're very quiet and remote, but when we arrive there the opposite appears to be true. It's extremely touristic and it is full of hotels and ski-lifts. Another miss. We drive on to Thonon.
We park in a parking garage in the centre of the city, and first we walk to the Tourist Office. It is seven o'clock already. Armed with a brochure of hotels we start to walk. The first one closes at seven, and we can't reach it by phone. The next hotels are all either full or they close at seven. One only opens in a month time. That's just our luck. We collapse at the seventh or eighth hotel. They call a number of other hotels and finally find one for us that has a spare room. They explain to us how to get there, we tip them although they don't seem to want that, and we hurry back because the parking garage closes at nine o'clock.
We drive to hotel Bellevue by car. We're hungry. The lady of the hotel is very kind, and the hotel is cosy. There are only French guests. But there is no diner, and so we drive back into town. There we find a restaurant with traditional Savoy food (which is among other things fondue). We start our diner at nine thirty. I drink Mont Blanc beer.
We drive back and we're in bed at midnight. The shower is provisional, behind a partition in our room. We decide to stay another night.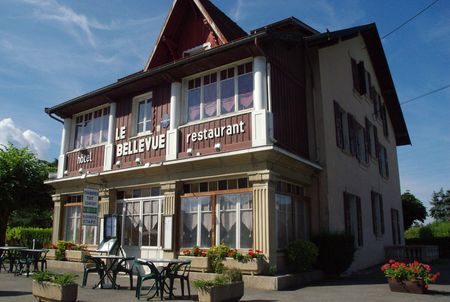 Hotel Bellevue.


On Tuesday we have breakfast at nine with weak coffee, thea, orange juice and roasted baguettes. There's home-made grape jam (from grapes from their own garden) and the lady of the hotel suggests we might like to visit the Gorges du Pont du Diable. We had already thought about that ourselves, since we had seen it on the way here. We tell her we want to stay for another night and a while later she tells us proudly that that's possible because she gave other guests a different room. There is one room for exactly one more night for us. It's a nice hotel.
The Gorges du Pont du Diable are a deep ravine, made by a river, and on top of it are large rocks which makes it a partially covered river. We drive there, buy tickets in a tourist shop, and then descend the mountain towards the entrance. We enter the chasm with a group of around thirty people, led by a French speaking and loud guide. We pass the river using stairs and bridges, first deeper and deeper, and then further on. It is beautifully sunny and warm weather. Down below it is moist. It is dripping and trickling, and sometimes it looks like rain.
After a while we deliberately lose the group, sit on a bench for a while and then we take a forest path with the sign "sortie" pointing in the opposite direction. It is a lot of work climbing the mountain, and we have no clue as to where this all leads us to. We turn around. On a bench we observe a pair of finches, and back in the shop we buy a present for a friend.
The gas station is hard to find. Twice we ask for directions but nevertheless we drive to and fro and to again. It is only possible to tank using a bank card, and it's not our bank card. But the guy behind us is very friendly and lets us tank using his card and paying him back in cash. We have lunch on our blanket by the side of the road, near a mountain river. The sound behind us is very nice.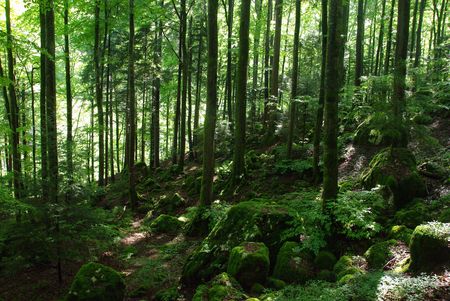 Forest.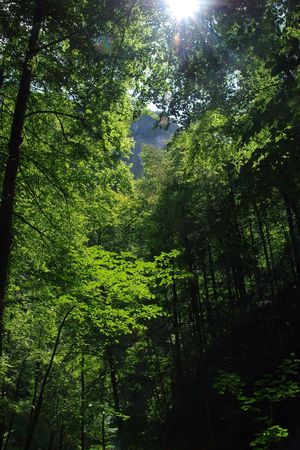 Forest.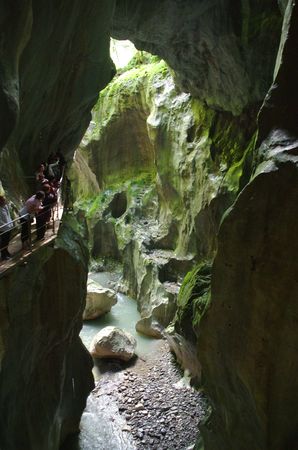 View of the ravine and the visitors.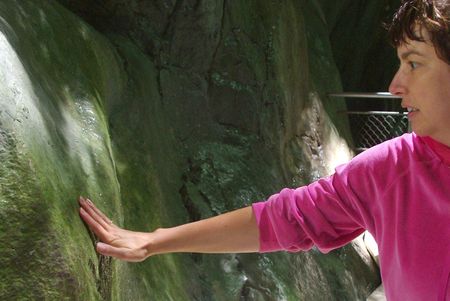 Laura feels how slippery the rock is.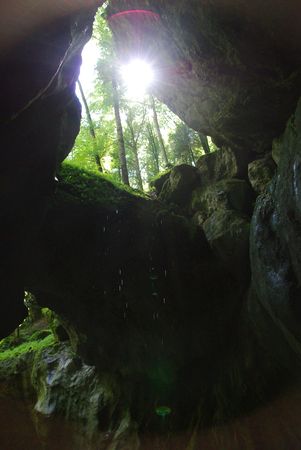 Two rocks on top of the ravine.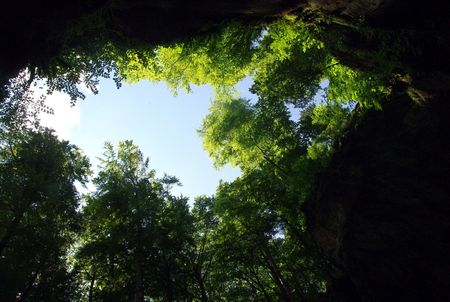 The view upwards.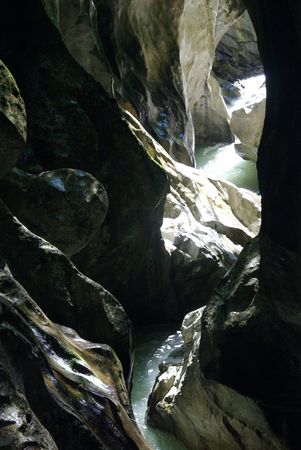 Ravine.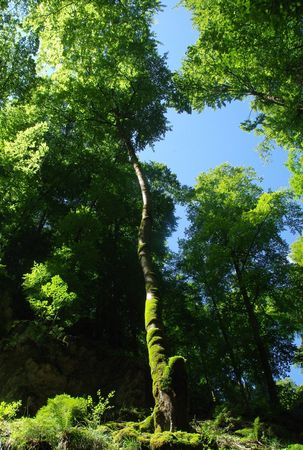 Tree.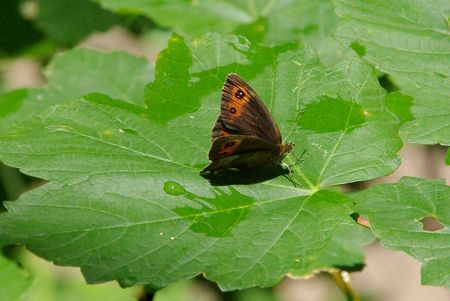 Butterfly.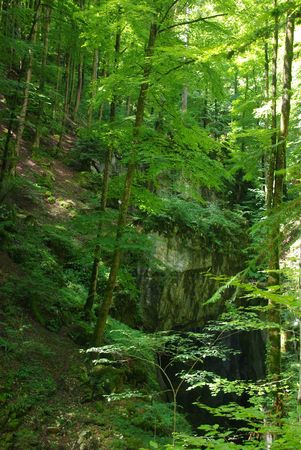 Forest.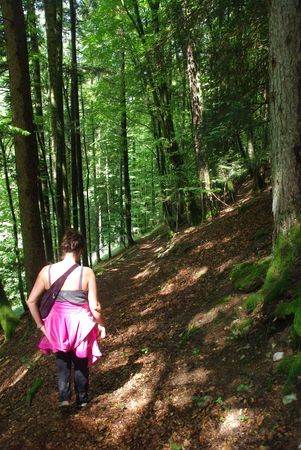 Laura walking the forest path.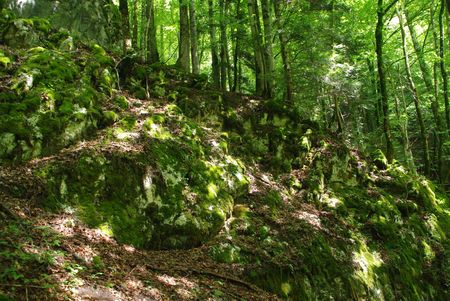 Forest.


We drive back to Thonon, park in the parking garage again and take the funicular down to the harbour. There are yachts but there is also a fishing port. It is not very large and not very crowded. There are many pubs and restaurants with terraces and many children playing but it is spacious enough.
We buy tickets for a boat trip on the lake. The boat's name is Le Colibri and it leaves at five. We have an ice cream (for me lemon and grapefruit and for Laura vanilla-strawberry-softice that tastes less artificial than it looks), and then we sail onto the lake, with around 25 people on the boat. We spend most of our time on the foredeck, which is a nice place despite small, screaming children. The trip on the lake lasts for about an hour.
Afterwards we go to restaurant La Terrasse. We sit on the terrace at six thirty and have diner at seven. It's around the corner, next to the funicular, so it's not near the large terraces. Laura has fried sardines or anchovy, complete fishes with head, eye, tail and intestines and all, and as a main course has fish (a féra, a vendace). I have a layered gazpacho-goat cheese-tapenade in one glass and as a main course a similar fish.
We do not have time for dessert and return to the parking garage at a quarter to nine, just in time. In the hotel we use Laura's smart-phone to check the weather (the hotel has free wifi). We decide to go to the triangle Lyon-Grenoble-Valence tomorrow. We read and write, and we go to sleep at eleven.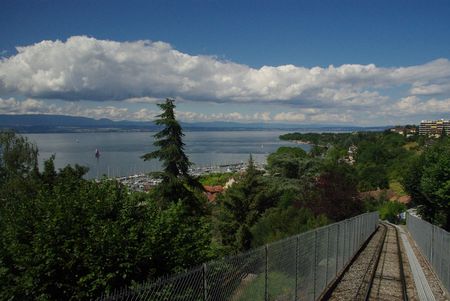 View of Thonon from the top of the funicular.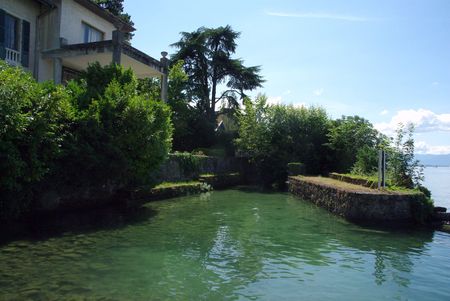 Thonon on the shore of the lake.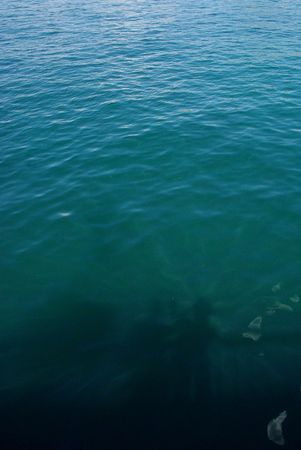 Our reflection in the lake.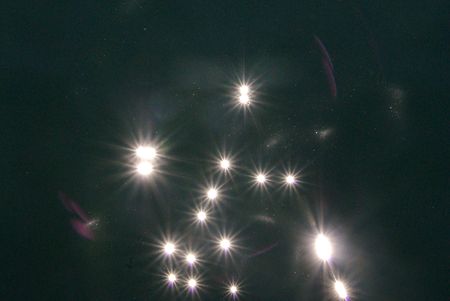 The lake.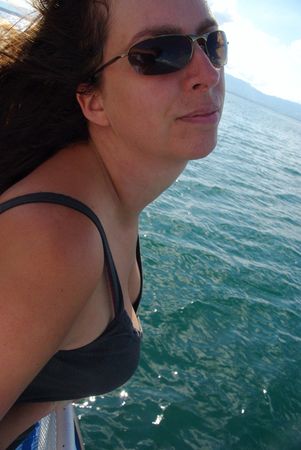 Laura on the lake.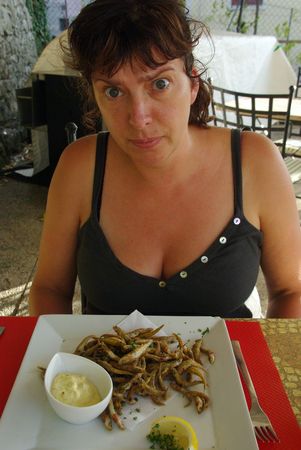 Did I order this? Is this edible? Why are they looking at me like that?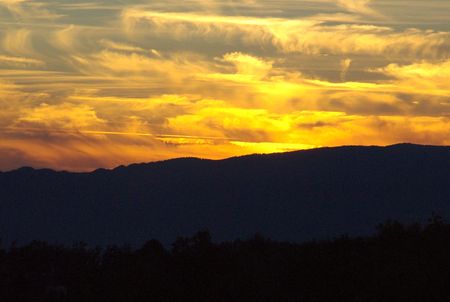 Sunset.


On Wednesday we drive almost all day, along small roads. We want to lunch with the rice salad Laura's aunt gave us, but it appears to have grown mouldy. By that time it is almost two o'clock already, so everything in this country is closed. We have a kebab lunch at a Turkish snackbar on a village square with plane-trees.
A red light lights up on the dashboard. Our car's manual says: Stop immediately. We fill the radiator with water and drive to the nearest car garage, near the lake of Paladru. The three men working on our car are silent. About an hour later they've finished. We understand the radiator needs to be changed as soon as we're back in the Netherlands.
On a hill above the lake of Paladru, near the village Bilieu, we find a camping with a view of the lake. The forecast predicted rain and thunder, and so we take good care in setting up the tent. After diner (pasta with bacon) I have an intense headache. About every minute we hear a two seconds long fierce beep. Laura searches for a while and finally asks the woman neighbour if it is okay to shut the sound off. That's okay. The neighbour explains to Laura that it is a device to scare away moles (using sign language to explain it to Laura, because Laura doesn't understand the French word for mole and the woman doesn't speak English). Now I understand why it's so dead around here, with so little birds.
We're the only ones here with a tent; the others are almost all just people from the surrounding areas, staying in caravans with little gardens. Our neighbour is quite nice (except to moles). Our other neigbour, drunk and with a bored look on his face, is mowing his little lawn with an enormously large mower with engine. The view here is good.
The first half of the night it rains and thunders heavily, with blinding flashes. We have decided to go and visit the car museum Schlumpf in Mulhouse tomorrow. We don't sleep very much.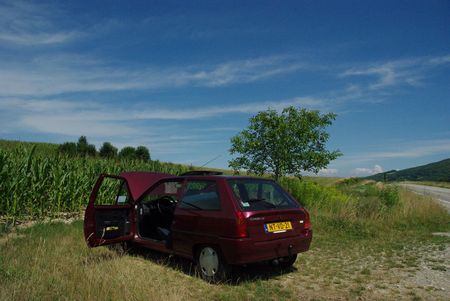 Our faithful car in trouble on a small road in France.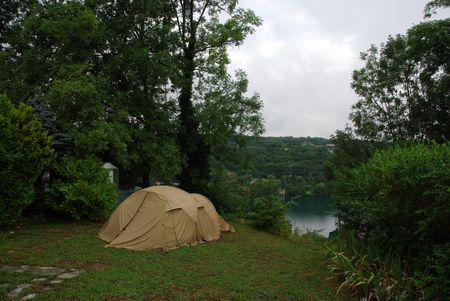 Our tent on the camping in Bilieu, with a view of the lake of Paladru.


We wake up at eight o'clock on Thursday, and we pack our wet tent. An hour later we pay the boss of the camping, a young man. We can't find him for a while, but when we phone him for the second time he answers and we see him come out of a caravan, accompanied by a dog and a cat who seem to be close friends.
First we drive to a bakery in the village, where we buy bread and two gigantic pieces of meringue. We have the bakery direct us to a cheese shop, that appears to be a farm with a shop. We have breakfast in the car in the village.
We follow many small roads and have lunch on a parking space on the side of the road. After that it starts to rain heavily. Just before Mulhouse we turn left to climb a mountain in the direction of Le Markstein. All of a sudden it is very steep here, away from the plain of the river Rhine. There's a sign pointing us to a farm with an inn and restaurant: Molkenrain. It appears to be beautiful. The weather gets better too.
There are cows, pigs, chickens, rabbits and two watch dogs who primarily act as cuddly animals. The view is fantastic: from high over the flat, green landscape. The bedrooms are dormitories with space for about twelve persons in bunkbeds per room. We put our bags there and go out to greet the animals.
Before diner we drink Riessling from the Elzas in the dining room, where there are long dining tables. We order the regular menu, filled with words we've never before heard of. Roï appears to be ham with mashed potatoes. Well, okay then... Also on the menu among other incomprehensible things are Fleischschnakas, Bibalakas, Ro´gebragaldas, Bargkas and Gendarmes. As a first course we're served a meat pie, and for dessert we have cheese first and then ice cream (for me) and meringue (for Laura). It is comfortably crowded during dinner, with dozens of people who all seem to know each other and who greet each other exuberantly. But nobody stays the night; they only come here for dinner.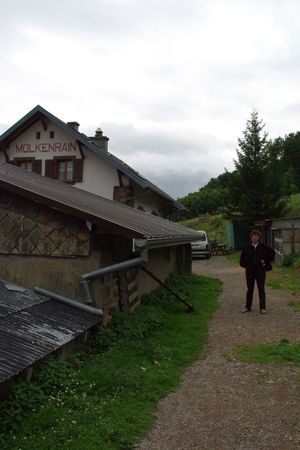 The farm/inn Molkenrain.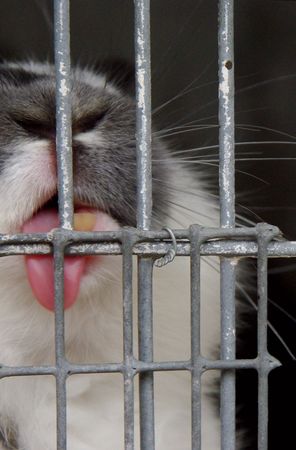 Rabbit.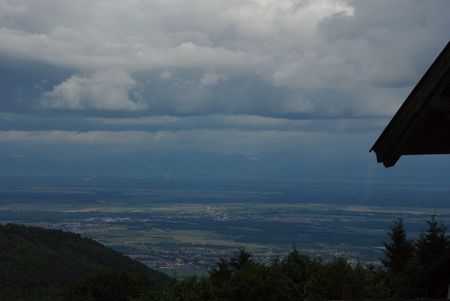 Impressive view of the plain of the Rhine.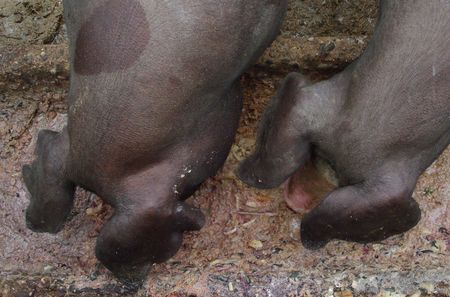 Bon appetit!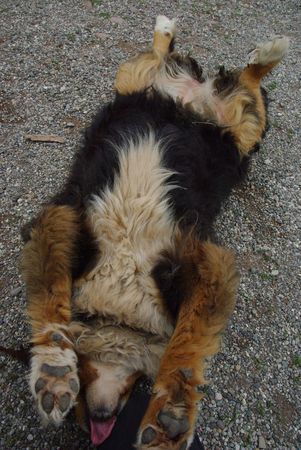 The dog wants to be petted.


We get up at seven thirty on Friday, have breakfast (there is just bread, jam and coffee/tea) and drive at nine o'clock to Mulhouse. At ten minutes to ten we are at the entrance of the museum, that opens at ten. Ever since I was a little boy I have wanted to visit this museum. It is hardly acceptable for someone who likes Bugattis to not go. A few years ago Laura and I by mistake had searched for the museum in Strasbourg. But now finally the time has come.
There is a large hall with all kinds of cars, a smaller hall with race-cars (many Bugattis 35 and Gordinis) and a dark hall with the best bits, like Hispano-Suiza and Isotta Fraschini, and the two Bugattis Royale (Coupé Napoleon and Park Ward). The reconstruction of the Esders-Royale that was built by Schlumpf is right behind the entrance. Here you'll find a page with photos I took in the museum.
The information with the cars is too little and often irrelevant. We write that down in the guest-book at the exit. And they haven't paid much attention to detail; there are torn straps, bent mirrors, etcetera.
We lunch around twelve in the restaurant (Laura has spaghetti and I sandwiches with cheese), and we leave at half past four. I feel partially disappointed and partially satisfied. Seen some beautiful cars but missed many as well (Alfa-Romeos, Bugattis 54, 59, 251), and many cars are too close together to see them or too close to a pillar. And the cars in the dark room can hardly be seen at all.
We are back in the dining room of Molkenrain at around half past five again, drinking white wine.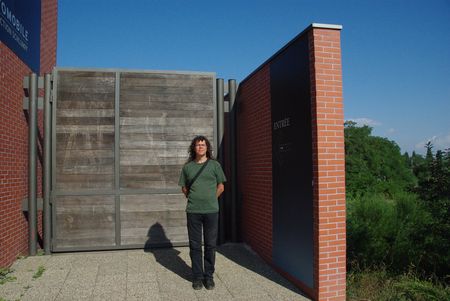 Respectfully at the entrance of the Schlumpf Collection (photo by Laura).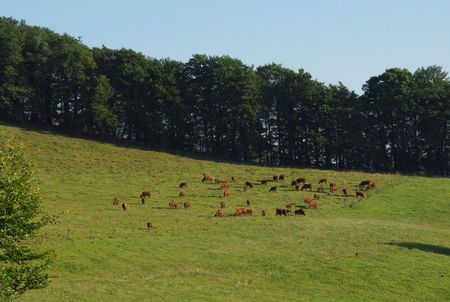 A herd of Molkenrain's cows.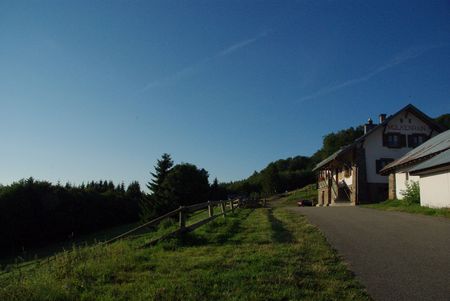 Molkenrain.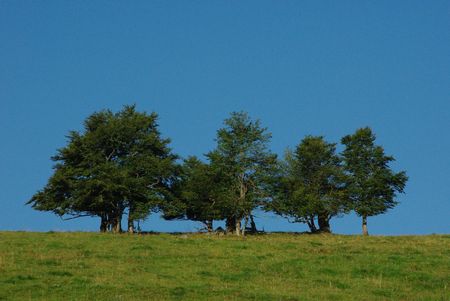 Trees.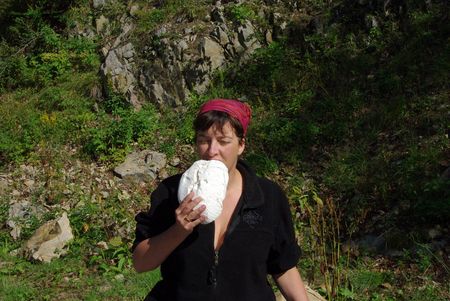 Laura enjoys a gigantic meringue.


We leave on Saturday. We would like to be on holiday for another day or three. But we haven't driven that far yet when the car asks for radiator fluids again. Unsure what we should do, we drive to a garage. But they all laugh. It is almost Saturday afternoon, which means France doesn't work anymore. "Oh no, no-one will want to help you," the man says to us and laughs.
We phone our garage in the Netherlands and ask for advice. They tell us it's no problem if we drive back to the Netherlands now carefully. Hm, that means our holidays are over. Laura has only just ended the call when we hear an enormous noise from below the car. We immediately park on the hard shoulder. The exhaust has come loose.
Again Laura phones our garage and asks for advice. Oh yes, that too is hardly a problem. We take care we have enough water for ourselves and the car. We drive all day and arrive at home in the evening, beat into a jelly by the noise of the exhaust. We have driven around 3600 kilometers in total this summer.