Bruges 2009
In October Laura and I spend almost a week in Bruges, Belgium, from Friday until Wednesday. On the way there, there's a lot of traffic. We leave home at two-twenty, and arrive in Bruges at a quarter to five. Lots of jams, and some accidents too. We have no trouble finding the place, thanks to Laura's map and description. The address is right in the middle of the town. Our landlord is friendly and leads us to the attic we rented. There's a balcony as well, but it may be too cold for that.





Laura in our room in Bruges. View from the bed. Click on the photos for enlargement.


We thought it may be a good idea to treat ourselves to some good restaurants in Bruges. At home we had already made reservations for three of the five nights. For tonight we made reservations in Sans Cravate at seven. We walk there but arrive an hour early. It is still closed. We wait on a little square nearby and get back at exactly seven o'clock. This time we're not even the first ones.
They serve two menus, named after their children, the large menu Arthur and the smaller menu Oscar. We drink a sekt as an aperitif, and after that have the five course menu Arthur. I eat ray for starters, and Laura has mackerel and crab. Afterwards we both eat turbot and pork. My desert is various sorts of cheese with a cream of figs, a puree of dates and bread with a chutney of apricots, and Laura's desert is a number of sweet things with rice pudding and a golden spoon (the spoon was a thin sort of waffle, sprinkled with gold powder). We drink a delicious white wine. We get home near midnight. The bed is wonderful, with a very large duvet.





The view from our balcony.


Saturday we stroll through Bruges in an on and off drizzle. Beautiful streets. We also walk through shopping streets, some with lots of souvenirs and chocolat. I drink a beer called Brugse Zotte around twelve o'clock. For lunch we have an omelet with ham. Looking for a toilet we end up in some strange sort of congress centre. A band is practising and miniature trains are running. Around four o'clock we have a round trip in an open boat. Afterwards we drink beer called Straffe Hendrik and a Brugs Wit Tarwebier, and then each a Brugse Zotte. In the evening we again dine at a luxurious restaurant, Le Duc Bourgogne, this time lobster and lamb. Our table is located in an extension for two persons above the water.
Laura had reserved bicycles for Sunday. We drive off at around eleven, through the Zwinstreek via Damme to Sluis in Zeeuws-Vlaanderen, Netherlands. The weather is very nice, and the surroundings are beautiful. A large difference with the Netherlands is the way they performed the land consolidation here, or maybe it never even happened here. Afterwards we bicycle along Het Zwin to Knokke, where we have lunch. Laura has an omelet and I have croquettes with shrimps and cherry juice, both with fries. After our lunch we go in the direction of Ramskapelle, a while along the canal Leopoldvaart, and then we follow the Ronselarestraat back to Bruges. It is windy. Shortly before we get home I go to a house that is next to a meadow with wallabies to ask for some water. We're back home at a quarter past five. Laura reads and I check my email and I sleep. In the evening I eat "paling in het groen" (eel in green). Laura has no more than two bites of spaghetti because she is tired. We return to the house and sleep like a log.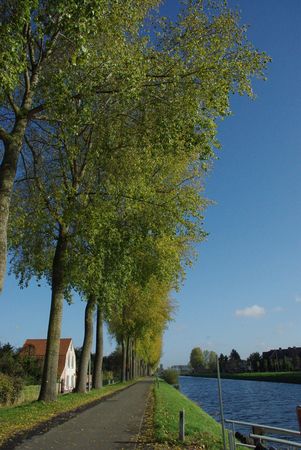 Along the Damse Vaart.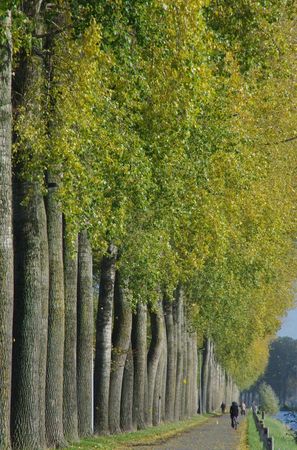 Trees next to the canal.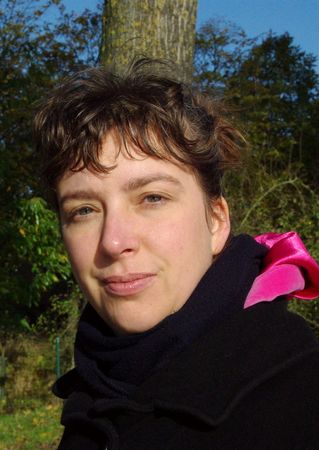 Laura.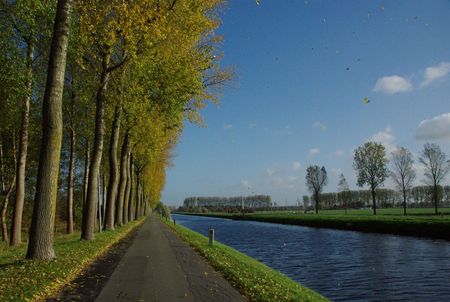 Falling leaves.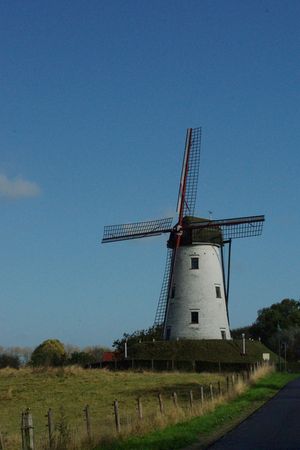 Along the way.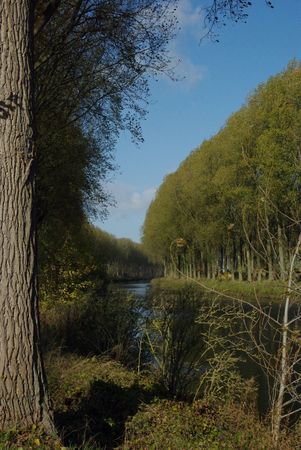 Along the way.





Along the way.





Along the way.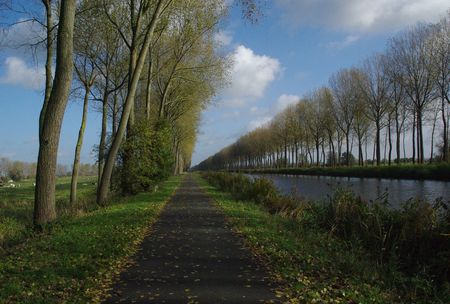 Along the way.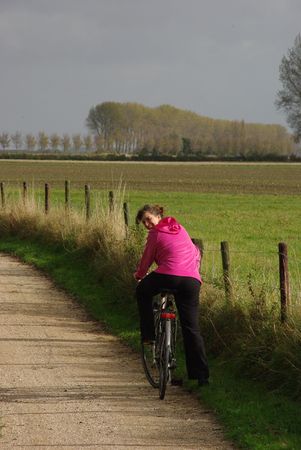 Laura in Zeeuws-Vlaanderen.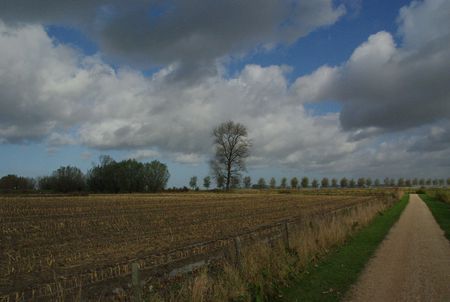 Field.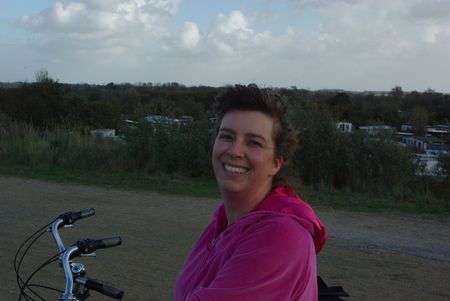 Laura near the coast.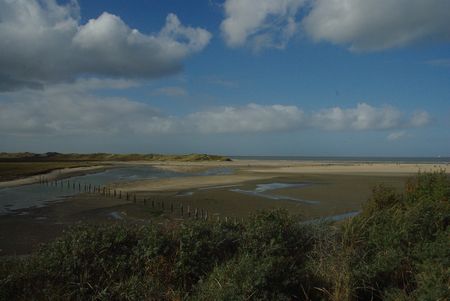 Seaside.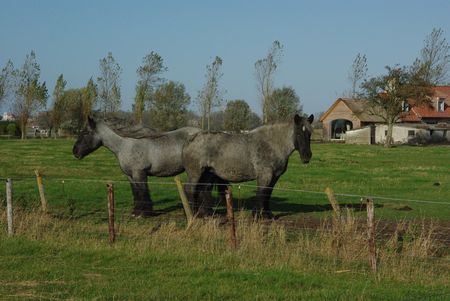 Two Belgian horses.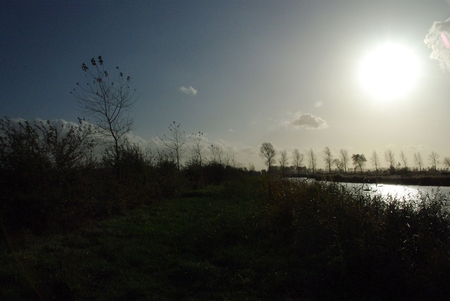 Almost home.


On Monday we have lunch with coffee and pastry in a tearoom. We visit the chocolat museum, which is nice. Afterwards we're in an Irish pub, Laura with whiskey and I with Guinness. Late in the afternoon we go to beer-restaurant Den Dijver, where we have made reservations. With each course there is a matching beer. Laura feeds me shrimps from the starter. She has pâté of game herself as a starter. My diner is brill and Laura's is wild boar. We have cheese for desert.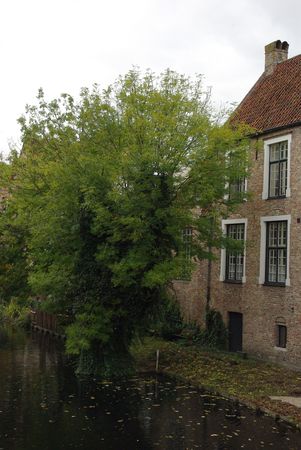 A tree near the quay.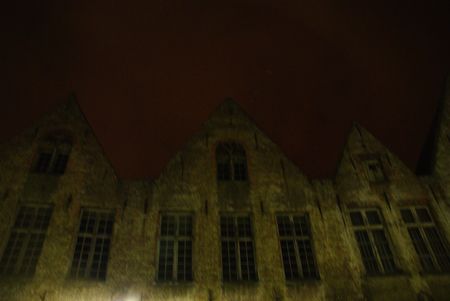 Façades against a red sky, when we walk home at night.


Tuesday Laura gets up early. I get up late. We walk to the Markt and go visit the Salvador Dali-exhibition. We have lunch with omelets at the Markt. Afterwards we go to the brewery-museum De Halve Maan ("half a moon"), but it is much too crowded there and not much fun. We enjoy a Brugse Zot at the square nearby. We walk home and pay our landlord. Around seven we go to restaurant Aneth. It's just outside the centre, and it's an altered medical practice. We have oysters for starters, turbot with porcini, and ravioli of bananas for desert. With our coffee we eat many different kinds of truffles, ice and more. Mmm!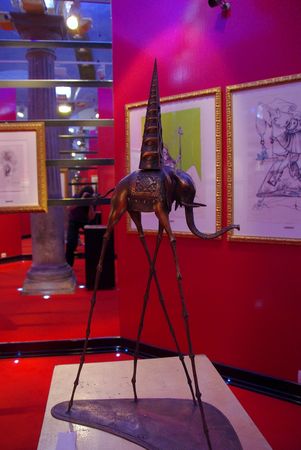 At the Salvador Dali-museum.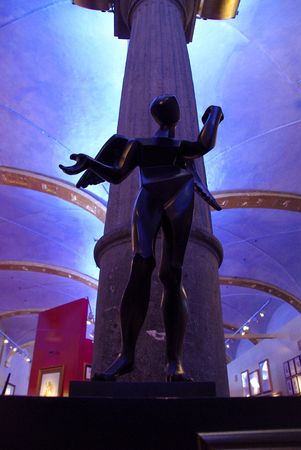 At the Salvador Dali-museum.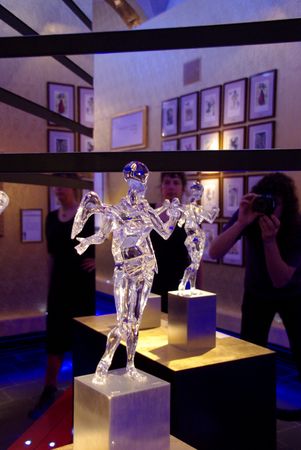 At the Salvador Dali-museum.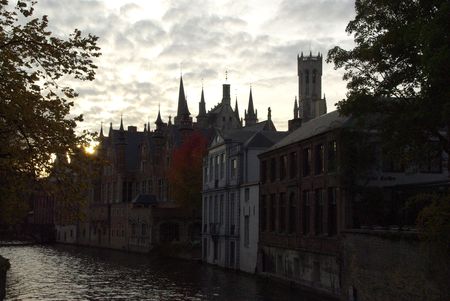 Bruges at sundown.





Laura.